by Brian McKinny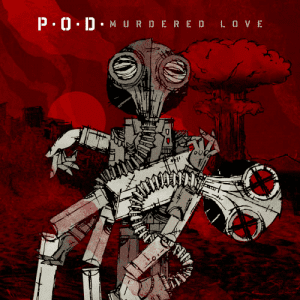 P.O.D., a band from San Diego, California could have gone the way of Linkin Park and Limp Bizkit, bands of the same genre and era, but P.O.D. consciously took a different path. They wrote songs with lyrics that make you think, choosing topics worth writing and singing about. The title track on their latest album, 'Murdered Love', is just that kind of thought-provoking song. It is a song that speaks to the heart, while searching for a deeper meaning. The music is exquisite with the pain and anguish of the lyrics. The vocals are powerful, earnest, and real. The pounding drums and thundering bass lines are manna from Heaven, and the guitars burn into your soul. Murdered Love is a song that stands out among songs of this genre, an anthem for those seeking truth and meaning in this life, and I respect any band that takes any road but the safest path to glory. P.O.D. are in your face with their search for the meaning of what sacrifices were made on our behalf, and demand an answer to the question of 'Are we worthy of such a sacrifice'? This musical effort is definitely worthy.
Aside from the cerebral and ethereal aspects, it is a powerhouse of a song. It is intense and angry. It evokes strong emotions from the listener, and when all is said and done, any great song seeks to do just that – evoke a strong emotional response. This song, this album succeeds in doing that in spades. The tones of each instrument are very distinct, and crisp. The production on this album is remarkably good, especially in this digital age; the sound is very organic and full. Too many bands these days overly compress their sound, making it punchy and thin. P.O.D. has that full, rich sound so many bands strive for but never attain. Kudos goes to the engineering and production team on this effort.
The vocals of Sonny Sandoval are strong as always, musical, and melodic. His voice exudes confidence on every track. It's easy to be confident vocally when you believe in the lyrics that you are singing, and it comes through in every song on this release. With Wuv Bernardo on drums (also rhythm guitars, percussion, and backing vocals), and Traa Daniels on bass and backing vocals, they hold down a solid, exciting, and innovative rhythm section that gives the music its heart. Guitarist/backing vocalist Marcos Curiel, with his driving, tasty licks gives the band its soul. Put it all together, and they're the total package.
P.O.D has been through it all – personnel lineup changes, differences of spiritual/musical direction, label changes – but this band always manages to land on its feet and heads in the right direction. It is obvious to me that P.O.D has taken those lessons and matured, learned from their experiences in a positive manner. They have evolved their sound and their vision of where they want to take their music as a band. This latest album, 'Murdered Love', in my opinion is their best effort to date, and I can't wait to see them somewhere out on the road, because this band puts on a great live show as well as their studio efforts.