Following thousands of customer requests, Orange Amplification is excited to announce their first foray into the pedal market since the mid 70s, with the introduction of the Orange Bax Bangeetar Guitar Pre-EQ. Handmade in the Orange Custom Shop, England, this game changing pedal is in a class of its own. Available in two finishes, black or white, this latest offering functions as a traditional stompbox, a standalone preamp, and a direct recording tool, meaning the possibilities are virtually limitless.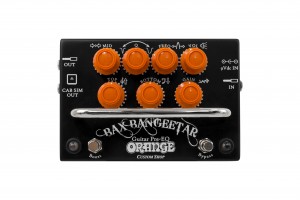 The Bax Bangeetar boasts a huge dynamic range, producing classic Orange crunch and rich vintage overdrive at moderate gain settings. Increasing the drive level yields a wealth of outrageous modern tones, with genuinely insane amounts of distortion on offer. Crucially, even at extreme settings, the Bax Bangeetar never loses definition. For live use, the on-board clean Boost function adds an extra 5dB for solos.
More impressively, with none of the back-to-back diode circuitry commonly found in drive pedals, the Bax Bangeetar feels and behaves just like an Orange amp, delivering natural breakup – and a serious kick – without any hint of stifling compression.
Beyond its unique and flexible gain structure, however, the Bax Bangeetar's extensive tone tweaking capabilities really set it apart. The Baxandall EQ and full parametric mid controls allow for complete command over a broad frequency range, enabling players to sculpt their sound to suit any style. With controls for Q, centre frequency and cut/boost, the midrange response is literally infinite, from subtle peaks to broad 'scoops'. Even remove problem frequencies inherent in certain guitar and amps altogether!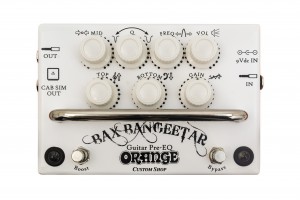 True to form, Orange has also bucked the 'true bypass' trend and developed its own ultra-transparent buffered bypass. This supremely linear circuit ensures absolutely no loss of signal integrity, even with long cable runs or when driving large pedal boards. Critical to the bypass (and the overall design) is the internal charge pump. This doubles the pedal's voltage for more clarity, more clean headroom and more output, whilst always maintaining the instrument's character.
The Bax Bangeetar also features a second 'CabSim' output which recreates the sound and response of Orange's 40th Anniversary PPC412 cabinet loaded with Celestion G12H 30 speakers. Combined with the pedal's far-reaching tone shaping options, the CabSim makes this preamp a perfect aid for direct recording.
Whether used at home, on stage or in the studio, with its enormous sonic capabilities, precise EQ and all-round flexibility, the Bax Bangeetar is one of the most versatile pedals ever created.
Visit the Orange Amplification booth C45 Hall 4.0 at Musikmesse 2015 to see the new Custom Shop Bax Bangeetar guitar pedal and other new products, or visit www.orangeamps.com