Gospel and Country Music Legends The Oak Ridge Boys to Release All-New Recording on May 26th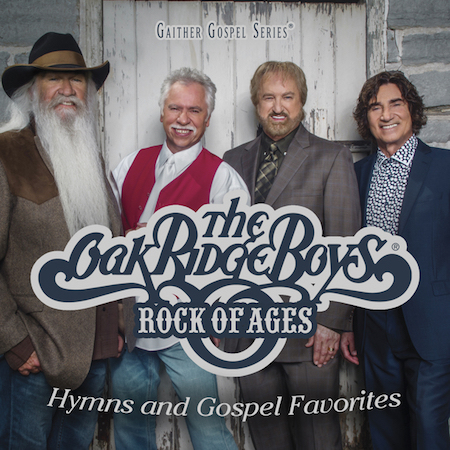 Gospel and Country Music Legends The Oak Ridge Boys to Release All-New Recording on May 26th
HENDERSONVILLE, Tenn. (May 7, 2015) – Country music legends and American music icons The Oak Ridge Boys have just recorded an all-new gospel recording, which will be available everywhere on May 26th.  Rock of Ages, Hymns and Gospel Favorites (Gaither Music Group), a 15-song project produced by Ben Isaacs (Gaither Vocal Band, The Isaacs) and group member Duane Allen, showcases the group's award-winning, four-part harmonies and celebrates their musical roots.
"All of The Oak Ridge Boys are men of faith," Allen says. "We were raised in four different states, but we were all brought up in homes where our parents taught us about Jesus and believing in God. All of the Oaks grew up singing in church. These songs are some of the first we learned to sing. Their messages of hope, love, assurance, faith, heaven and, basically, how to live formed the foundation of each of us.
"The reason these old hymns are so familiar is because they are great. They have lived through the decades, even centuries, because they were written in times when man's faith was tested. They have stood the test of time because the message transcends the test of time."
Something else that has stood the test of time is the group's longtime friendship with country legend Merle Haggard, who wrote a song entitled "Sweet Jesus" for the new release.
"Merle Haggard has been a good friend of The Oak Ridge Boys for decades," Allen continues. "He was taping a TV show with Marty Stuart and the Fabulous Superlatives; and my son-in-law, Paul Martin, sings and plays with The Fabulous Superlatives, so Merle gave Paul a copy of 'Sweet Jesus' and asked him to give it to me for the Oaks.
"We loved the recitation and thought if we could just get Merle to do that recitation we would be thrilled. But then, it worked so well that Merle just kept on singing with us on the last chorus—a once in a lifetime experience for all of The Oak Ridge Boys. It is one of the biggest thrills of my career to get to sing and record with Merle Haggard."
Another special addition to Rock of Ages, Hymns and Gospel Favorites are guest vocals from the award-winning Isaacs, who joined The Oaks for the song "Peace Within."
"…What you hear [on the last chorus] was one take…no fixes, no second takes, just exactly what Sonya was feeling at the time," explains Allen.  "It is pure magic as only Sonya and The Isaacs can do. They brought depth and love to 'Peace Within,' taking it to another level."
The Oak Ridge Boys know firsthand how to take things to another level. The group was founded in1943, in Knoxville, Tenn., by gospel music singer, manager, promoter and businessman Wally Fowler. The current lineup, which was assembled years later (William Lee Golden, 1965; Duane Allen, 1966; Richard Sterban, 1972; and Joe Bonsall 1973), has scored 17 No. 1 hits, released more than 40 albums and achieved worldwide sales of over 41 million units. They have received five GRAMMY® Awards; 15 CMA Award nominations, winning two of them; and were inducted into the Gospel Music Hall of Fame in 2000.
In April it was announced that the group will be inducted into the Country Music Hall of Fame in the fall of 2015, in the Modern Era Artist category.
Bonsall and Sterban were inducted into the Philadelphia Music Alliance Walk of Fame in 1994. Golden received the Alabama Music Hall of Fame's Life Work Award for Performing Achievement in 1997, and Allen was honored with induction into the Texas Country Music Hall of Fame in 2014.
Rock of Ages, Hymns and Gospel Favorites will be positioned heavily at retail, via catalog placements and through a direct TV campaign beginning in May, on networks including DISH TV, DIRECTV, AT&T U-verse, PBS, GaitherTV, TBN, FamilyNet, CTN, GMTN, Guardian, Liberty, RFD, TCT and TLN. The campaign will also air in Canada on Vision TV, The Miracle Channel, Grace TV and CTS. "Sweet Jesus," the debut country single from the release, is currently garnering adds at radio stations nationwide. The gospel staple "Hold to God's Unchanging Hand" has just been released to gospel radio.
The group is featured regularly on "The Grand Ole Opry," and they will be highlighting Rock of Ages, Hymns and Gospel Favorites during their upcoming appearances during CMA Fest 2015 and at the Country Music Hall of Fame and Museum in Nashville, TN.
The release will be distributed through Capitol Christian Distribution and will be available throughout general market stores and the Christian marketplace in addition to online retailers including iTunes, Amazon and www.gaither.com, on May 26th. It is currently available exclusively at Cracker Barrel Old Country Store® locations and is available for pre-sale at www.amazon.com, www.walmart.com and www.christianbook.com.
For further information, visit www.oakridgeboys.com or Twitter.com/OakRidgeBoys or www.facebook.com/oakridgeboys.
ABOUT THE OAK RIDGE BOYS
The Oak Ridge Boys, who have sold over 41 million units worldwide, are synonymous with "America, apple pie, baseball and gospel and country music." In addition to their awards and accolades in the country and pop music fields, they have garnered five GRAMMY® Awards and nine GMA DOVE Awards as well as the Mainstream Artist of the Year Award at the ICM Awards. They are members of the GMA Hall of Fame as well as The Grand Ole Opry, and they are recipients of the President's Award from the Southern Gospel Music Guild. The group is featured regularly on the Gaither HOMECOMING Series and are legendary pioneers in the worlds of country and gospel music.
CD Song List
1. IN THE SWEET BY AND BY
2. ROCK OF AGES
3. SWEET JESUS featuring Merle Haggard
4. ANGEL BAND
5. THERE IS POWER IN THE BLOOD
6. IN THE GARDEN
7. HOLD TO GOD'S UNCHANGING HAND
8. I LOVE TO TELL THE STORY
9. LIFE'S RAILWAY TO HEAVEN
10. TIME HAS MADE A CHANGE IN ME
11. BLESSED ASSURANCE
12. FATHER, I STRETCH MY HANDS TO THEE
13. FARTHER ALONG
14. JUST A LITTLE TALK WITH JESUS
15. PEACE WITHIN featuring The Isaacs