with Christmas Night Out Tour
Legendary Group Launching Concert Series Wrapped with True Meaning of Christmas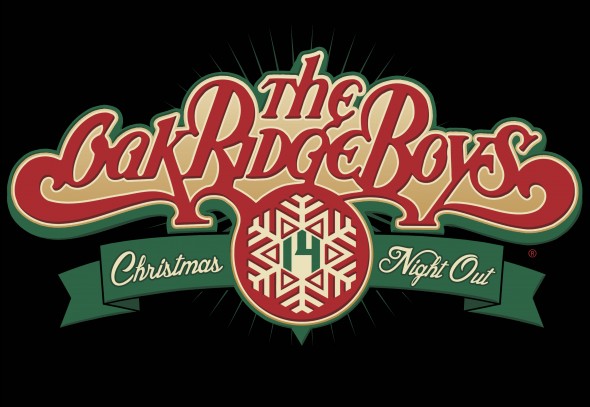 NASHVILLE, Tenn. (November 20, 2014) – The legendary Oak Ridge Boys are kicking off the holiday season with the Christmas Night Out Tour, and marking 25 years of one of the longest running Christmas tours in the music industry. This year's series of concerts will journey across the U.S. with an unforgettable show featuring yuletide classics blended with some of the group's greatest hits. The creative force and signature sound of the Oaks have become synonymous with Christmas music as the country legends continue to captivate multi-generational audiences around the globe.
Lead singer Duane Allen describes it as tradition that offers something for everyone, "It's that time of year again…time for the jingle bells to be ringing around the world, and on the stage of The Oak Ridge Boys' Christmas show. There'll be songs you already know, the traditional songs, Oak Ridge Boys' Christmas hits, and some new songs. And I've heard that Santa Claus may be arriving on a Peterbilt Sleigh. We begin our show with some major Oak Ridge Boys hits, then we take a break and when the snow starts falling, it's a flow-blown Christmas show….fireplace, rocking chairs (thank you, Cracker Barrel) and all of the exciting, fun, and spiritual songs that reflect the true meaning of Christmas."
Tenor Joe Bonsall adds, "The Oak Ridge Boys' Christmas tour has become a solid tradition all across America. This year's tour will play 28 shows in 23 cities across 11 states. It features 40 minutes of hits followed by a full production, 75 minute Christmas show that covers every aspect of this annual celebration from romance to presents, cookies and trees to Santa Claus, and the rocking chair conversations that are loved by all. We proudly end our show with 5 songs that reflect the true meaning of Christmas as we celebrate the birth of our Lord and Savior Jesus Christ."
The Oak Ridge Boys are also currently working on a new album that's expected to be released in 2015. For the latest updates, including information on a concert near you, visit: oakridgeboys.com.
Christmas Night Out Tour Dates:
Nov. 21 – Golden Nugget, Biloxi, MS
Nov. 23 – The Oak Ridge Boys Theatre, Branson, MO
Nov. 24 – Campbellsville University Campbellsville, KY
Nov. 28 – Des Moines Civic Center, Des Moines, IA
Nov. 29 – Five Flags Center, Dubuque, IA
Nov. 30 – Star Plaza Theatre, Merrillville, IN
Dec. 01 – Stranahan Theatre, Toledo, OH
Dec. 03 – Peoria Civic Center Theatre, Peoria, IL
Dec. 04 – Southern Kentucky Performing Arts Ctr., Bowling Green, KY
Dec. 05 – Carson Center, Paducah, KY
Dec. 06 – Blue Gate Theatre, Shipshewana, IN
Dec. 07 – The Palace Theatre, Greensburg, PA
Dec. 08 – Meridian Centre, St. Catharines, Canada
Dec. 09 – Meridian Centre, St. Catharines, Canada
Dec. 10 – Vern Riffe Center, Portsmouth, OH
Dec. 11 – Luhrs Performing Arts Center, Shippensburg, PA
Dec. 12 – Hard Rock Rocksino, Northfield, OH
Dec. 13 – Meramec Music Theatre, Steeleville, MO
Dec. 14 – St Croix Casino, Turtle Lake, WI
Dec. 16 – Chester Fitz Auditorium, Grand Forks, ND
Dec .17 – DeVent Center, Norfolk, NE
Dec. 18 – Corn Palace, Mitchell, SD
Dec. 19 – Meskwaki Bingo Casino Hotel, Tama, IA
Dec. 20 – Crystal Grand Music Theatre, Wisconsin Dells, WI
Dec. 21 – Weidner Center for Performing Arts, Green Bay, WI