ELIAS SORIANO OFFERS NEW ALBUM UPDATE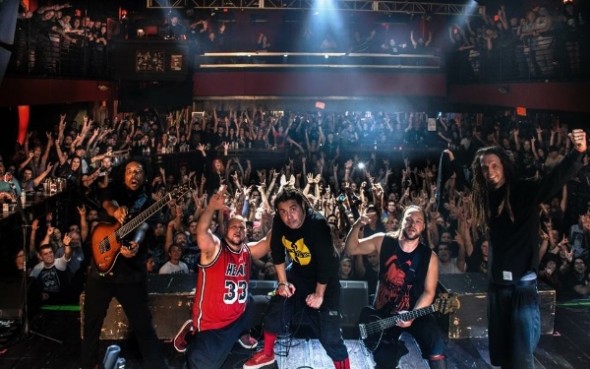 (New York, N.Y.): Nonpoint are already gearing up for a busy 2016. The band will enter the studio to work on their next full length and Spinefarm Records debut, due out sometime next year. The band will spend all of March and early April on tour with Disturbed, the dates of which are already entirely sold out.
Singer Elias Soriano offered this in-depth update about Nonpoint's immediate plans.
"We would like to announce that we have scheduled our next record's recording at Uptown Recording Studio in Chicago with Rob Ruccia. Figuring in the popularity of our last record and us pretty much self-producing that one with Daniel Salcido, we decided on self-producing this record as well with Rob. Great studio with great people and equally great gear. So it's gonna be a banger.
"We've got 16 [songs] ready to record, and three still in the works. So we will be choosing the record from a list of what we feel are all monster songs. Quite simply, if you thought the last record made your head bang, this record will make it roll off your shoulders and jump into the pit and start doing the Morning Star; old hardcore fans will translate that for you.
"After gaining advice, inspiration and insight from our some of friends in the industry like Brian Virtue and David Draiman, we have attacked the writing process in a way we feel we have missed since the early days of us jamming in a room together.
"This record is the product of pain, frustration, power and the environmental influence on this band. That mounted with the introduction of BC on guitars now has changed the game. Imagine feeling like Eddie Van Halen's illegitimate child just joined your band. That's how I feel with him on my right. So this record will no doubt be a beast for our fans."
Regarding the upcoming tour, Soriano was equally excited, saying, "Nonpoint also want to thank our dear friends in Disturbed and their management team for inviting us to perform with them on their upcoming spring tour, starting in early March 2016. We appreciate the support and this amazing opportunity to travel the country and performing for their crowds. The tour is sold out, so we thank them for even considering us let alone bringing us along."
TOUR DATES WITH DISTURBED:
3/11: Vancouver, BC @ Commodore Ballroom
3/12: Seattle, WA @ The Showbox
3/14: Portland, OR @ Roseland Theater
3/16: San Francisco, CA @ The Fillmore
3/17: Santa Ana, CA @ The Observatory
3/20: San Diego, CA @ House of Blues
3/23: Dallas, TX @ House of Blues
3/24: Houston, TX @ House of Blues
3/25: New Orleans, LA @ House of Blues
3/27: Birmingham, AL @ Iron City
3/29: Myrtle Beach, SC @ House of Blues
3/30: Richmond, VA @ The National
4/1: Baltimore, MD @ Baltimore Sound Stage
4/2: Philadelphia, PA @ Theatre of Living Arts
4/4: New York, NY @ Irving Plaza
4/5: Niagara Falls, NY @ Rapids Theater
4/7: Detroit, MI @ St. Andrews Hall
4/8: Grand Rapids, MI @ Orbit Room
4/10: Memphis, TN @ New Daisy Theatre