Nonpoint announced tour dates for this September and October!
"We're coming out of the pandemic swinging! The bands and the shows will leave fans talking for weeks.. Production is new, show is BRAND NEW, deep cuts from our catalog and our most Ruthless Setlist ever. ITS ABOUT TO EXPLODE, Part 1 is the swing of the bat and first contact" says the band's frontman, Elias Soriano.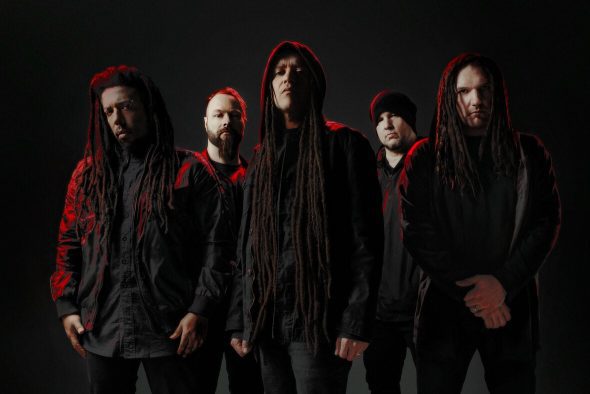 I'm About To Explode Tour Pt. 1 with special guests: Saul, Dropout Kings, & Any Given Sin
09.11.21 – One Centre Square – Easton, PA
09.12.21 – House of Independents – Asbury Park, NJ
09.14.21 – Wallys – Hampton Beach, NH
09.15.21 – Lost Horizon – Syracuse, NY
09.16.21 – Beachland Ballroom- Cleveland, OH
09.17.21 – Music Factory – Battle Creek, MI
09.19.21 – Emerson Theater – Indianapolis, IN
09.21.21 – Piere's – Ft. Wayne, IN
09.22.21 – Rock City Bake Company – Charleston, WV
09.23.21 – Shagnastys Grubbery And Pour House – Huntsville, AL
09.24.21 – Amos – Charlotte, NC
09.28.21 – Capones – Johnson City, TN
09.29.21 – Hooligans – Jacksonville, NC
10.02.21 – Club LA – Destin, FL
Dates with Atreyu, Tetrarch & Another Day Dawns:
09.03.21 – Epic Event Center – Green Bay, WI
09.04.21 – Ovation – Newport, KY
09.05.21 – The Sylvee – Madison, WI
09.07.21 – Temple Live – Wichita, KS
09.08.21 – Temple Live – Fort Smith, AR
Dates with Seether & Plush:
09.30.21 – House of Blues – Mrytle Beach, SC
10.01.21 – Tabernacle – Atlanta, GA
10.10.21 – Marquee – Tempe, AZ
Nonpoint will be appearing at the following festivals:
09.10.21 – Blue Ridge Rock Fest – Danville, VA
09.18.21 – Fall Fling – Peoria, IL
09.25.21 – Rebel Rock – Orlando, FL
January 22-27, 2022 ShipRocked
Tickets on sale NOW! at nonpoint.com
Commitment to forward motion ensures longevity. After 20-plus years, ten full-length releases, countless sold out shows, and over one million albums sold worldwide, Nonpoint endure through sustaining an unbreakable bond among themselves and to a diehard fan base all over the globe.
Masters of, and pioneers in the nu-metal/rap-rock world, Nonpoint has quietly been the biggest and best kept secret of the rock/metal genre. Their songs and renowned performances have had musicians from all corners of the genre and music industry members standing side stage to revel in the audiences they transform.
The band's songs "Bullet with a Name," "Alive and Kicking," "In the Air Tonight," "Circles," "Your Signs," "Everybody Down" and many others have been featured in trailers, hit movies, television, iconic video games, as well as broadcasts from NFL, NBA, MLB, NHL, WWF.
Nonpoint has toured with major acts like Disturbed, Papa Roach, Mudvayne, and Sevendust to name a few. They have also been featured on the main stages and support stages of iconic festivals like Soundwave, Rock AM Park, Rock AM Ring, Ozzfest US and Donington, Rock on the Range, Welcome to Rockville and many more.
Today, Nonpoint continues to ignite streaming platforms, news feeds, social media platforms, and festival stages, and 2021 is shaping up to take them from rock's best kept secret to a household name.
The band launched their independent record label 361 Degrees Records LLC in January of this year. They filmed the process of starting the label and making new music in a Docu-Series
titled "A Path To Independence" that can be seen on the band's YouTube and official website.
NONPOINT released the title track, "Ruthless,"off of their upcoming EP to all digital outlets in May and was this year's featured track on AEW's "Blood And Guts" on TNT.
"Ruthless" is exploding at radio and becomes their 5th highest charting song and biggest hit in 7 years.
"Ruthless" can be streamed/downloaded at Nonpoint.com
Nonpoint – Ruthless (Official Music Video)
Nonpoint is:
Elias Soriano (Lead Vocals)
Robb Rivera (Drums)
Rasheed Thomas (Guitar /Backing Vocals)
Adam Woloszyn (Bass)
Jason Zeilstra (Lead Guitar)

For More Information Please visit:
https://www.facebook.com/nonpointofficial/
https://www.instagram.com/nonpointband/
https://361degreesrecords.com/
https://www.facebook.com/361degreesrecords/