FINAL RADIO PROGRAM WILL AIR DECEMBER 31, 2017
PARTNERS WITH BROADWAY PRODUCER MICHAEL COHL FOR 2018 ADAPTATION OF NY TIMES BESTSELLING MEMOIR
THE HEROIN DIARIES: A YEAR IN THE LIFE OF A SHATTERED ROCKSTAR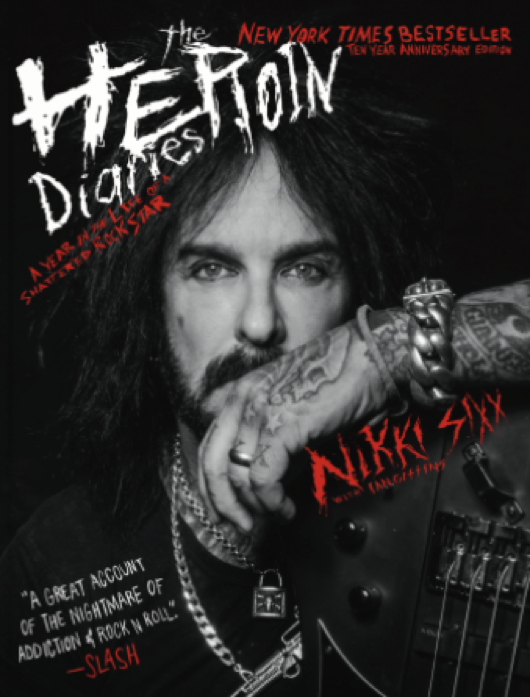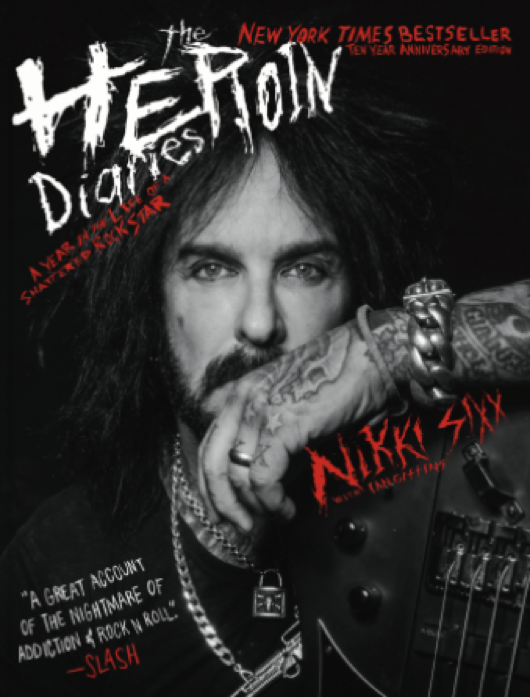 LOS ANGELES, October 12, 2017 – Today global rock icon Nikki Sixx announces plans to step down as host of and end his nationally-syndicated Premiere Networks / iHeartRadio rock Radio programs, Sixx Sense with Nikki Sixx, The Side Show Countdown with Nikki Sixx and The Side Show Classic with Nikki Sixx at the end of this year. His final broadcast will be December 31, 2017.
Launched at the beginning of 2010, his flagship radio program Sixx Sense quickly became the biggest syndicated rock show in America, distributed to more than 130 stations nationwide and boasting nearly 3 Million global weekly listeners. Sixx has welcomed an influential array of prominent musicians, celebrities, and noteworthy personalities as guests on the show. During his tenure as host he interviewed royalty such as Sir Paul McCartney, Slash, Steven Tyler, Metallica, Stevie Nicks, and Dolly Parton, boxing champion Mike Tyson, director Cameron Crowe, celebrity health expert Dr. Oz, and many more.
In addition, the program provided a unique platform for new music discovery with Sixx hand-selecting up-and-coming talent and introducing his audience to future superstars. Sixx launched trailblazing artists such as Awolnation, Greta Van Fleet, and Nothing More among many more by debuting their music on Sixx Sense.
Julie Talbott, President of Premiere Networks, stated: "When we first partnered with Nikki in 2010, we set out to create a unique program from the perspective of true rock star, and that's exactly what we did. We're proud of the work we did together to make Sixx Sense one of the most-widely-syndicated Rock radio programs in the country, while establishing the ultimate platforms for rock music fans, as well as new and established artists. It's been a pleasure working with Nikki, and we wish him all the best."
"I grew up discovering music on the radio," explains Nikki Sixx."So to host my own show over the nearly eight years of Sixx Sense was beyond my wildest dreams. I could not have done it without my amazing team in the studio, or the guests, musicians, and listeners that brought the show to life. It's been an inspirational journey and I'll always be a fan of the medium, but it's time to shift gears outside the realm of solely radio. I'm in the process of developing new and unique programming and ventures across multiple platforms. But I'm really gonna miss Sixx Sense."
Sixx is stepping down from his hosting duties to focus on myriad new endeavors in 2018 including his blossoming photography career, television endeavors and the Broadway adaptation of his New York Times Bestselling Memoir The Heroin Diaries: A Year In The Life of a Shattered Rockstar.
Featuring music from SIXX:A.M.'s The Heroin Diaries Soundtrack, the first-ever soundtrack tied to a book release, Sixx has teamed up with former Live Nation Chairman and Spiderman: Turn Off The Dark Broadway producer Michael Cohl to bring this compelling story of addiction and redemption to life on stage.
Originally released in 2007, both the book and soundtrack will see Tenth Anniversary Editions released later this month: The Heroin Diaries: A Year In The Life of a Shattered Rockstar ft. new chapters and never-before-seen photographs is out October 24th via Gallery Books / Simon and Schuster. The Heroin Diaries Soundtrack: 10th Anniversary Edition by SIXX:A.M. ft. three newly reimagined 2017 tracks including #1 hit "Life Is Beautiful 2017" is out October 27th via Eleven Seven Music.
2018 will also see Sixx take his first-ever photo exhibition Conversations with Angels around the world in partnership with Leica Camera. On display through November 5th 2017 at the Leica Gallery Los Angeles, the collection showcases the artist's talent for storytelling across platforms with intimate images by Sixx depicting homelessness and drug addiction amongst other subjects; topics that he was all too familiar with before photography helped change his life. Sixx has also partnered with Leica Camera on the debut of a limited edition Nikki Sixx Leica Q camera. More info here.
In addition to his own creative endeavors, the visionary artist remains committed to broadening horizons for all. Sixx recently penned a powerful op-ed for the Los Angeles Times arguing for better policies to end the scourge of opioid addiction in America.
About Nikki Sixx
Nikki Sixx is the International rock icon, founding member of Mötley Crüe and Sixx:A.M, three-time New York Times best-selling author with The Heroin Diaries, This Is Gonna Hurt and Mötley Crüe's The Dirt, philanthropist, photographer and syndicated radio show host of Sixx Sense and The Side Show Countdown.
As the creative force behind a multitude of projects, Sixx never stops inventing new ways to express himself and continues to unveil his unusual points of view with new projects. Mediums such as his photography, books, radio shows, music and others have given Sixx the ability to fully develop as an artist. In an age of overnight stars, one hit wonders and YouTube sensations, Sixx has created and maintained a career based on the uniqueness of his content and the creativity he exhibits.
Some of Sixx's accomplishments include over 100 million in album sales with Mötley Crüe and Sixx:A.M., countless sold out global tours, Mötley Crüe pioneering and selling out the first hard rock residency at the Hard Rock Hotel & Casino in Las Vegas, the award-winning 2012 Kia Motors Superbowl commercial and photographing high fashion for The New York Post's prestigious supplement, Alexa. Songs written by Sixx have been used in commercials for renowned brands, such as Dodge and Coldwell Banker amongst many others. Nikki Sixx has raised several hundred thousand dollars for Covenant House California which helped fund their highly successful music program.
Monday through Friday until December 31st 2017, on his nationally syndicated radio show, Sixx Sense with Nikki Sixx, which airs on over 130 stations. Sixx discusses music and lifestyle topics as he gives listeners a backstage look at the world and mind of a rock star. Sixx provides his unique perspective and attitude as he welcomes celebrity guests, recording artists and fascinating characters from all walks of life.
Through the show, Sixx also introduces the audience to discover the next generation of new music talent and has helped break many bands. Syndicated by Premiere Networks (iHeart Media), the show is complemented by The Side
Show Countdown with Nikki Sixx, which airs on weekends. The programs can also be heard internationally by approximately 2.8 million weekly listeners and is available on iHeart Media's digital platform, iHeartradio. Sixx Sense celebrated its seven-year anniversary in February 2017. The final show will be December 31st 2017.
About Premiere Networks:
Premiere Networks, a subsidiary of iHeartMedia, syndicates more than 90 radio programs and services to more than 5,900 radio affiliations and reaches a quarter billion listeners monthly. Premiere offers the best in talk, entertainment and sports programming featuring the following personalities: Rush Limbaugh, Ryan Seacrest, Glenn Beck, Delilah, Steve Harvey, George Noory, John Boy and Billy, Sean Hannity, Elvis Duran, Dan Patrick, Kane, Mario Lopez, Bobby Bones, Cody Alan, Colin Cowherd, Johnjay and Rich, Rich Eisen, Big Boy, Brooke & Jubal, Buck Sexton, Doug Gottlieb and others. For more information, please visit www.PremiereNetworks.com
ABOUT ELEVEN SEVEN MUSIC: In 2006, Eleven Seven emerged as the preeminent 21st century rock label. As the vision of Tenth Street Entertainment C.E.O. Allen Kovac, the roster includes Five Finger Death Punch (ex-North America), HELLYEAH, In Flames, Papa Roach, and Sixx:A.M.. This full-service independent powerhouse has achieved an unprecedented string of successes, including FMQB's 2008 "Rock Label of the Year" and Billboard's 2010 "Rock Label of the Year." Year after year, Eleven Seven Music has been a dominant label at rock radio. According to Mediabase, Eleven Seven was 2015's top independent label in rock radio market share (#3 overall). In 2015, Papa Roach's F.E.A.R. bowed at #15 on the BillboardTop 200, and their 2017 release, Crooked Teeth debuted at #1 on the Hard Rock Album chart, with their single "Help" spending 6 consecutive weeks at #1 on the rock radio chart. In 2016 alone, Eleven Seven launched successful campaigns for HELLYEAH's UNDEN!ABLE and Sixx:A.M.'s Prayers for the Damned, Vol. 1, achieving Top 25 debuts on the Billboard Top 200, while In Flames' Battles galvanized the veteran act's career. From radio and licensing, to publicity and marketing, Eleven Seven continues to set the pace for the rock vanguard.
GALLERY BOOKS is an imprint dedicated to publishing a variety of must-read books on a wide array of topics. Launched in February 2010, Gallery is designed to showcase established voices and to introduce emerging new ones—in both fiction and nonfiction genres. Some of Gallery Books' bestselling titles include The Girl with the Lower Back Tattoo by Amy Schumer, The Woman in Cabin 10 and In a Dark, Dark Wood by Ruth Ware, Binge by Tyler Oakley, Selp Helf by Miranda Sings, Five Presidents by Clint Hill, The Perks of Being a Wallflower by Stephen Chbosky, and Love Anthony by Lisa Genova.
ABOUT SIMON & SCHUSTER: Simon & Schuster, a part of CBS Corporation, is a global leader in general interest publishing, dedicated to providing the best in fiction and nonfiction for readers of all ages, and in all printed, digital and audio formats. Its distinguished roster of authors includes many of the world's most popular and widely recognized writers, and winners of the most prestigious literary honors and awards. It is home to numerous well-known imprints and divisions such as Simon & Schuster, Scribner, Atria Books, Gallery Books, Pocket Books, Touchstone, Adams Media, Threshold Editions, Simon & Schuster Children's Publishing and Simon & Schuster Audio and international companies in Australia, Canada, India and the United Kingdom, and proudly brings the works of its authors to readers in more than 200 countries and territories. For more information visit our website at www.simonandschuster.com
ABOUT LEICA CAMERA: Passion for creating perfect pictures. Leica represents a union of craftsmanship, design and experience. It is a beautiful collision of art and engineering, and the future of form and functionality. Leica Camera is an internationally operating, premium-segment manufacturer of cameras and sport optics products. The legendary status of the Leica brand is founded on a long tradition of excellence in the supreme quality and performance of cameras and lenses, and the iconic images that artists and photojournalists everywhere captured with them. For more information about Leica visit www.leicacamerausa.com, or follow the brand on Facebook, Instagram and Twitter.
ABOUT THE LEICA GALLERY LOS ANGELES:
Opened in 2013, The Leica Gallery Los Angeles was created to celebrate Leica photography. The Gallery provides unparalleled access to a rotation of curated exhibits, with imagery captured by classic and contemporary Leica photographers. Beyond the exhibition space, the Gallery also boasts a 1,200 square foot outdoor patio lounge. This serves as an additional location for Leica Akademie workshops, where professional and amateur photographers learn new techniques and get unique perspectives from featured artists. The Leica Gallery Los Angeles is open seven days a week at 8783 Beverly Boulevard in West Hollywood, California. For additional information, including lists of current and upcoming exhibitions, please visit www.leicagalleryla.com.