SINGLE "CONTAGIOUS" HITS NO. 1 ON SIRIUS/XM's "ALT NATION"
PLAYING POMONA JUNE 19, MOUNTAIN VIEW JUNE 20 AND VENTURA JUNE 21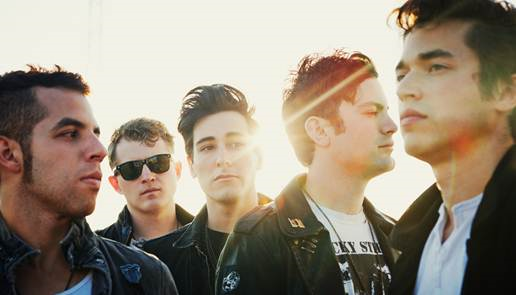 Los Angeles, CA (June 9, 2015) – Two years after releasing a crowdfunded EP (Young Lore) that earned them a slot on Rolling Stone's list of the Top Unsigned Bands in North America, NIGHT RIOTS have a bonafide hit on their hands with "Contagious," which hit No. 1 on Sirius/XM's AltNation (check out the video HERE).

"Contagious," which has spent more than 25 weeks on the "Alt 18 Countdown," has amassed over 1.5 million streams, was featured on the hit CW show "Vampire Diaries" and is blanketing radio nationwide. As the song continues to build, the California-based quintet is gearing up for a summer run with the Warped Tour, which includes the following west coast shows:
June 19th at the Pomona Fairplex
June 20th at the Shoreline Amphitheater (in Mountain View)
June 21st at Seaside Park/Ventura County Fairgrounds
"Contagious" is one of the featured tracks on the band's latest EP, Howl, which is drawing rave reviews from fans and critics alike. MTV described Night Riots as a "cousin to Disintegration-era Cure," Billboard praised their sound as "new-wavey bliss," and Earmilk said they're "reminiscent of The Killers, all the while resonating a tone that is strictly their own."
The band has shared stages with the likes of Cage The Elephant, Walk The Moon, the Strokes, Hozier, Awolnation, Vance Joy, the Pixies, Death Cab For Cutie, Panic at the Disco, Meg Myers, OK Go, The Mowgli's, Angels & Airwaves, among others.
Night Riots (vocalist Travis Hawley, drummer Rico Rodriguez, bassist Mikel Van Kranenburg and guitarists Nick Fotinakes and Matt DePauw) was formed in the single traffic light town of Templeton, CA. The town offered up few distractions for its residents, making it the perfect place to start a band. "Music was our focus," says Hawley. "Everything revolved around that. You got out of school and raced home to make music with your friends. Years later, we're still doing that."
nightriots.com
@nightriots (IG and Twitter)