by editors, Music Insider Magazine
Since 2012, Nick Quijano has been playing rhythm guitar with Powerman 5000, the industrial metal band that reached no. 29 on Billboard's 2000 album chart with "Tonight the Stars Revolt!" Known for its bone-crunching riffs and vocals that quickly morph from chants to screams, in 2014 the band released "Builders of the Future."
Quijano helped write four tracks on the new album that Blabbermouth.net says, "sounds like the aspirant soundtrack to a pop-flavored Silver Surfer movie adaptation. That, or an unapologetic retro return to the industrial dance metal and techno shakes that amped up the Mortal Kombat flicks."
The title track sums up the band's mantra these days: "Invade, Destroy, Repeat." Music Insider Magazine was fortunate enough to speak with Quijano about his entry into the band and his journey with PM5K on its path of destruction.
Music Insider Magazine: How did you end up playing with Powerman 5000?
Nick Quijano: As you may know, the music industry, especially the rock industry, is a very small, tight-knit world. I came to be in Powerman 5000 through my good friend and former PM5K drummer Adrian Ost. He and I met a few years back when we both joined a music project based in Denver. Adrian played drums, and I did vocals, keyboards and samples. We both left that band around the same time. Then, I joined another well-known band in Los Angeles that I will not name, and after about a year, the band's manager fired me, because he wanted to replace me with his daughter's boyfriend, so I put out a few emails to my friends in the music industry.
The first person to reply to me was — you guessed it — Adrian Ost! He told me he was rejoining PM5K on drums and that I should try out for the band at the same time, so I did. I brought my guitar to the audition and nailed it and have been in the band ever since. When it seems like everything and everyone is against you, if you have the drive, you will succeed.
MIM: How do you feel about the evolution of the music from the first album, "True Force" to your latest, "Builders of the Future?"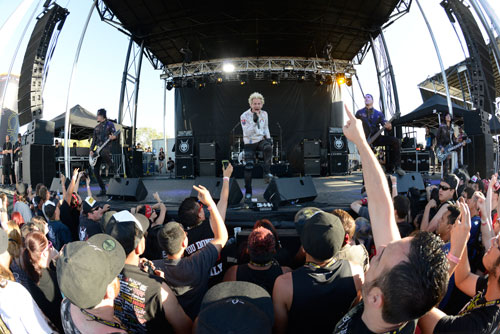 Nick Quijano: I think there has always been a definite progression of the music, without losing sight of the band's roots. Each album feels current to the time it was released, and each album has timeless songs and great moments throughout. The new album "Builders of the Future" is a testament to that. We wanted to create something heavy and dancey without losing sight of the earlier albums. Who knows where the next album will go; maybe we will take it back to "True Force" … Who knows?
MIM: If you could change anything on any of the albums, what would you change?
Nick Quijano: Nothing! I think every album is a great representation of what was going on with the band at the time of the release. There are so many great songs on each album. Why would I want to change that? If I changed the albums, that would be like rewriting history. If I rewrote the band's history, I would be afraid of changing my involvement with the band and that would totally suck … I think I just got "Back to the Future" on you right there!
MIM: Who writes the music for the band?
Nick Quijano: There have been many hands in writing the music over the years. The only consistent member on every album is of course Spider One. "Builders of the Future" was written by Spider One, former guitarist Evan Rodaniche and me. The single "How to Be a Human" was written by Spider One and former guitarist Dave Pino.
MIM: What is your favorite song to play from each album?
Nick Quijano: I love playing all the songs. Some of my favorites to play live are "Bombshell," "When Worlds Collide," "How to Be a Human," "We Want It All," and "You're Gonna Love It If You Like It or Not."
MIM: Other than rock, do you listen to other genres?
Nick Quijano: I actually don't listen to much rock music, especially the crap they try to pass off as rock music today. I have always been more interested in different kinds of music, from pop to country to blues. I love electronic music of any kind from early stuff like Depeche Mode to the Prodigy and even some EDM stuff. Part of being a well-rounded musician is to do your research and listen and draw influences from many different places.(And I hate listening to music in the car ….)
MIM: What gear are you using now, and what did you use before?
Nick Quijano: Currently, I use ESP LTD EC-401B 27-inch scale-length baritone guitars, EMG pickups, Cleartone Heavy Drop D strings, Peavey Triple XXX II amps and Peavey 6505 guitar cabinets, Ruby Tubes EL34 and 12AX7 tubes, Line 6 Pod HDX Pro effects and Line 6 G90 guitar wireless systems.
Before, I just used any gear I could get my hands on, vintage Fenders, Guild S-100 guitars, Mesa amps, Peavey 5150 amps — stuff like that.
As a guitarist and an artist, it took many years of searching to find that signature sound and tone that was all mine. I use to just buy things based on word of mouth or what my guitar heroes used. It wasn't till I moved to Los Angeles and started playing professionally that I started really trying to dial in my tone. Living in LA made it really easy for me to literally knock on every guitar, amp, string and effects company's front doors, so that's what I did. I literally went to everyone and just started trying stuff out, and if I liked something, I started a relationship with the company, until I built a rig that fit exactly what was in my mind. I stand behind every piece of gear I use now, because I hand picked everything, and because each and every company stands behind me as an artist.
MIM: What's the craziest thing that has happened while touring?
Nick Quijano: One crazy thing that happened on the road was on the last tour.
We were involved in a 10th floor hotel fire. Spider went to turn his AC off and that resulted in an electrical fire which shot flames out into the hotel room setting the room completely on fire!
Thanks to a faulty alarm system none of the smoke alarms or sprinklers went off so no one knew what was happening. Luckily we were all in rooms next to each other and were able to warn each other so on the way out we had to warn all the other hotel guests on the floor to get out or be burned alive!
Luckily nobody was hurt and we made it to safety and were able to play the show that night!
You never know what will happen when your on the road I guess.
MIM: What other band would you love to be on tour with whether you've toured with them before or not?
Nick Quijano: I would love to be out with Rob Zombie again of course, but do a longer, more extensive world tour. I would also love to do something with Nine Inch Nails. But what I'm looking forward to right now is going out with our friends in HedPE on our tour starting January 11th. We love those guy and always have the best time together on the road!
MIM: What is PM5K's plans for 2015?
Nick Quijano: We plan to do what we have always done — keep touring the U.S. and hopefully get back to Europe this year. We are also talking about making some new music this year.
MIM: What do you do on your day off?
Nick Quijano: Day off … What is that? I would be the first to admit that I am a workaholic. I own a printing and graphics company 24/7, whether I am on the road or at home. The company is called www.designit4free.com, and we specialize in printing and designing high-end business identity items like business cards, brochures, banners, signage, postcards — you name it, I print it.
That probably doesn't sound very rockstar like, but hey with the state of the music industry in the gutter, we all have to do what we have to do to be self sufficient, so we can go out and play for our fans. So head over to www.designit4free.com and get something printed and keep me on the road this year! I'll thank you by bringing my band to your town and rocking your faces off!
MIM: Name one thing about you that most people wouldn't know, such as a hidden talent.
Nick Quijano:  I am a great cook. I love cooking for people, but with my busy schedule, I don't get to do it very much — so consider yourself lucky if I cook for you.
If you would like Nick to cook for you or check out one of their shows, visit BandsInTown.com/Powerman5000 or go to their website, http://www.powerman5000.com/.
You can also like them on Facebook and follow them on Twitter or Instagram.