by Ray Rocha, editor, Music Insider Magazine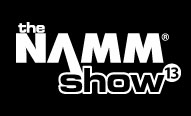 an you believe it's almost here already?  Or finally?  NAMM is set for January 24-27, 2013.
Never been to NAMM? Well let me give you an overview  …
The venue is situated in the Arena at the Anaheim Convention Center, the Arena's main emphasis is putting lighting, touring and sound on center stage.  The dimmed overhead lighting and tall ceilings provide an exceptional atmosphere to showcase lighting and entertainment technology so that it allows the products to shine.
Fewer ID Checks (YIPPEE! )  in the entrances to the halls will be open this year and will be only at the perimeter doors.  What this means is that once you are inside the Convention Center, you will be free to move about the halls with no additional checkpoints.
Retail Boot Camp Will be on Wednesday, January 23.  Make 2013 your best year yet.  This is a power-packed session with like-minded retailers that you won't want to miss.
When picking up your badges,red and blue badge holders can obtain those badges during show days in member-only pickup stations.  These will be located in the front and back of Hall D.  General badge pickup locations are located throughout the hotels and convention center.
The Grand Plaza will host live music throughout the day on the outdoor stage and runs between the Hilton and Marriott towards the main entrance of the Anaheim Convention Center.  Networking possibilities are endless in this environment.
Some scheduled appearances and events include:
Wednesday at 10am – WHOTUNE MUSIC GROUP at the E-18 App and Gaming Pavilion.  The World's first look at the amazing new "Rockstar Rising", Social Music Game.  From your mom's garage to the world stage, Rockstar Rising is the ultimate game of fans, fame and Rock and Rol.  See it first here.
Thursday at 3pm – APPLIED MICROPHONE TECHNOLOGY 4318 (Hall C), Endorsers will be signing autographs and talking about the mics.  AMT's lineup reads like a who's who of musicians
Friday at 2pm, – ANDREAS EASTMAN, 4200 (Hall C), Saxophonist Bob Mintzer will be promoting his 52nd Street Saxophone. Bob Mintzer is a twenty year member of the Grammy award winning Yellowjackets who also leads a Grammy winning Big Band, travels with his own Quartet, and plays with numerous bands globally. As an instrumentalist Bob has worked with Art Blakey, Jaco Pastorius, Sam Jones, Randy Brecker, Gil Evans, the Yellowjackets, GRP All Star Big Band, Mike Manieri, and The New York Philharmonic, to name a few. He has done session work for James Taylor, Steve Winwood, Queen, Donald Fagan, Milton Nascimento, and countless others.
Saturday from  11am and 230PM  – ARTIST SERIES GUITAR, INC., 3295 (Hall D),  Greg Harrison of MI, Accoustic Set by Northwest powerhouse band, Demon Hunter.
Sunday, well, too much to list.  Remember, NAMM is for networking and promoting business.  Seeing what is new for 2013.  As retailers, manufacturers, artists and consumers come together, we all benefit.  New products and innovations are the result of artist's needs, or a technological advance.  Maybe someone has an idea to make a better string, drumhead, keyboard, oboe or something else.  However the idea is forged, NAMM is the place to see the result.  Artists can only get the products if retailers make them available.  Participate in your own retail recovery.  Let's all make 2013 the year of the whole not, or the year of the whammy bar, or the year of the pang cymbal, or the year of the………….okay okay, you get the idea.  See ya at NAMM.