Opportunities beyond performing
It takes a community of people in numerous positions to make an artist or band famous. If you want to break into the music industry, how do you go about it when you don't have a windfall to pay for an expensive education, and you don't happen to be related to Jay Z or Katy Perry?
There are several categories of jobs in the music industry besides being a performer or songwriter that may be of interest to you. (Even if you are a musician, it can't hurt your career to learn more about other aspects of the business.)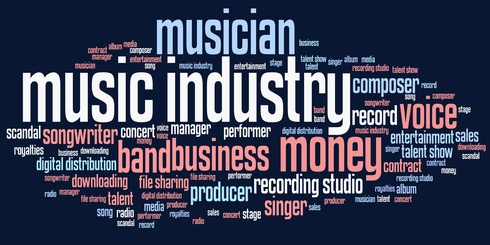 Music business jobs: These heavy hitters handle the business side of things for the artist or band. Positions include band manager, agent, booking agent, concert promoter, music publisher, business manager, professional manager (pitches music compositions to others for use) and entertainment lawyer.
Record industry jobs: Since the record industry has changed, a host of independent and small labels have sprung up that sign artists, and many artists create their own label rather than signing with a major label. Record industry jobs may include producer, artist and repertoire (A&R) representative, A&R administrator, promotion manager and staff, publicity director and publicists, artist relations staff, consumer researcher and regional sales manager.
Recording jobs: The technical crew responsible for recording an album includes studio technicians, sound engineers and assistant engineers that record, mix and master the sound; usually, a recording studio has a studio manager, bookings manager, receptionist, runner and may even have an in-house producer (and assistant producer).
Sales, marketing and distribution jobs: To prepare and release the album, a few of the people involved include a graphic designer, production house staff who duplicates, prints and packages the album, and those who distribute digital tracks and CDs. Sales and marketing staff get the word out about the album, including the new breed of social media companies that do all the social media marketing for an artist.
Touring jobs: For small, few-city tours, band members often perform a number of the required touring duties. For larger multi-country tours, bands may hire the following: tour manager, tour coordinator, tour publicist, sound technicians and advance person (the one who gets to the locations and makes sure they are ready before the band arrives).
Facility/venue jobs: The venues at which musicians perform vary greatly in size, from small, intimate night clubs (or coffee shops), to stadiums that hold thousands of screaming fans. Types of positions available at venues include stage manager, concert hall or club manager, marketing director and sound technician, among others.
Music education jobs: Some people excel at teaching musicians how to use their instruments. Music instructors may give private music lessons or teach lessons at schools, colleges or music conventions as well as give in-person or online seminars. The large number of band camps for both youth and adults that have cropped up all over the country can also be lucrative for music educators.
Other jobs: Photographers may be hired by a band or work freelance for specific media. Some venues hire in-house photographers. Music writers cover the music scene for the media, such as Rolling Stone magazine, Billboard or any of the other top 10 music magazines (according to Zine-a-polooza).
Ways to learn more about industry positions
Bill Zuckerman of Music School Central says a four-year music degree can cost more than $111,000. Once out of school, the so-called starving musician may not ever see a full return on that kind of investment.
The alternative? Learn about other aspects of the industry beyond being a performer or songwriter. Educate yourself — if you want a position in a recording studio, contact local studios to see if they have any internship positions available. If not, ask to have an informational interview to learn more from a staff member who holds the type of position in which you're interested. Teach yourself how to use recording software such a ProTools by watching YouTube videos.
If you want to be a stage manager, contact one at a local venue and see if you can "shadow" him or her at a small event. Offer to help out for free and watch and learn from every move the stage manager makes.
If you're interested in marketing and public relations, volunteer to help promote your favorite local band. This could include being a part of the street team or being a social media genius to increase the number of online fans.
The Guardian says, "Going to gigs, networking and following labels on Twitter should be on your to-do list if you want to break into the music industry."
Be proactive and creative to find other hands-on ways to learn more about the roles and responsibilities required for positions of interest.
Industry resources
Check out the following industry resources to find work in the music business and learn more about some of the positions described above.
Good luck in your music industry career!
Tamara Halbritter is a San Francisco Bay Area freelance writer and editor who develops content for music, transportation and green industries.