"Bad Magic," the 22nd studio album released on August 28, 2015 by Motörhead comes on the heels of an earlier announcement by Lemmy, the band's ubiquitous front man and bass player that he's quit smoking and switched from whiskey to vodka and orange juice (because as we all know, vodka is so much healthier than whiskey).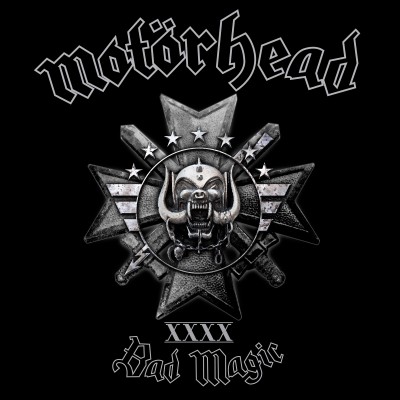 Motörhead has reached a point in their illustrious heavy music career – a career that spans forty years, no less – where I think that age, as well as Lemmy's newly diagnosed illness may be catching up with them after all. After 21 previous releases of varying degrees of critical and financial success, Motörhead's day in the sun might finally be headed over the horizon, if this album is any indication of the overall health of the band, if not the man himself.
I've been in this business almost as long as Lemmy, or so it sometimes seems. But I've seen them play live more times than any other band in my life, except for Judas Priest. Gone are the days of their seminal albums such as their penultimate Ace of Spades, No Sleep 'til Hammersmith, No Remorse, March or Die, or my personal favorite, 1916.
To their credit, Bad Magic starts off with a "punch you in the face" kind of song that you would expect from Lemmy and crew, and it's a title that really gives you the band's attitude and overall modus operandi – "Victory or Die!"… It's gruff, it's energetic, and it rocks. The guitar riffs are classic Motörhead, the bass is thundering and straightforward, and the overall production of the entire album is pretty well done. But Lemmy's voice seems to strain and groan much more with the effort required than he used to. But I give him all the credit in the world for a guy who's on the far side of 65 (he's actually 67).

The next track is more of the same from the first song, so I'll head over to the "Fire Storm Hotel," the title of the next track, and it is a place that grooves and rocks more with a better sense of what Motörhead is about – driving heavy music that's best experienced on the open road with your knees in the breeze and the wind at your back. Lemmy's bass playing is actually pretty solid on this track, booming out a nice groove on the bottom end to complement the guitar riffs that are well played on this head knocker of a tune.
"Shoot Out All of Your Lights" starts with a nice demonstration that Swedish rocker Micael Kiriakos Delaoglou, better known by his stage name, Mikkey Dee, can still play the shit out of the drums. I remember seeing him play for Don Dokken's band several years ago, but I like him better with Motörhead – it just fits his playing style much better, in my humble opinion. He puts on a nice double bass display with the intro to this song, and does some nice work on the ride cymbal, mixing it up between a double-bass riff that gets turned over to a straight time bit and then back again. The guitars throw out some really cool riffs that drive the song's melody – if that's what you'd call it – and the lead is a nice combination of Wah-Wah pedal and whammy bar work that fits well into the chaos going on. The only weak part of the song, regrettably I might add, is Lemmy's vocal work. Again it seems like he's pushing harder and harder and there's just nothing left in the tank. Still, it's a solid song, and I can't count Lemmy's tired vocal effort too much against the rest of the band's performance on this track.
Rather than comment on every single of the remaining songs on this album, I'll restrict further comments to the songs that I think stand out, so that I may concentrate on the positive aspects of the release. Like I said before, I'm a fan of Motörhead – to the tune of seeing them place more than twenty times at various concerts and festivals, so you certainly can't call me anything but a fan of the band.
That being said, "Electricity" is a song that harkens me back to an earlier, simpler time in Motörhead's career. It's a throwback song that does remind me of the old Ace of Spades days, with its simple, headlong drums and bass line, and raw guitars wailing out on the Wah-Wah pedal for dear life. It's a short, sweet ditty that every fan of the band can get behind and bang their collective heads to.
"Teach Them How to Bleed" has some cool moments, again harkening back to earlier times, especially with the drums and guitar parts on this track. Lemmy's vocals are more powerful somehow on this track, perhaps because they seem to be more in front of the mix than on some of the other tracks I don't mention here. This is a fun song that bangs away like a journeyman band should.

One of the real standout tracks, if you can believe this, is a ballad of sorts, called "Till the End." It's really a slow power ballad that will make you want to whip out your Bic lighter – or these days, your fucking cell phone – and wave them over your head and sway to the beat of the song. All cheesy visions aside, it's a good ballad that Lemmy and crew pull off nicely. It's dramatic, dynamic in a musical sense, and well executed. This one, power ballad or not, is a keeper.
As far as I'm concerned, they should have ended the album with the short, solid rocker, "When the Sky Comes Looking for You." But for some reason that only God and Lemmy himself know, they chose to include a cover version – of all songs, the Rolling Stones' vital track "Sympathy for the Devil." And dear readers, it's just bad. I can't describe it in any other terms, no matter how much I respect Lemmy and the band. But this was just a horrible idea, and because it's such a regrettable anomaly I'm inclined to disregard it altogether and leave it out of my overall judgment of the merits of this album. But since they decided to include it on the album, I must assume (yep, there's that word – we all know what it does) that they actually thought it was a good idea to include this stinker on the release.
With that in mind, my overall impression of this album is one of mild disappointment, but all is not lost! There are several tracks here that are worthy of the Motörhead name and legacy, as I've said above in this review. On a Skulls Scale between 1 and 10, I would have given it a 7 Skulls rating – if it weren't for some sympathy that the devil never should have been shown on this release.