The return of Motograter from 2003 to 2017 has been quite the journey coming from the hands and feet of the only remaining original member Matthew "Nuke" Nunes since the last Motograter studio release. From then and now, everything Motograter has done, is driven by the fans.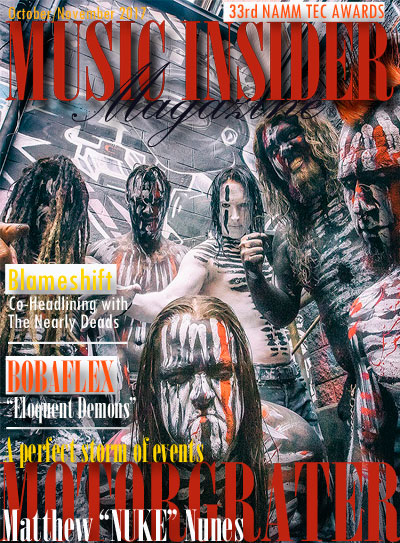 Gene Baker: Tell us a bit about what it took you from its disbandment then to now.
Matthew "Nuke" Nunes: There was still a huge demand out there for new Motograter music and we wanted to give it to them. It was inevitable that Motograter would rise again; it just needed to be the right time.
Around 2013, a perfect storm of events happened and the gears were set in motion once more. The Moto machine just can't be stopped!
GB:  Who were the key people, including band members, to help you cross the bridges to your return?
Nuke: This band is like a Tribe. We have members come and go. Some have contributed a significant amount to Motograter's history and some have contributed very little, but were important to the process none-the-less.
Motograter would like to thank Zak "The Waz" Ward, Ivan "Ghost" Moody, Michael "Angel" Woodruff, Neil Godfrey, J.R. Swartz, Ty Fury, Aaron "A-Bomb" Abalos, Tyler Hole, Kery "Venom" Glennon, Bruce "Grater" Butler, Mark Nosler, Michael "The Kidd" Stewart, Chris "Crispy" Binns, Jeremy "Twitch" Scheller, Joey "Smur" Krzywonski, Eric Gonzales, Casey "KC Kaos" Cahill, Joey Vice.
Our current lineup is one of the strongest there has ever been. Motograter is: James Legion – Vocals, Matthew "Nuke" Nunes – Guitar, Jesse Stamper – Guitar, Mylon Guy – Bass, Noah "Shark" Robertson – Drums, Dustin "Skunk" Anderson. Who knows… maybe we'll be adding more members soon…
GB: At what point in time did you know you were ready to create "Desolation?"
Nuke:  I don't think we did… the Universe knew the answer; we did not. It was just the right time. The right elements came together with the right members and it became a reality.
GB: "Desolation" seems to empower the core guitar riffage that solidified your overall tone. But it also comes with a more complex vocal and diverse musical direction, like cliff hangars of what Moto may become over the coming years.
What has guided you to take these new directions?
Nuke: We knew that we didn't want to stray too far from the classic Motograter vibe, but with a fresh approach. It was a conscious effort to create an album that was true to our roots, but with an added "modern" twist to it. We definitely feel we achieved that with 'Desolation'. Our producer, Ahrue Luster from Ill Nino, really helped the process along. He's an excellent songwriter, producer and musician.
It was chaotic at times with members flying all over the country to record their parts, but it came together nicely. There were a lot of awesome people working on this album with us and without their help, "Desolation" wouldn't be what it is.
Josh Wickman was monumental in helping with this album to take shape. It was an exciting process seeing these songs come to life and transform from pre-production demos to full-fledged studio tracks.
GB: What from the new Desolation release do you pull from for creativity or any song that means the most to you from the writers stand point?
Nuke: Desolation contains themes of death and decay and a lot of "end of the world" type of imagery. Fear of death, fear of dying, fear of aging and decaying. Hopelessness and self-loathing … Prophecies of the end times. The raven or crow sort of became the "harbinger of death" in the 'Desolation' story line … a sign of things to come. "The Raven" is the "death coach" in some of the folklore found in parts of Europe. In Irish folklore, it is known as the "silent coach". It is said, that the sight or sound of the coach is the "harbinger of death". It is a warning of imminent death to yourself or someone close to you. Christians believed crows to be companions of Satan and carriers of damned souls. The bird was thought to have had "a special taste for criminals and enjoyed plucking the eyes out of sinners."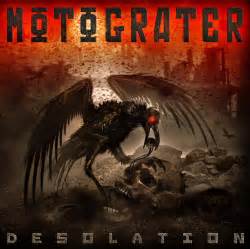 Some cultures believe that a group of crows or a "murder of crows" seen perching on a tree, signifies the presence of souls from Purgatory. Crows are also known for being very clever and highly intelligent and are considered to be wise souls. Northern American cultures see crows as a sort of spirit guide and at times even a prophetic being. They are seers of the future. North American tradition sometimes views the crow or raven as "the mediator between the land of the living and the land of the dead, accompanying the dead souls on their final journey." In Edgar Allen Poe's "The Raven", depending on how you perceive the story, Poe appears to believe that the bird has come to predict his own death, and that he has perhaps even come to speak to Poe as death himself… So, that is the origin story for the artwork.
GB: You guys have had your work cut out in creating the right team to take you to the Super Bowl as various members came and left over the past decade. What became the driving force that never stopped the tour bus?
Nuke: The fans. They keep the Moto gears turning. We love playing and making music, and we are grateful to have an audience that wants to hear it and see it.
GB: In any band, a new member can make a vast change in a bands overall sound, what did the various members add the most to become the Motograter of today?
Nuke: A former member of Motograter actually suggested James to the band… "Legion", as we call him, was in a group called Deadform. We were sent a music video he had done with the group and the rest is history. We sent him a demo of one of our songs and he recorded some vocals for it and sent it back and we knew right then he was our man. He is an amazing lyricist and he has a natural ability to generate truly haunting melodies. His vocal range is quite impressive as well. Perfect front man for this new version of Moto.
GB: Halloween costumes always bring out a character and make you act different behind the mask, who does Motograter become once the war paint is on?
Nuke: A tribe of vicious, psychos READY FOR WAR! Metal Warriors!
GB: Tales from the road. What's your most memorable gig over this past year preparing for the "Desolation" release?
Nuke: "Ink In The Clink" was insane. We filmed a video during that festival. Recording the video for "Dorian" was a surreal experience for all of us. We knew we needed to get a video made to help promote the new album and single, but the "Moto" members are somewhat spread out all over the country. The logistics of getting a video made is a little tricky for us. When we found out we'd be traveling to Mansfield, Ohio to perform at "Ink In The Clink," we recognized an amazing opportunity. The album was dropping not too long after the festival. We were sort of scrambling, to be honest, but it somehow all came together.
We reached out to video director Chris Davis (Human Twelve) and he agreed to make the trip out to Mansfield and shoot the video. It almost didn't happen! Chris couldn't make it out until late at night, he drove something like six or seven hours to get to us. By the time we had everything setup and ready to go, the festival was shutting down. They were literally trying to get rid of us, just as we were about to start filming. We thought the video shoot was doomed. The staff had been working around the clock for three days and were ready to shut everything down and go home.
If it wasn't for our hero, Mike, one of the staff members at the Ohio State Reformatory, the music video wouldn't have happened at all. He agreed to stay and supervise the shoot and ended up staying there with us until around six or seven in the morning when we finally finished. The prison is insanely spooky and creepy. You can just feel the history in that place. It was the absolute perfect location for a Motograter music video. We are extremely pleased with the results; it turned out better than we could have hoped for.
GB: Since you guys are half-naked while performing I'm sure it must've put some pressure on all to stay fit. What is a Motograter workout routine to diet like?
Nuke: Just a lot of beer, marijuana, and cocaine … Not really! Some of us workout and diet routinely. Some of us don't diet or exercise at all, and some of us are working on it. Lots of push-ups and P90X on the road.
GB: Motograter has inspired many young metal heads over many years including your own drummer, Noah. What do you say today to the fans that have stayed by your side or to your new fans in the making?
Nuke: Thank you for the continued love and support. Without you, the fans, there would be no more Motograter. We ain't stopping yet!
GB: How has the record industry changed you over the past 14 years? Has it changed the way you do business or your business plan to get to where you are now? Back on a label and back out on tour.
Nuke: Back in the day people bought and paid for music. They don't do that anymore. In the old days, record labels had money to give artists. Artists are getting signed with a finished product a lot these days. EMP Label Group is a great label; they take care of us.
GB: Also seeing a new producer/engineer slated to "Desolation", which is often like adding a key band mate, what do you feel "Ahrue Luster" has added of himself to the recipe to become, Motograter "Desolation"?
Nuke: Working with Ahrue was awesome. He really brought a lot to the table. Before the actual recording process began, we flew him out to California to spend a week with the band and we spent countless hours in the rehearsal room, hashing out these tunes. He really helped fine-tune everything and has a great ear.
It's great that he isn't just a producer, but a talented musician as well. He really helped these songs evolve. With us touring a lot and him touring with Ill Nino, it didn't help the process move as fast as we would've wished, but ultimately everything worked out and we created a solid album together. He is a huge Star Wars fan, as am I, and so during the process of making "Desolation", our motto was "The Moto Awakens." We wanted to please the old school fans, but give new listeners something to latch onto. I feel confident we achieved that.
GB: Where do you find the most Motograter reward in today's social media to cyber based radio?
Nuke: Facebook and Spotify has been good to us. Sirius Satellite is showing us some love. Internet radio is great right now.
GB: If you could team up with two other bands over the next three years, who would be your dream tour tag team?
Nuke: Slipknot and Five Finger Death Punch! Hahaha
GB: What does Motograter need over the next few years to secure your return?
Nuke: We need to go overseas and play some bigger festivals.
GB: Being on the road is never easy especially with a band of your size. What are the biggest hardships to overcome while on the road?
Nuke: Long periods of time stuck in the van together, smelling each other… it's rough.
GB: What have you learned from the most since 2003?

Nuke: That Trump skis in jeans.
GB: Where do you see Motograter being in the next five to 10 years?
Nuke: On top of the world! Rich and famous! Broken up and living on the streets?! Who knows?!
GB: Favorite road food or diners, drive ins and dives?

Nuke: Our home away from home is Denny's
Motograter can be seen on The DESOLATION Tour near you!