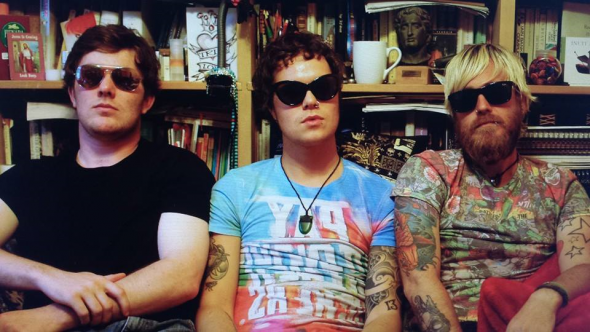 Formed in early 2013 by guitarist/vocalist Mik Davis, drummer John Bradford and bassist Neil Short, Monster Jaw draw on over 20 years of touring and recording experience between them. A dynamic three-piece, the band have evolved rapidly from raw garage grunge sounds to a more sculpted, atmospheric style of chorus-driven alternative indie rock.
Monster Jaw deliver a very tight, thrilling and often-dark stage show, with memorable songs and poetic lyrics. Noted for their intense stage presence and delivery, they have a dedicated international and UK following.
Two commercial releases in 2014 – June's 'Get A Tattoo' EP and October's 'Losing All My Friends' EP – both met with critical acclaim from UK press, not to mention airplay and circulation on hundreds of radio stations worldwide, including the BBC.
Now in 2015 – the band plan to record, self-produce and release a new set of songs, out now, titled 'Basement Sessions'. This is a project the band feel strongly is all about stripping things back to a pre-digital recording age, creating a warm, authentic sound by using a 25 year old Tascam chrome tape recorder. For this project MJ are currently studying the wonderful sounds and production skills of Steve Albini, Glyn Johns and Phil Spector.
To add to their ever growing profile, MJ have played various major UK festivals, such as DV8 and Rebellion. They have also supported the following acts on their UK tours – Black Star Rider (Thin Lizzy), New Model Army, Stiff Little Fingers and Urban Voodoo Machine.
www.facebook.com/MonsterJawOfficial
www.twitter.com/MonsterJawMusic
I love 'Losing All My Friends' and 'Low'. Meaningful lyrics that are missing in a lot of songwriting. Connected melodies that are pushing the story closer to the listener. Honesty and balls that I remember feeling on first hearing Lou Reed and The Velvet Underground' – Legendary Rolling Stones Producer – Chris Kimsey
'Losing All My Friends' bulges with a clutch of songs, managing to snarl whilst seduce the listener – Monster Jaw combine smoldering melodies with heavy and hungry intensity. – Ring Master Review
'Losing All My Friends' has a very laid back feel to it. Mik Davis's vocals have a Placebo style about it, and it works- a lot of potential here. – Get Your Rock Out
'Losing All My Friends EP- offers quite a raw, punky attitude, the vocals are hushed and low in tone, the bass line rumbles along creating a dark atmosphere while distorted riffs echo around the track. LAMF builds up punchy choruses, featuring great rhythms from the drums and the vocal style that matches those drum beats' – Mixtape Couture
Lidocaine – Video Single www.youtube.com/watch?v=KE3DW4HPyes
Low – Video Single – https://www.youtube.com/watch?v=mrRXxPIcB6o