AVENGED SEVENFOLD AND VOLBEAT TO SUPPORT
TICKET PRESALES BEGIN MARCH 22ND
 PUBLIC ONSALE LAUNCHES MARCH 25TH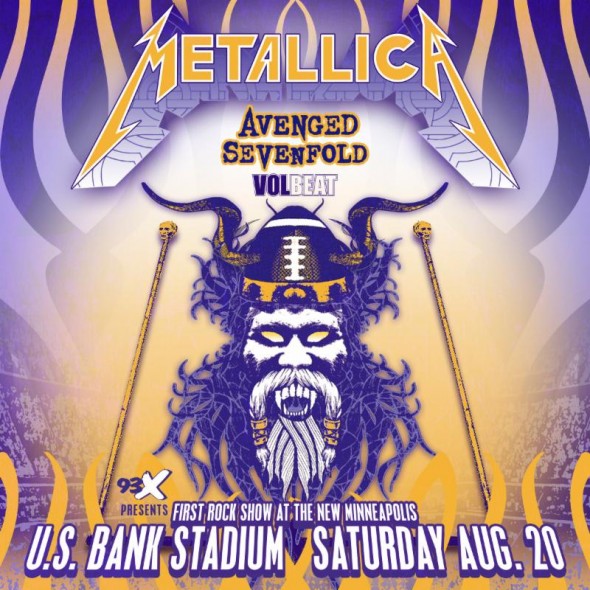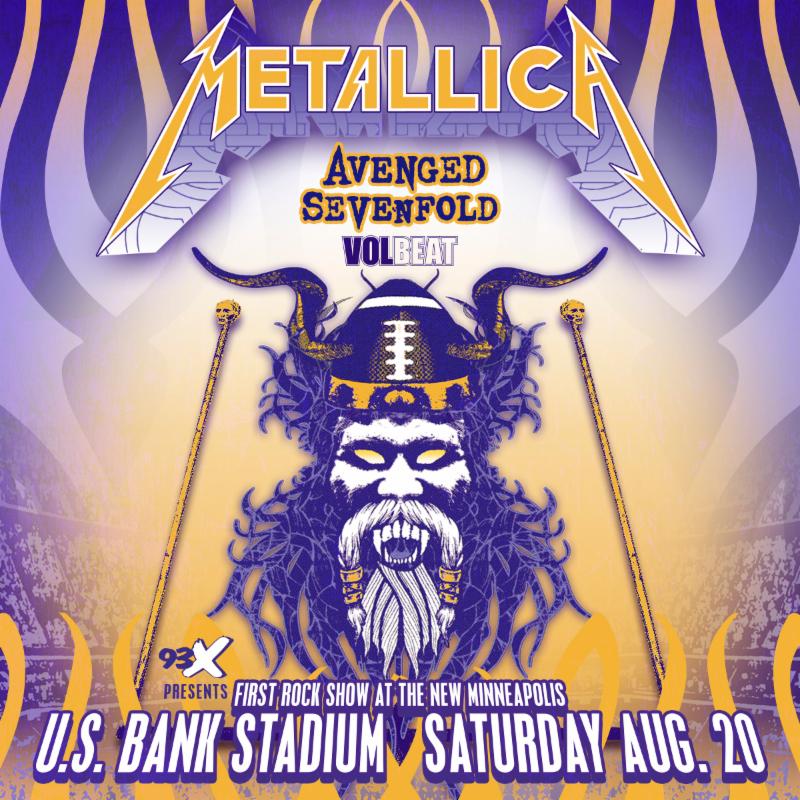 SAN FRANCISCO, CA – MARCH 16, 2016 – Metallica today announced that they will be headlining the first rock concert at Minneapolis' US Bank Stadium, the new home of the Minnesota Vikings, on Saturday, August 20th as part of the opening weekend festivities. Tickets for this one-of-a-kind concert will go on sale this Friday, March 25th at 10:00AM Local Time.  Avenged Sevenfold will provide direct support, marking one of only a few shows the hard rock band will play in the United States this year.  Volbeat will open the show with their unique blend of rock, metal and rockabilly.
Metallica will be offering a presale to the Met Club beginning March 22nd at 8AM CST (running through March 24th at 10PM).  Both Avenged Sevenfold and Volbeat will offer presales to their fans beginning March 22nd at 12 Noon running through March 24th at 10PM.  For more information on ticket presales visit www.metallica.com/tour.
"We had such an amazing time playing in our hometown stadium the night before the Super Bowl that when asked we couldn't say 'no' to another chance to be part of a very special weekend," said Metallica's Lars Ulrich.
"We can't wait to see our friends in Minneapolis!  Opening the new U.S. Bank Stadium would be an honor all on its own but having the opportunity to play with the mighty Metallica makes this a must see event," said Avenged Sevenfold frontman M. Shadows.  "We've been cooped up in the studio for over a year and can't think of a better way to bust out than with all of you in Minneapolis."
"Volbeat are very thankful and beyond thrilled that our friends in Metallica have asked us to join them for the first rock concert at the US Bank Arena alongside Avenged Sevenfold," said Volbeat's Michael Poulsen. "We can't wait to see you all there."
###
 
ABOUT METALLICA
Metallica formed in 1981 by drummer Lars Ulrich and guitarist and vocalist James Hetfield and have become one of the most influential and commercially successful rock bands in history, having sold 110 million albums worldwide and playing to millions of fans the world over. They have scored several multi-platinum albums, including 1991's "Metallica" (commonly referred to as "The Black Album"), which is the best selling album in the history of Soundscan, scanning 16 million albums in the United States alone. Their latest studio album, Death Magnetic, was certified platinum just six weeks after it debuted atop the Billboard Top 200 Album chart in October 2008. "Death Magnetic" charted at #1 in 32 countries and sold five million copies worldwide. Metallica have also garnered numerous awards and accolades, including nine Grammy Awards, two American Music Awards, and multiple MTV Video Music Awards, and were inducted into the Rock and Roll Hall of Fame and Museum in 2009.  The band celebrated its 30th-Anniversary in 2011 with a week's worth of fan club concerts at the Fillmore Theater in San Francisco, CA. In 2012, Metallica unveiled a brand new stage in Mexico City that featured iconic elements that spanned its 30-year career and is featured in the film Metallica Through the Never. They played eight shows to nearly 180,000 fans at the Sports Arena in Mexico City.  Picturehouse released Metallica Through the Never in North America on September 27, 2013. The music-driven, 3D motion picture film immerses audiences in a bracing, raw and visceral cinematic experience with spectacular live performance footage of Metallica's most iconic songs — created exclusively for film — combined with a bold, narrative story featuring imagery drawn from the band's trailblazing iconography.  In December 2013, Metallica performed a rare concert in Antarctica where all attendees listened to the performance through headphones to protect the environment.  With that show, the band made history by becoming the first act to ever play all seven continents (all within a year), earning themselves a spot in the 60th Anniversary Edition of the Guinness Book of World Records.  Metallica performed "One" with Chinese Pianist and Grammy Ambassador Lang Lang on the 56th Annual Grammy Awards on January 26th and two days later Metallica Through the Never was released on DVD and Blu-Ray.  On November 24, 2014, Metallica released a ten-year anniversary 2-disc Blu-Ray of their long out of print, groundbreaking movie, METALLICA:  Some Kind of Monster.

ABOUT AVENGED SEVENFOLD
Avenged Sevenfold has achieved worldwide success with a string of best-selling albums – including two consecutive No 1's on Billboard's Top 200 albums and Diamond, Platinum, and Gold awards for album sales in nearly a dozen countries. The band is an American rock radio titan with a series of No. 1 singles and holds the distinction as the most played band at rock radio in 2014. Avenged Sevenfold, which hails from Huntington Beach, Calif., is known for its spectacular live shows, routinely selling out arenas worldwide, including the U.K.'s legendary Wembley Arena, and headlining some of the biggest and most prestigious music festivals around the globe including Download (UK), Soundwave (Australia), Summer Sonic (Japan), Graspop (Belgium), and Rock On The Range (USA). As evidence of the singular role they play in the zeitgeist of rock & roll in the 21st century, in November 2012 A7X made an unprecedented appearance as characters in Call of Duty Black Ops 2 – the biggest-selling video game of all time, which featured the band's performance of "Carry On," written specifically for the game. Not ones to rest on their laurels, Avenged Sevenfold self-released the action-adventure mobile video game Hail To The King:Deathbat to rave reviews; with music, concept, and gameplay created entirely by the band. Avenged Sevenfold appeared in stores and homes globally as the featured pre-launch artist in 2015's Guitar Hero: Live including an industry first playable live performance.
ABOUT VOLBEAT
Volbeat emerged from Copenhagen in 2000. Since then, they've tirelessly clawed their way to hard rock's upper echelon with endless touring and a string of five beloved full-length albums. "A Warrior's Call" from 2010's Beyond Hell/Above Heaven received an RIAA Gold Certification, while the group has landed 8 Top 5 singles at Active Rock with 5 number ones. They've been invited to support numerous bands on the road worldwide in addition to show-stopping main stage turns at festivals such as Download, Rock on the Range, KNOTFEST, and more. Look out for new music coming soon in 2016.
www.metallica.com 
www.twitter.com/metallica 
www.facebook.com/metallica
www.instagram.com/metallica 
www.youtube.com/metallica