Metallica's tenth studio release, "Hardwired to Self Destruct", produced by Bob Rock, James Hetfield, and Lars Ulrich, has made band history with their sixth number one album on the Billboard 200 chart, and it's number one with a bullet for good reason. In my opinion, it's their best release since the Black Album, 1991's eponymous album. It also contains quite the large song list (with 26 songs on 3 discs), including original releases and live versions of a combination of their new material with venerable live Metallica show staples like Creeping Death, For Whom the Bell Tolls, Fade to Black, and some live deep tracks like Hit the Lights and Jump in the Fire. It's a mixture of new and old that's sure to please everyone and anyone who calls themselves a fan of Metallica.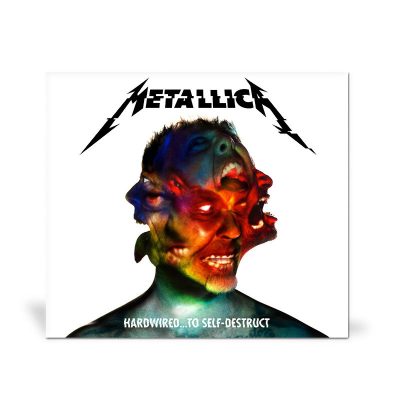 Since there are just so many new songs to review on this release (and my managing editor would kill me if I turned in a 13-page music review!), I'm going to focus on the five songs that, for me at least, are the best of the new releases of the album, and I'll just leave the rest up to the fans to choose which songs reach out to them the most.
To start out my top five songs of "Hardwired" in no particular order, the one that immediately comes to the forefront of my mind is "Spit Out the Bone," a throwback to early Metallica thrash ditties that includes some of the dark imagery and break-neck riffage that we've come to expect and love about Kirk Hammett and James Hetfield's guitars, Hetfield's vocals, and the band's overall head-banging output. As a self-proclaimed huge fan of Metallica, but not so much of drummer Lars Ulrich these days, I find myself grudgingly giving props to Lars for his performance on this song, if merely for the fact that he finally employs some of the interesting and blazing-fast double bass riffs that I knew and loved about his playing way back in my high school youth days. Hetfield brings the anger and the throaty growl to fill out the thrash-banging goodness that is this song.

The next on my list of five best is "Now That We're Dead." This song just grooves. It's as simple as that. The mid-tempo and heavy 'chunka-chunka' of the guitars with the rumble of the bass ensures that this song should be getting lots of radio play from everything to classic rock stations, metal and thrash stations, to straight-up rock radio. It's also a song that showcases Hetfield's apparent ease with his vocal abilities. The man has come a long way from Kill 'Em All's monotone grunts and screams, and has positioned himself as one of the premier heavy metal vocalists of all time. Kirk Hammett also shows his fluidity, his aggressiveness, and deft handling of his guitar in the raw power of the guitar lead on this song. In simple terms, he shreds the fuck out of the lead on this track. It's inspiring to hear him play that guitar the way he does these days, but particularly on this track.

"Confusion" is very martial sounding in its beginning, with the ominous drone of the guitars, the synchronized thumping of the bass line with the staccato notes of snare and bass drums in the intro. It's another mid-tempo offering, but it's full of cut times and syncopated guitar riffs that when thrown together bring a dark tone, but somehow upbeat feel to the accompanying lyrics. Again, Hetfield shines with his powerful vocals, and his unique phrasing lends itself to giving this song a feel of tightness in your gut. It's a frantic, panicked feeling without the frantic tempo, which in itself makes for interesting listening, as well as a deeper emotional reaction to the lyrics combined with the music, which encourages a physical reaction in the listener as well – a tendency to bang one's head and pump one's fist in the air. No confusion about that…
My next pick,"Halo On Fire," includes some of the coolest dual guitar riffs in Metallica's repertoire. The dynamics of this song are like a hypersonic rollercoaster ride, with ups and downs that throw you right and left, up and down, and make you hold on for dear life. But there are valleys, especially during the sweet-sounding vocals of the verses. Hetfield really shows off his vocal versatility on this song, smoothly transitioning from soft verses, jumping into the fire of the choruses with the power and grit we expect from him. Drums and bass both serve to drive the bottom end of the song with authority and a smooth, yet thumping groove that keeps things moving. This song combines all the elements of what make a great Metallica song – outstanding vocals by Hetfield, inspired and inspiring leads by Hammett, intelligent and intelligible lyrics, and thunderous grooves from Ulrich and Trujillo on drums and bass, respectively.

My fifth and last pick from this latest Metallica release may or may not surprise you. Nonetheless, these are my personal picks, and inevitably someone will be shocked, or even more than a little butt-hurt that I didn't include their picks on this list. That's life, folks. Get over it. My fifth and final pick off this album is "Murder One," a tribute to one of metals' "gone, but not forgotten" gods, Lemmy Kilmister, of Motörhead infamy. This song has Lemmy written all over it, and it just fucking rocks from the word "go!" "One crown shines on through the sound. One crown, born to lose! One man does not give a damn. One man, no excise! Aces wild, aces high… All the aces; Aces 'til ya die!" We still hear your thunder, Lemmy… The man in black, born to lose. This song has all the attitude of Lemmy with a lot of Metallica thrown in for good measure. For me, it's as fitting a tribute to one of the kings of heavy metal as you'd ever hope for, and in my book, Metallica did the man in black a real solid with this tribute to who and what Lemmy represented to metalheads all over the world.

"Hardwired to Self Destruct" is truly a fantastic album, through and through; a real home run for not just the band, but for their fans in particular. I can't imagine anyone savaging this album in any way, shape or form – unless they're just an asshole. Only an asshole could dislike this album… Seriously. And with that, I'll leave you with a salutation reserved for Metallica fans the world over – "Metal Up Your Ass!"
Metallica is back with a vengeance… Sweet!
Honorable mention (Songs that were very close, but didn't make my top five songs for this review):
– Am I Savage? (closest to making the cut!)
– Dream No More (second-closest…)
– Hardwired (third-closest…)
– Atlas Rising (fourth-closest…)
– Moth Into Flame ("last, but not least" fifth-closest…)
You can catch Metallica on tour by clicking on this link to find out when and where they're going to be playing at a venue closest to you. Their last North American show of 2016 will take place at The Fox Theater in Oakland, California on December 17th. This is a sold out show. Metallica will be spending the first months of 2017 in the Far East (all shows are sold out) – Seoul, South Korea (Jan. 11th), Beijing, China (Jan 18th), Hong Kong (Jan 20th), Singaport (Jan 22nd), and on to Europe for shows in Copenhagen, Denmark (Feb 3rd – 9th), and back to this side of the Atlantic with shows in Mexico City, Mexico (March 1st – 3rd – limited "enhanced experience" tickets are still available – all gen. admission tickets are sold out) and South America through April, 2017 (all sold out shows).
If you plan on seeing Metallica at any of their North American shows, you should get your tickets now, as they're selling out about as fast as they can be printed. The first show in the United States is in Columbus, Ohio (Rock on the Range, May 21st), and tickets are available NOW!