Bay Area horror and metal fans came together to share their passion for their favorite genres at Kirk Von Hammet's 2nd Annual Fear FestEvil, held at San Jose's fabulous new RockBar Theater.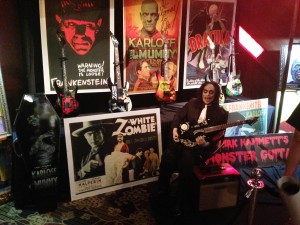 In addition to his horror collection on display, the weekend long event featured a star studded list of guests such as former Marilyn Manson axeman John 5, Anthrax's drumming beast Charlie Benante, Slipknot frontman Corey Taylor and on Sunday, Rock N Roll Hall of Fame guitarist SLASH. In addition, a mega-line-up including thrash metal heavy-hitters Ghoul, Asadah Messiah, Orchid, Agnostic Front, High on Fire and final day headliner Meshuggah, all graced the RockBar stage.
Metallica's longtime lead guitarist is not only number 11 on Rolling Stones list of the top 100 Greatest Guitarists, he may also be one of the world's most passionate aficionado's and collectors of horror film memorabilia. His extensive collection features life-sized replicas of some of horrors greatest monsters and villains, classic movie posters, comic books, figurines, anything and everything you could think of, related to horror. Hammett's passion for horror began at a very early age after seeing the film The Day of The Triffids. He then began collecting horror comic books and his collection evolved and grew over the course of the last 30 years.
Horror film "royalty" Sara Karloff, Bela Lugosi Jr., Ron Chaney and others, joined Kirk for a special VIP, murder mystery dinner theater at San Jose's historic Winchester Mystery House on Friday to kick off the weekend's
festivities. Avid fans, some in their own horror make-up and costume, began lining up early on Saturday morning for the event. VIP guests were treated to an autograph session featuring KVH, John 5, Benante and Taylor and were allowed to explore the memorabilia on display, for a couple hours before the general admission guests. KVH & friends were also joined on stage by horror film veteran Bill Mosley, known for his role as Chop Top in Texas Chainsaw Massacre 2, for apanel discussion and audience Q&A, on the selected topic of "Horror Movies
Greatest Psychopaths".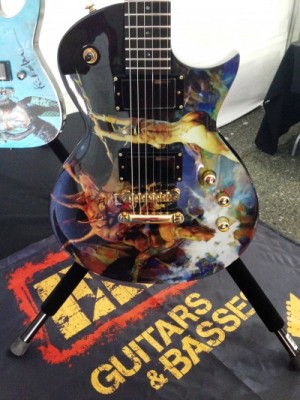 Characters in full Hollywood style horror make-up and costumes, roamed the venue throughout the event. Gladly stopping to take pictures with guests and/or scaring them to death if they weren't paying attention. Another great compliment to the event were vaudevillian style performers, Freak Show Deluxe, who entertained in between band sets with thrilling feats such as sword swallowing, contortionism and a young lady who drove a 6" nail into her nostrils. There were t-shirts and other promotional merchandise available for sale. A tent, erected in the parking lot, housed various product vendors and served as the entrance to the outdoor Carnival of Chaos portion of the event, in which guest could "try their luck" at winning a prize. Guest vendor ESP Guitars also donated a beautiful custom guitar, that served as the grand prize for an audience costume contest.
However, the highlight of the weekend's events, may have been Kirk, John 5, Charlie Benante and Cory Taylor joining metal juggernauts High on Fire on stage Saturday evening to treat attendees to a truly "Scary Good" All Star Jam.
http://www.freakshowdeluxe.com/