by Brian McKinny
I am going to come right out and say it. This is not the Megadeth of old. This album doesn't belt out every riff at gazillion miles an hour, but that's not to say for one second that the guitar riffs on this album aren't smoking hot! This CD keeps you wondering, "Just how the fuck does he play that lead?" The band's overall production is amazingly crisp and clean; it's immaculate. A full, rich sound fills your ears from start to finish. You can hear every single note, every stroke on the drums, and every slap on the bass. As expected, Dave's vocals are strong and confident, with the trademark snarl intact. But for some reason, the critics seem to be hell-bent to trash this latest release by legendary thrash metal band, Megadeth.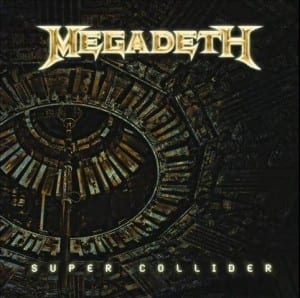 I've been seeing out in the blogosphere that many of the critics out there aren't happy with this release, for one reason or another. I'm not one of them.
From most of the reviews I've read, these critics are disappointed mainly by the 'lack of speed', and the lyrical content of the songs included on this album. They want the same old Megadeth that put out such incredible works as "Peace Sells. But Who's Buying" or, "So Far, So Good… So What?"
Personally, I think that if a band just keeps churning out the same kind of album, one after the other, that the band will just become stale and boring. Bands that do that are simply playing it safe, and are demonstrating that they are afraid to stretch their musical boundaries in favor of not rocking the boat, either at the behest of their fans or their label. They become comfortable and complacent. Don't confuse a band's particular style, formed over time and experience with complacency – a trained ear can tell the difference. Megadeth has a particular style, and this is not a band to sit back and rest on their laurels. Dave simply wouldn't allow it.
Megadeth has released 'Super Collider' on their own label this time, and I think that has taken some of the restraints off of Dave and the band, allowing them the creative and financial freedom to make an album of their choosing, and do it to their liking. There's nothing like having the ability to be as free as a musician and creative artist, and what I hear when I listen to 'Super Collider' is a Dave Mustaine who is free to write the music he wants to write.
As he has done on every album they've released, Dave writes lyrics that are meaningful and thought provoking. His current social ideology and political leanings are no secret, and they tend to ruffle the feathers of those in the music industry that tends to be much more liberal than the ironically conservative views of Dave Mustaine, a recovering drug addict and alcoholic. But I think that when Dave was finally able to get himself clean and sober, he realized that the kind of dedication and discipline it takes to get clean and sober and stay that way depends on the kinds of ethics and morals that his newfound conservatism preaches as its core values. It takes a certain moral and ethical discipline to be a conservative, and that ideology has found its way into his music.
Politics and ideology aside, this is a strong release. Contrary to some of the other reviews I've read about this CD, I find the lyrics to be insightful and just as bluntly truthful as any Megadeth release before it. Granted, the message is a bit less raw in both its lyrical content and overall musical production, but I fail to see how any of that detracts from the quality of this album. To my way of thinking, this is a testament to how much Dave has grown as a person from a philosophical and musical point of view, as well as the rest of the band, especially bassist and co-founder, David Ellefson.
The title track, 'Super Collider' is a radio-friendly hard rock song that most of the critics have panned, and for that single reason – it's radio friendly. I don't know why that should be a problem. Personally, I'd love to hear more Megadeth on the radio, especially with all the stagnant crap being played on the airwaves these days. It's a solid hard rock song, and I hope it gets them the airplay they're looking for.
I don't understand where some people find it unacceptable for Megadeth to write songs that have more 'radio appeal', but it's perfectly fine for Ozzy to do the same thing with his music. It's a meaningless double standard that some bands are arbitrarily held up to, while others are not.
'Burn!' has a cool hook, and the guitar leads are just shredding. It's a pretty straightforward hard rock song, and has a pretty cool bridge that has some great drum tones on it, full and booming, courtesy of drummer, Shawn Drover. The vocals are nice and fat, and the melody is simple by Megadeth standards, but it still delivers the goods. 'Built for War' is more of the unrestrained guitar riffs and breakdowns that we've come to love and expect from Megadeth and lead guitarist, Chris Broderick. The moaning vocals in the bridge are a little bit of a letdown to me, not being as fierce or foreboding in sound as the rest of the song – they needed to be more menacing sounding. Once you get past that, the song is full-bore metal in your face!
'Off the Edge' begins with a musical guitar lead harmony that jumps into the vocals and first verse that have the protagonist questioning his direction in life. It must be gratifying for Mustaine and Ellefson to be writing songs that affirm their choices to take a different direction in their personal lives, and the newly-found clarity that comes with sobriety has them both looking at a world that has gone crazy, literally fallen "Off the Edge". It's a good song that makes the listener think about the world gone mad.
Many people who have reviewed this release elsewhere have decried the use of a banjo and violin in the song, "The Blackest Crow". Why that would that be a problem for anyone is beyond me. I thought it was a brilliant way to create a particular mood and feel for the song, and it was done smoothly and with purpose. It starts off with a really haunting combination of picked banjo, bass, and a simple kick drums, and turns into a really cool mid-tempo groove with some interesting vocals and sound textures.
'Cold Sweat' is a cool choice for a cover song, and Dave and company do it justice. It's a straight-ahead burner from 70's Irish powerhouse, 'Thin Lizzy'. This track highlights some serious guitar shredding by Broderick on the leads, and Dave's vocals push the song. This is what I call 'driving music'! 'Cold Sweat' is one of those tunes that kept me playing air drums all the way to the end!
For me, the song that was the weakest on this album is 'Dancing in the Rain'. It isn't a bad song, but it doesn't seem to take off as the rest of the songs on album. I like the way it starts, but it just never seems to find its groove. It's just a bit 'off' – something is missing in it, but I see where he was going with the lyrics. It's the middle part that falls off a bit, but the reverb-heavy bridge is cool with the double-time drum part that races to the end of the song.
'The Beginning of Sorrow' starts with a booming bass line and an interesting guitar riff, and Dave's vocals shine on this song. The guitars and bass at the breakdown after the first verse are dark and heavy, and I love the overlay of the higher guitar parts. There is some intricate, expressive guitar layering going on in this song, of which you should take note. The 12-string acoustic guitar tracks layered throughout the guitar lead break are very tasteful additions to the melody. The chord progressions are attention grabbing, and create an ominous feel to the overall sound. Minor keys are so cool! Ellefson's bass lines throughout this album are very rich, and his tone is always sweet. As bassists go, David Ellefson is one of the unsung bass players in metal. His playing is inventive, and energetic, and he doesn't always stick to the obvious bass lines for a song. He keeps his bass lines interesting, and creative.
'Forget to Remember' is definitely more of a regular hard rock song, not much here to call metal, and it's definitely not a thrash song. I like the guitar hook that starts from the first note. Vocals are sharp and intense. The backing vocals are just subtle enough that they almost go unnoticed in the chorus, but they're in there just enough to make a nice addition to the part. The guitars have some very cool harmonies, melodies and riffs throughout this song that add different layers that plays together well with the backing vocals on the chorus.
My personal favorite song on this album is 'Don't Turn Your Back'. It starts almost as if it's a jazz guitar opening, and then launches head first into full-blown metal with some serious double bass. This song has simple, straightforward lyrics that are also good advice, and the guitar work on this song is really kick-ass. The lead fits the song while shredding to the heavens, and the vocals are just right for it.
'A House Divided' is an intelligent, insightful lyrical commentary on the dangerous ideological polarization presently plaguing American politics. It has a heavy, moody tone with some cool guitar leads and powerful vocals and lyrics. It's intended as a warning, harkening back to the famous words of Abraham Lincoln during the American Civil War: "A house divided against itself, cannot stand." This song makes a political statement that few can deny has a truth all its own.
'All I want' is raw and rowdy, just like Megadeth. I think it's a pretty cool way to end this album, and I think that you will agree it is one of the strongest songs on this release, along with the Thin Lizzy cover of 'Cold Sweat'.
Overall, I think that Megadeth has put out a solid album, but it's hard to please all of the people all of the time. This release has had more than its fair share of detractors, but I think that once people have given it more than a cursory listen that they'll come to the same conclusions I did: it's a respectable effort by the band, and although it may not be the holy grail of thrash metal, it's a consistent, competent metal album that any band would be proud to call their own. I'd give it 7 Skulls on a 1-10 Skulls Scale. It's not their best, but it's far from their worst.