AMERICAN IDOL finalist James Durbin and QUIET RIOT guitarist Alex Grossi to release "Maps To The Hollywood Scars" – Volume 1 in February 2017.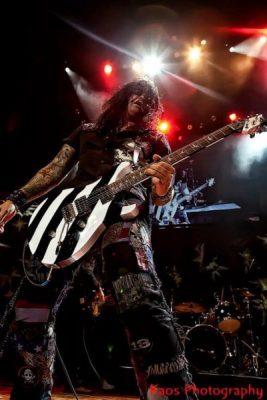 AMERICAN IDOL finalist James Durbin and QUIET RIOT guitarist Alex Grossi have announced a collaboration entitled, "Maps To THE HOLLYWOOD SCARS" – The first 5 song EP will be released worldwide via NEW OCEAN MEDIA (HIM, Adelita's Way, Motorhead) in February 2017.
Recorded at Desert Moon Productions in Las Vegas (a state of the art studio owned by Danny "The Count" Koker, star and creator of the History Channel's hit show "Counting Cars"). Maps To The Hollywood Scars showcases the darker side of Hollywood and the music industry – as experienced by two people that have taken different paths, yet ultimately found many common themes throughout their respective journeys. The first of the two EPs feature guest appearances by longtime GUNS N' ROSES keyboardist Dizzy Reed, as well as programming and engineering by A.J. St. James (The Big 4, MTV),
In 2011, James Durbin released the album, titled "Memories Of A Beautiful Disaster" . The album debuted at number 36 on the Billboard 200, at number eight on the Billboard Rock Chart, number 25 on the Digital Album Chart, and sold 28,000 the first week, The album went on to sell over 123,000 copies in the U.S. alone. Most recently, Durbin released "Riot On Sunset" in the summer of 2016.
Alex Grossi has been a member of QUIET RIOT for over a decade, having been chosen by the late Kevin DuBrow and Frankie Banali to fill the guitar slot in 2004.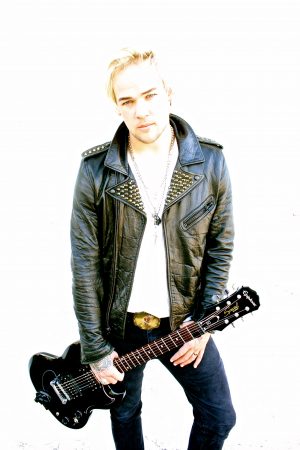 Most recently the band completed it's first full length studio album since 2006's "Rehab" which is currently set for a spring release Via Frontiers/SRL records. The award winning QUIET RIOT documentary "Well Now You're Here, There's No Way Back" has been airing on Showtime since January 2015, and appeared at multiple high profile film festivals including the 2015 Cannes Film Festival. The movie is currently available via iTunes and on DVD at www.quietriotmovie.com.
"I have been a fan of James's for a while, and after we got an impromptu chance to jam together in Las Vegas last fall, we kept in touch and the ideas just started flowing back and forth" says Alex Grossi. "I feel that "Maps To The HOLLYWOOD SCARS" is a true labor of love, and reflects a lot of where we have both been, as well as where we are both going musically" outside of what we are both known for".
James Durbin adds, "It's not very often that a project like this goes from nothing to something in such a short amount of time, without a slough of industry BS. Alex started sending me instrumental demos & gave me free range to just write! We started churning out songs one after the other and they weren't losing their quality, they were getting better. I think that we stumbled upon a winning team and it's only fair that we let our collective fans hear what we've been having so much fun making!"
How did you guys get together to form, MAPS TO THE HOLLYWOOD SCARS?
James Durbin: I was playing a residency show in Vegas, ran into Alex at a restaurant and we re-connected. Once my show had ended its run, Alex started sending me demos and that's what spawned the collaboration. It all happened so organically and easily so we just ran with it.
Who came up with the name and why?
JD: I had a band (pre 'idol') named 'Hollywood Scars' that was short lived. I knew I always wanted to use the name for a future project and this happened to fit a similar attitude. I suggested it to Alex and he added 'Maps To The' and the rest is history.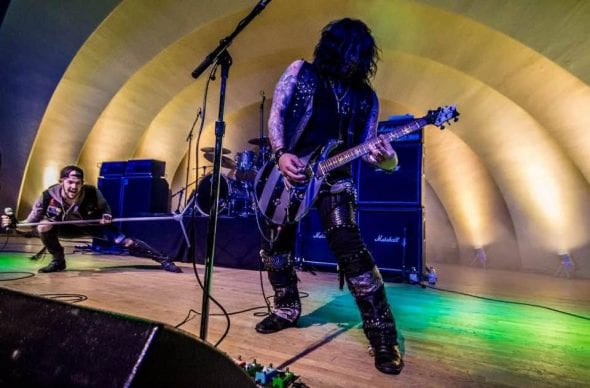 Where and who produced the EP?
Alex Grossi: The E.P. (and the next one) has been produced by AJ St. James – We met him out here in Vegas and he "got it" right away, if you will….. We are very lucky to have him at the helm, and his instincts are right in line with what we were and are going for, both sonically and musically.
Who played on EP?
AG: Well, it has really just been James and Myself — I did all the guitars and bass, AJ programmed the drums, based on what each song called for and Durbin did all the Vox. We kept it very under lock and key and very "in house". The only additional player, we had come in was longtime GUNS N' ROSES Keyboardist Dizzy Reed, who added strings, piano & organ to the track (and our first single) "TILL DEATH" – Which he really took to to a whole different place…
Whom would you like to get involved in a future album?
AG: That has been up for discussion. Between both James and I, we both know a lot of people that would not only add to the next release musically, but attention-wise. That being said, we are mostly focused on developing the songs to stand on their own – then seeing if a certain player will enhance it, as Dizzy did on "TILL DEATH" – We didn't plan it – It just happened, and musically, it made sense.
Where will you begin your tour?
AG: We have had offers from places all over the place, but it would have to be
under the right circumstances – Neither of us are "itching" to get out there, although I am sure we will do a few scattered shows at some point (when the calendars line up)…
Endorsements?
AG: Both James and I use PRS Guitars, and If you go to both of our websites you will see a full list of what strings/mics/picks/pedals/pickups etc… we all use.
https://www.facebook.com/hollywoodscars/
One thing you like to do but hate to admit?
AG: As much as I miss Hollywood, and hate to admit it, as this town can get pretty goofy, I do like living in Las Vegas – After 12 years in Hollywood, it is a quiet, refreshing change….
Be sure to catch Maps of the Hollywood Stars at a venue near you!