Lillie McCloud amazed the world with her fantastic X-Factor 2013 audition when she sang her version of "Alabaster Box" by CeCe Winans. Receiving a standing ovation from Judges Simon Cowell, Demi Lovato, Paulina Rubio and Kelly Rowlands, as well as the entire packed auditorium audience where she was compared to the great Whitney Houston, Kelly Rowland asked "Where You Been?" "Where You Been Hiding?"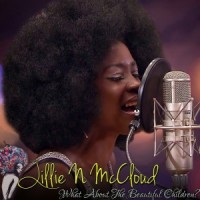 Lillie McCloud is not hiding anymore. After being dubbed one of the most talented performers in all 3 seasons of the The X-Factor, with Judge Simon Cowell saying she has a really incredible voice, Lillie McCloud is back with her first single release since her appearance on The X-Factor.
"What About The Beautiful Children" is a phenomenal ballad with an incredible uplifting message about taking care of the children who will be the future of the world. With all the atrocities against children in the world today, Lillie McCloud has recorded an incredible song to bring about social awareness to an extremely important issue that is sure to be an iconic song in the world of music.
Reality TV fans, music afficionados, industry insiders, and radio programmers are extremely excited about the release of Lillie McCloud's first single after her X-Factor appearance where she was deemed "The Voice" of Season 3.
"What About The Beautiful Children" is available now in 2 different versions on iTunes as well as all other digital download sites worldwide!

The Official Website for Lillie McCloud is www.LillieNicoleMcCloud.com
The Official Website for the Spectra Music Group is www.spectramusicgroup.com
For Interviews contact info@spectramusicgroup.com.