Behind the scenes with Corey Allen Jackson
by Teri Doty, editor-in-chief
Many people dream of seeing their name in lights — and the attention that comes from millions of people knowing their name. But what about the people behind the scenes?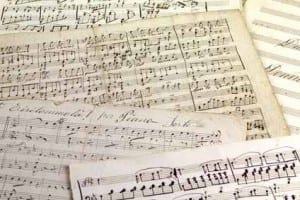 In 2002 after attending the University of Southern California, music composer Corey Allen Jackson became one of those people whose music makes a sublime contribution to movies, TV and video games.
While in school, Jackson worked for a couple of composers and continued working until graduation. Shortly after landing some small jobs, he set out on his own to pursue his love for music. Since that time, his compositions have been heard by people around the world.
Music Insider Magazine: What made you decide to start composing music for film and TV?
Corey Allen Jackson: I have always loved both music and movies, but the idea to score really did not hit me until my late 20s. I knew I had to compose, but it's not an easy way to make a living, so I had to make a decision — either get my doctorate and stay in the world of academia or head west to USC's scoring program. The head of the program, Buddy Baker, convinced me to attend the film-scoring program, and I never regretted that decision.
MIM: How did you come to work with MTV, FOX, NBC and the motion picture industry?
Jackson: It took a long time with a lot of hard work and lot of help. Composers never do this job alone. Whether it's finding the job or keeping the job, you have your representation and your mentors to help push you along.
The MTV and FOX jobs were through composers Christopher Lennertz and Timothy Wynn — two guys I started working with while I was still at USC — and we have remained close since. NBC was through a connection of my lawyer, Michael Morris.
I believe if you work hard for people, they will work hard for you. I have been lucky in that respect.
MIM: Was it easier to get your music to the TV industry as opposed to the motion picture industry?
Jackson: Both are equally difficult to break into and maintain connections. The terminology and procedures are different. For example, in film, you often collaborate with just the director and possibly a creative producer. In TV, you may collaborate with the show runner and/or the music editor.
MIM: What steps did you take to get your music heard?
Jackson: A lot of phone calls, emails and meetings. In my first year, I think I sent out over 500 CDs, and out of those, I got one or two jobs. Come to think of it, I am still waiting on a paycheck from one of those jobs!
Over the years, you learn the business and streamline your process. You learn to be persistent but not to the point of annoying. I now have both an agent and a manager, but I still hustle for work. It's just something you have to do.
MIM: How do you make sure your music is protected?
Jackson: You should copyright everything you can. Most of the work that composers do ends up being owned by a studio or production company. You keep your writer's share and collect royalties on that, but publishing depends on the deal.
MIM: What current projects are you working on?
Jackson: I am working on two TV pilots, but I cannot mention the names just yet, and I'm doing additional music for CW's "Supernatural."
MIM: Tell us about your HMMA nomination.
Jackson: My score for "Hansel & Gretel Get Baked" was nominated by the Hollywood Music in Media Awards in the Original Score-Feature Film category. The nominees included Michael Giacchino, Steve Jablonsky, Mark Isham, Henry Jackman and others. I have to say, I knew I did not stand a chance in winning, but I was floored to be in the same company as these composers. Jackman's score to "Captain Phillips" deservedly took the prize.
Corey Allen Jackson is a music composer for films, television and video games. He is also a conductor, keyboardist, guitarist and music producer. He was formally trained as a classical composer, earning bachelor and master degrees with honors from the University of Oklahoma. He then moved to Paris for additional training at the renowned La Schola Cantorum, where he studied the famous Boulanger method. He entered the world of film and television by composing music to NBC's "Starting Over" and quickly began scoring indie films.
Jackson's fresh musical approach drew the attention of Oscar-nominated animator/director/producer Bill Plympton. Their collaboration produced Sundance and Tribeca successes "Hot Dog," "Shut-Eye Hotel" and "Idiots and Angels," among other projects. Jackson's darkest writing has earned him a horror fan base through many films including "Left in Darkness," several projects for Syfy and "I Spit on Your Grave 2010," which received a limited release in the U.S. and was an international box office success. It has since become a top-earning Anchor Bay DVD.
Jackson recently scored "I Spit on Your Grave 2," Tribeca Film's "Hansel & Gretel Get Baked," MTV's animated series "Good Vibes" and Fox Digital's "Wolfpack of Reseda." A sought-after collaborator, Jackson has contributed to many productions, including "Spider-Man 2," "Cats and Dogs: The Revenge of Kitty Galore" and "Vampires Suck." Video game credits include the award-winning "James Bond: From Russia with Love," "The Punisher" and the smash-hit "The Simpsons." He also worked on the Grammy-winning Ozomatli album "Street Signs."