'Love Is A Beautiful Thing'
by Teri Doty, Music Insider Magazine
Many people know Leon Robinson simply as "Leon," the actor starring with Tom Cruise in "All the Right Moves," a star in Madonna's controversial "Like a Prayer" video and the lead actor in "Cool Runnings." He also gave memorable performances as three legendary singers: David Ruffin in the miniseries "The Temptations;" Little Richard in the TV movie "Little Richard," for which he received an Emmy nomination; and JT in "The Five Heartbeats."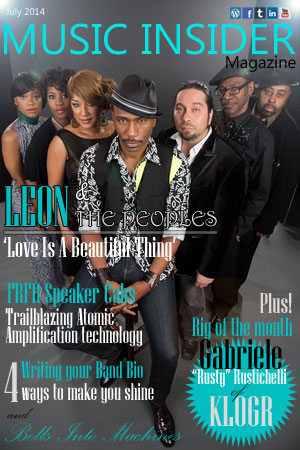 Yet Robinson's musical abilities go far beyond his portrayals in TV and film. An accomplished lead vocalist and songwriter, Robinson and his band Leon & The Peoples received an International Reggae and World Music Award nomination for their debut CD "The Road Less Traveled," and won "Best International Artist" at the Joe Higgs Reggae Awards.
Recently signed to Spectra Music Group, Leon & The Peoples' new single, "Love Is A Beautiful Thing" was featured on the BET/Centric TV show "Culture List," which premiered in July 2013. The band is working on its first album for Spectra and has embarked on its "Love Is A Beautiful Thing" tour.
Recently, I had the opportunity to talk with Leon about his background, experiences as a musician and actor, and career highlights.
MIM: Growing up, were you always surrounded by music?
Leon: Yes, through my dad's music collection, which included most notably Nat King Cole and the writing of Smokey Robinson.
MIM: What was the song that you remember the most that made the most impact on your life back then?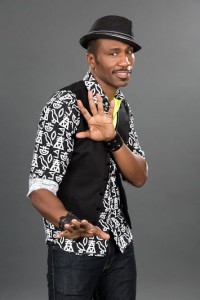 Leon: There wasn't a song but an album that had an effect on me. It was the "Natty Dread" album by Bob Marley. I was completely taken with it!
MIM: When did you decide to start singing?
Leon: Well, singing was something I always loved, and I think I got this love from my dad. Living in NYC, rapping to girls on the corner was very popular, but I was a bit shy then and would change around the lyrics to Smokey Robinson and Marvin Gaye songs and sing to the girls.
My first public appearance as a singer was in college as a freshman. I wrote and performed the opening song for the Special Olympics.
MIM: Do you play any instruments?
Leon: I studied violin for years as a kid, and I play a little bass guitar but not good enough to play in my band. My band members are some bad ass players!
MIM: What instrument would you be interested in learning?
Leon: I probably always wanted to play the piano well. I've often said, if I was a great piano player/keyboardist, I wouldn't need any friends!
MIM: Have you taken any vocal lessons or did you learn everything on your own?
Leon: I've always taken vocal lessons or training going back to when I was an acting student. We would do scene study and technique in the morning then dance and vocal training in the afternoon. I've worked with several coaches over the years and most recently with Johnny Brit (Impromt 2, The Temptations, Little Anthony & The Imperials).
MIM: Was your family supportive in your decision to sing or did they want you to take a different path?
Leon: Growing up in Mt. Vernon and the Bronx, there were not any entertainers on my block and neighborhood like kids in LA have. So my parents, especially my dad, wasn't happy when I gave up my full athletic scholarship to be an actor and singer.
MIM: Do you do most of the song writing or do you seek help from others?
Leon: I am the main singer and songwriter for my band Leon & The Peoples, but I often write with others, especially producer Joel "JK" Kipnis of Pulse Music, who produced most of my band's first CD and our current single "Love Is A Beautiful Thing."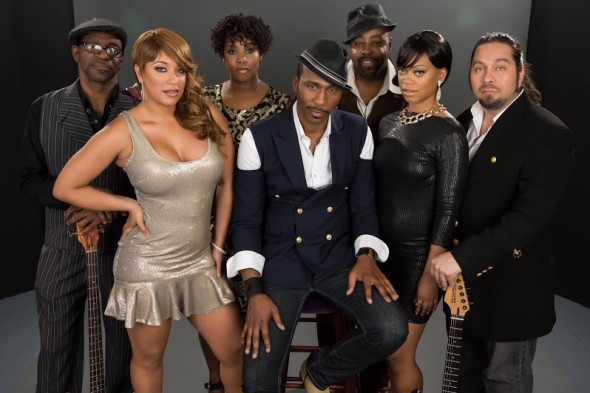 MIM: What are your songs about?
Leon: Life mainly, relationships, love, family, the issues of our lives.
MIM: What's your mood like when you feel you write at your best?
Leon: There is no one mood I need to be in. I just like to be isolated from all other things. That is why I like to be on an island rather than in a city to write — but honestly, many of my melodies come to me in a very isolated environment, in my shower! I'm a real shower singer!

MIM: Which song you wrote is your favorite?
Leon: Wow, that's not a fair question to ask a songwriter because, they are my songs. You love them all, like your kids.
MIM: You are also an actor. If you weren't playing music or acting, what would you do?
Leon: I don't know. Growing up, I wanted to be a lawyer or a surgeon, but that would have taken too much formal school for me. An entrepreneur of some sort, I would imagine.
MIM: Was Madonna's "Like a Prayer" video your first music-related appearance on screen and did that influence you to go after music-driven roles that you have taken on in your career?
Leon: It was my first music video, but it didn't influence me in my acting direction. The biggest influence on my career path as an actor was probably watching Elvis Presley movies.
MIM: Which do you prefer more, acting or music?
Leon: They are both entertainment, and I'm an entertainer, so I love them both. I trained to be an actor, so I love the craft, but when I'm acting, I'm playing a role that someone else wrote, and I'm being directed. When I'm performing with my band, singing my songs, that's me!
MIM: If you had an opportunity to sing with someone, who would it be?
Leon: I love so many great singers from the past to the present, so this question is a difficult one to answer. Every time I think of one, another pops in my head. I grew up loving bands more than solo artists.
MIM: What have been the greatest and worst moments in your music and acting career so far?
Leon: Singing with the real The Temptations at the sold-out New Orleans Super Dome for the Essence Music Fest shortly after the movie came out was pretty cool! Especially, because it was a huge surprise to the audience.
My worst singular moment was probably not winning "Best Actor" at the NAACP Image Award for my role as David Ruffin in "The Temptations" movie. Not because I didn't win, but because everybody kept coming up to me saying I was robbed. It got so bad that I couldn't even stay at the party.
MIM: If you could change one thing about the music industry, what would it be?
Leon: That artists who are loved get compensated for that love. Because so many people are not paying for music, the record companies, venues. etc. don't recognize how popular a band or artist is with the public, and that needs to change.
MIM: What is the craziest thing a fan has ever done?
Leon: While on tour at the Hard Rock Live in Orlando, when I came down off the stage to get closer to the audience, a woman stuck her hand down my pants and got a hand full. I just pulled out her hand and never stopped singing. A similar thing happened at the Aspen Jazz Fest, too. When filming the movie "The Five Heartbeats," I walked into my trailer in between scenes and a completely naked woman was laying on my couch.
MIM: So you're newly signed to the Spectra Music Group. What's that like being one of the elite who can honestly say he's gotten to that next level musically?
Leon: We'll see! I'm really happy to have a label behind us, so that our music can be heard worldwide, which is what I want most. Spectra seems very committed to doing that and as an artist, that is music to my ears and hopefully many other ears.
MIM: Did you ever see yourself being signed one day, or was it something you never really thought of?
Leon: I'm sure almost every singer/band has thoughts about being signed to a record label. It's just something I didn't pursue. I always felt that if a record label liked what we were doing and wanted us, it would come after us, and one did.
MIM: Let's talk about the new single "Love Is A Beautiful Thing." Where did the inspiration come from for that song?
Leon: The inspiration came from my observation of life and real love — not that so-called romantic love that has us slobbering on the same pillow with someone for years, spending family holidays and deaths together, then we stop going out, and we don't even speak or know where each other is in the world. It's about that real love like the kind we have for family members, our real friends. You may not like your brother or sister today, or may not stand your mother or best friend right now, but you still love them.
MIM: Which would you like to see yourself accepting if you could only pick one: a Grammy or an Oscar?
Leon: An Oscar, I would imagine, because it is more elusive, and I've put more time into acting, but I would gladly accept a Grammy instead and keep it moving!
MIM: What are your plans for the future for Leon & The Peoples?
Leon: Our immediate plans for Leon & The Peoples are to play as many places we can on our "Love Is A Beautiful Thing" tour and complete our first album of the same name for Spectra Music. For more information, you can find us on Facebook, MySpace and on the Leon & The Peoples website.
The new single by Leon & The Peoples "Love Is A Beautiful Thing" is available now on iTunes, Amazon and more.
Visit www.leonandthepeoples.net and www.spectramusicgroup.com
Photos by Jose Pagan of Pagan Photography http://paganphotography.org/