Hailing from Baltimore, The Last Year is an alternative rock band. The act stems from an idea of front-girl Niki Barr, on vocals, and Scott Ensign, playing bass and synth. The pair, complemented by drummer, BJ Kerwin, and guitarist, Scott Griffith, approach their music with a kaleidoscopic attitude, embracing diverse influences and refusing to give in to conventions. Having toured over 30 countries on three continents, The Last Year is no stranger to the stage. With their impressive light show, guided by Barr's coy, airy vocals that she expertly transforms into powerful rock melodies, and Ensign's layers of synth growls, the show is a spectacle and a must-see.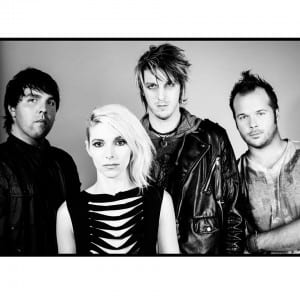 The Last Year recently teamed up with Shanachie Entertainment in order to release a brand-new EP of new material. Describing the new release as "limitless" with "everything from buzz saw synth to airy atmospheric ambience to 80s drum sequence loops", the group says that their latest songs come from the dark place Barr is almost known for and showcase the band's perfect blend of natural and synthetic sounds.
The Last Year's EP has been warmly received by fans and critics alike, especially lead single "Sugar", a tune that bridges the gap between the darkness of Joy Division and the infectious, radio-friendly indie rock hooks of bands like The Temper Trap; spicing it all up with female leading vocals that wouldn't feel out of place on a Garbage record. "Sugar" is currently receiving spins on HFS 97.5 Baltimore's Rock Alternative, Baltimore's 98 Rock, 98.7 WTMD, Phoenix's KWSS 93.9, and SiriusXM's Alt Nation.

Members:
Vocals/Synth – Niki Barr
Drums: BJ Kerwin
Guitars: Scott Griffith
Bass/Synth: Scott Ensign
Label
Shanachie Entertainment, www.shanachie.com
A&R:
Randall Grass, rgrass@shanachie.com
PR:
Bill Cason, billshanachie@optonline.com
General Manager:
Mike Marucci, Marucci Artists Mgmt, Inc., mike@marucci.net
Press contacts
Promotions:
Todd Sievers, todd@co5musicinc.com
Publicity:
Jean Sievers, jean@co5musicinc.com