Nothing stands in our way
Andrea Ferro (male vocalist) and Marco Coti Zelati (bassist) did not have Lacuna Coil in mind when they were skateboarders back in the 90s. They made a pact to play songs from their favorite records and eventually formed a band in 1994, Sleep of Right.
When asked about the birth of the Italian gothic metal band from Milan, Lacuna Coil, Ferro says, "In the mid-nineties, we met Cristina (Scabbia, female vocalist) and the other guys (Raffaele Zagaria and Claudio Leo on guitar, and Leonardo Forti on drums) that formed the first line up of Lacuna Coil." The band changed its name to Ethereal.
In 1996, the band recorded their first demo and signed with Century Media. To prevent copyright issues, Ethereal had to quickly change their name. Ferro recalls, "We decided to create one from scratch by putting together an Italian word with an English word to have a unique name. Lacuna Coil can be translated as empty spiral, more or less the same meaning as 'ethereal.'"
Scabbia is the only female in the band currently composed of Ferro, Zelati, and guitarist Marco Maus Biazzi. Back in 1996, that was a rarity, but the music business has changed a lot. Ferro says, "Women are more present in rock/metal music than before. Cristina never had any problems, and actually, she enjoys the special attention she gets."
The band as a whole has also enjoyed connecting with certain artists over the years; two of their favorite bands to play with are Type O Negative and Rob Zombie. Like Zombie, Lacuna Coil seems to have an affinity for creatures of the night. The band's newest release, "Broken Crown Halo," the last album to include retiring drummer Cristiano "Criz" Mozzati and guitarist Cristiano "Pizza" Migliore, features a song named "Zombies."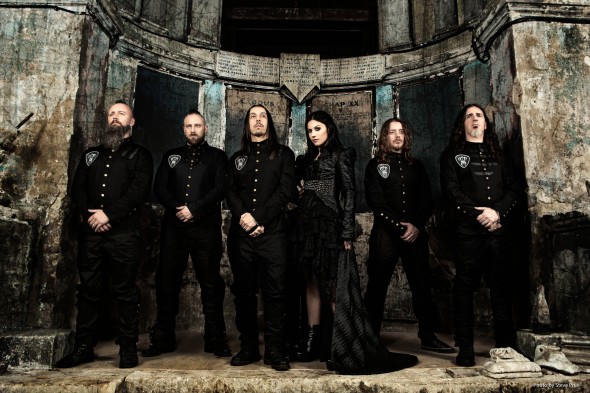 In her album review, Liz Ramanand says, "'Zombies'" showcases exactly why Lacuna Coil works so well with two vocalists, putting the emphasis on the heavy melody created by Andrea Ferro's harsh vocals and songstress Cristina Scabbia's harmonies."
Fans have shown widespread support of the album both in the U.S. and across Europe. Evidence of this support: They often make the band an intimate part of their lives and propose to their significant others during a meet-and-greet with the band or a signing session.

Ferro says, "Our fans are amazing, and we feel like they are part of our extended family. We try to stay in touch with them in social media, and they connect with us in such a strong way, it's unbelievable."
Ferro's family is also incredibly supportive of his career, "Even if we had to sacrifice a lot of our time together, I could not ask for a better family."
When asked about how the music industry is changing, Ferro isn't quite so optimistic, "Most of the time, it's getting worse. It's really hard to tell where it's going. Many bands can't afford to be professional musicians anymore, and they have to keep finding new ways to generate revenues to survive. Often, the artistic side has to become secondary and suffers from this situation. I hope there will be a brighter future, but it's still pretty far away."
Ferro recommends that bands be adaptable and try to be creative with their business model. He forewarns that the big picture often lacks clarity …
To try to maintain a balance, outside of music Ferro is passionate about many food-related or comic book/horror film-related things, and he likes to write articles for music- or horror-related magazines, as well as lyrics and pieces about life and reflections — he likes to help people with his knowledge. On days off, he says the band usually goes to visit and sightsee interesting locations. "If we're in the middle of nowhere, though, it'll be a good day for laundry, the shopping mall and a nice dinner."
Lacuna Coil has never had problems with chemistry within the band, and they've always been good friends, which is paramount as they continue to tour through the end of the year. Their recent track "Nothing Stands in Our Way," on "Broken Crown Halo" affirms this.

Regarding the band's plans for 2015, Ferro says, "We will have some special one-off shows in the beginning of the year, and then the ShipRocked cruise to the Caribbean. After that, we'll do a bit of songwriting and summer festivals."
For more information about the band, visit the Lacuna Coil official website.