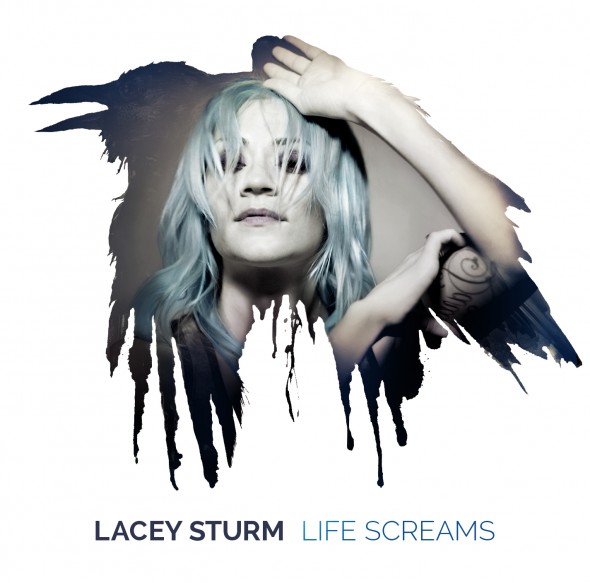 Album's Hit Single "Impossible" Garners Acclaim, Nikki "Sixx Picks," Spins Across The Country
Lacey Performs This Week In SiriusXM Octane, HardDrive, Loudwire NYC Studios
2016 Tour Includes Major Rock Festivals Rock On The Range, Monster Energy Carolina Rebellion, Welcome to Rockville, Northern Invasion, More
Four years following her departure from Flyleaf, the vocalist and songwriter who delivered rock anthems like "Again," All Around Me," "I'm So Sick" and "Fully Alive" to the top of the retail and radio charts, Lacey Sturm, announces that her debut solo album, Life Screams, will independently release Feb. 12 on FOLLOWSPOT Records with The Fuel Music distribution.
Writing alone, as well as with husband/guitarist Josh Sturm, Skillet's Korey Cooper and Grammy Award winning writer and producer David Hodges, Lacey created a record that is the sonic successor to Flyleaf's celebrated self-titled debut (which spent a staggering 133 weeks on Billboard's Top 200).
"In the beginning, Flyleaf really centered around my story and vision," says the Platinum-selling, Grammy-nominated frontwoman of Flyleaf (through 2012). "This new project continues that narrative in a cohesive way."
The debut single from Life Screams, "Impossible," gives voice to that new narrative as it screamed into the top five of the iTunes Rock Top Songs chart when it released. The single reached as high as No. 2 on the chart following SiriusXM Radio Octane's premiere of the song Nov. 1. In rotation now at Octane and numerous stations across the country, Lacey will travel to New York City this week to perform an acoustic rendition of the single in Octane's studio, as well as in the HardDrive Radio studio. While in New York, Lacey will further complete an interview and performance in Loudwire's studio. (Performances and interview air dates are to be announced.)
Receiving a Nikki "Sixx Picks" week of Nov. 16 on iHeart Radio, Music Times calls "Impossible" a "must hear" as the critics continue to rave about the song:
"The ferocity of the vocals is absolutely enthralling and continues to captivate completely going into the thunderous chorus. Stunningly sonorous shrieks echo across instrumentation that makes a powerful impact as it infiltrates the senses. The pace and passion increase for a second stanza that exhilarates with its astounding energy." – Pure M Zine
"Former Flyleaf vocalist Lacey Sturm is destroying the modern rock charts with her debut solo single called 'Impossible'…No doubt it will reach all chart tops soon." – RadioActive Rock
"The chorus is going to explode into a huge, anthemic sing along, once Lacey and her band (including husband Josh Sturm) hit the road in 2016." – Visible Sin
Approaching her latest creative phase with newfound perspective and appreciation, Life Screams grew organically out of a community of artists in Lacey's hometown of Pittsburgh. Through this community, Lacey's live band formed and have already performed for crowds in the tens of thousands.
As her 2016 touring schedule begins to fill up, Lacey will be taking the new music from Life Screams and fan favorites from her Flyleaf repertoire to the "World's Loudest Month," hitting ­such major rock festivals as Rock On The Range, Monster Energy Carolina Rebellion, Welcome To Rockville and Northern Invasion. She also performs at club dates, including a special album release show on Feb. 4 at West Hollywood's famed Whisky A Go Go.
After news of Lacey's return to music was released last fall, word began to spread virally across the web with Loudwire, Blabbermouth, ABC Radio and Alternative Press coverage, the latter's story receiving a remarkable 32,490 shares, one of the most shared stories on the site.
For all the latest Lacey Sturm news, tour detail and to pre-order CD bundles of Life Screams, go to laceysturm.com. More info on Lacey can be found on her Facebook, Twitter, YouTube and Instagram.
About Lacey Sturm:
Lacey has earned legions of fans worldwide through her emotive voice, chart-topping songwriting and sheer sincerity of the uplifting messages pervading her work. Whether as frontwoman of the multi-million-selling hard rockers Flyleaf, or now as a solo artist (as well as an author and speaker), she remains uncommonly true to herself while inspiring others to strive for better ways to live and love.
From performing for the United States Armed Forces in Afghanistan to sold out gigs around the U.S. alongside rock music's top bands, including Rage Against The Machine, Metallica, Deftones, Korn, and Evanescence, Lacey has also collaborated on recordings with Geno Lenardo, Apocalyptica, Orianthi, Resident Hero, Dave Navarro (Jane's Addiction), Ryan White (Resident Hero) and many others. She also performed "Again," "I'm So Sick" and "Fully Alive" on Jimmy Kimmel Live.
Gracing covers as a LOVEsick model for Hot Topic, Lacey has further received MTV "Favorite Music Video" and Yahoo! "Band of the Month" nods. She has also gathered numerous movie, television, soundtrack and video game placements with Flyleaf, such as Underworld: Awakening Soundtrack, Nightmare Before Christmas: Cover Album, Live Free or Die Hard, Rock Band and Guitar Hero III: Legends of Rock, The Sims 2, Resident Evil: Extinction, Underworld: Evolution, MTV New Year's Eve, and many more.
About The Fuel Music:
Established in 2008, The Fuel Music & Management, LLC, is one of the leading independent distributors of music, CD's, tapes and vinyl records internationally and enjoys a growing base in artist merchandise sales. Based in Tennessee, the Fuel team brings nearly 70 years of combined music industry experience in record label operations, record distribution and marketing (EMI Label Group), and artist management for artists ranging from upstart bands to GRAMMY Award nominated, multi-platinum artists. More information on the company can be found at www.thefuelmusic.com.