EXPLAINS HOW HE MEASURES SUCCESS ON THIS WEEK'S EPISODE OF THE METALSUCKS PODCAST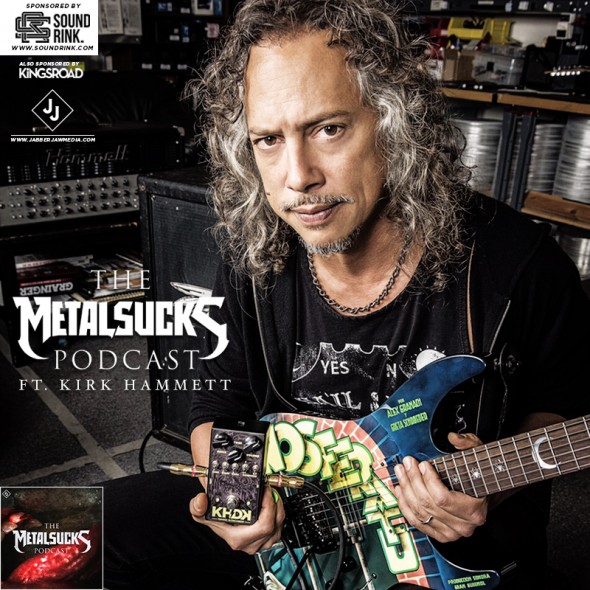 New York, NY | November 23, 2015 – Earlier this month, Jabberjaw Media announced the addition of The MetalSucks Podcast, featuring hosts Chuck and Godless. The podcast has recorded well over 100 episodes since its formation over two years ago. Their popularity is global, largely as a result of in-depth, candid interviews with the genre's most popular performers. Today, the duo unveil a special episode with Kirk Hammett of Metallica, where they dive into the importance of measuring one's success and some unique projects he is working on now.
As the podcast episode unravels the audience quickly learns that Kirk Hammett is not all about the fame and added perks it brings. Rather he measures his success by the music he produces and his finances. He explains how he quickly learned that just being a musician would not fulfill all of life's happiness, and would need to set out to find other avenues to reach this feeling. He expanded on how other members started tackling their 'life outside of Metallica' and wanted to join the movement.
Late last month, Hammett alongside industry vet David Karon unveiled their latest venture, the Ghoul Screamer guitar pedal. Hammett credits his awkward teen years and upbringing as giving him the necessary drive and will to take his dreams one step further and states that building a "good infrastructure" is the key to life.
Chuck and Godless take the time to ask how Hammett does it all, and he notes that it takes a lot of hard work and to be "real goal oriented and strive to hit the mark." He continues, "I tried to be the best musician, the best guitarist that I could possibly be." He finds his happiness helping others and hopes that his new pedal company will be a tool for young musicians to pick up a guitar and live out their dreams.
Today, Hammett and the rest of Metallica are currently in the studio. To hear the entire podcast with Kirk Hammett, fans can go here: http://www.metalsucks.net/2015/11/23/125-metallicas-kirk-hammett/
Stay tuned for more The MetalSucks Podcast episodes, only at: http://www.jabberjawmedia.com/shows
About Jabberjaw Media:
JabberJaw Media is a new music focused podcast network founded by Matt Carter (Emery, The BadChristian Podcast), Nick Bunda (BCPOD Producer), and Mike Mowery (Outerloop Management). The trio formed the network after seeing that there was a need for podcast hosts to strategize and find ways to build stronger audiences and share tips under one roof. They collaborated to create a music-centric podcast network that enables direct communication between artists and their audience without the influence of media conglomerates or other gatekeepers. The artist-friendly network will work with its hosts in creating compelling content and encouraging free expression of thoughts, ideas, and beliefs. JabberJaw Media exists to aggregate present podcasts and help them thrive while seeking to produce great content from interesting personalities within independent music and beyond.
JabberJaw Media shows will provide a wealth of knowledge about today's music industry and offer insightful stories, help for emerging artists, and thought-provoking topics. Network members and hosts not only work in the music industry today, but they are also genuinely passionate about the people that make up this community. As a result, the network is full of shows relevant for both fans and industry professionals alike.