Fueled by an undeniable spirit
by Stephen Stern, executive editor, Music Insider Magazine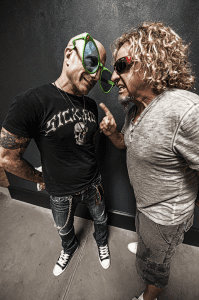 From the outside he resembles a Pontiac GTO convertible – a vintage American muscle car, with his strong features, bald noggin and power strokes. But underneath the hood is a Formula One machine, blue-printed with a mix of formal, classical instruction and self-taught chutzpah.
"Man as a machine" is the perfect metaphor for Drum-maven Kenny Aronoff, who explained that, "Hard work is the vehicle that gets us somewhere, from point A to B, A to C, and A to D."
"The passion that fuels hard work is your gasoline. Add ongoing education to continually improve yourself until you die," and you have Kenny's drive. Supplement this with a super-natural sensitivity for feel, awareness and connection – a special spirit and you may also find the road to sonic success and bliss, he noted.
Along the way there have been some monumental moments, but for the most part "its been a blur," explained Kenny, who has played withJon Bon Jovi, Elton John, Bob Dylan, Alanis Morrisette, The Rolling Stones, John Mellencamp, Lynyrd Skynyrd, Willie Nelson, Waylon Jennings, Avril Lavigne, Rockers Collective and a dozen other A-listers.
This includes his current tour with super group Chickenfoot, featuring Sammy Hagar, Joe Satriani and Michael Anthony. Kenny is filling the throne left by Chad Smith of Red Hot Chili Peppers fame. (Chickenfoot's Different Devil 2012 tour dates: http://www.chickenfoot.us/tour).
These seminal moments include several years in the early '80s as a member of John Cougar's band, which later became John Mellencamp.  Touring with the top album, American Fool, which included two number one hits, Hurt So Good and Jack and Diane, was "life-changing." Kenny added, "We were the shit! We sold out the biggest venues in 3 hours – everywhere!"  It was also at this time Rolling Stone named Kenny drummer of the year.  (Kenny has also been named Modern Drummers #1 pop rock drummer and #1 studio drummer for five consecutive years). He added, "There were also some very special moments with The Smashing Pumpkins. We were the biggest alternative band at the time."
Recording with the Buddy Rich Big Band was a drummer's dream. As was performing for President Obama's Inauguration, with 27 amazing artists, including Stevie Wonder, Mary J. Blige, Will.I.Am, Sheryl Crow, Chris Cornell, Beyonce, Willie Nelson ,in front of a worldwide audience." Kenny added, "There is so much beyond drumming; it's like serving as a second musical director and artist."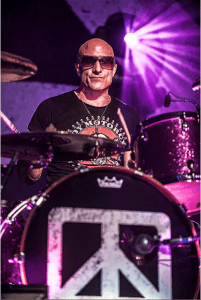 Not bad for a self-taught banger. Kenny credits his parents for providing a house filled with music. Plus a backyard musical playground known as Tanglewood in Stockbridge, MA, which fed him a constant diet of the classics by the Boston Symphony Orchestra, Summer stock, big dance, and marching band drum lines, which pulsated his spirit. But it was also the Beatles' film, A Hard Day's Night in fifth grade that intoxicated his musical soul. "Within a week, I bought a stand-up snare drum, borrowed money for a cymbal, formed a band and played the Beatles and everything else that was on the radio," he said.
Despite banging his way through his adolescence, Kenny felt a musical void that could only be filled by classical instruction. "I wanted to study with members of the Boston Pops Symphony," he explained. "I went for an audition and was asked, 'what have you prepared? A timpani piece? What do you play?  'I said drums. 'Let's hear it.' He stopped me after 30 seconds, and put me on a practice pad. I decided to study music, and spent my first year at the University of Massachusetts catching up for not having had four years of high school experience in marching bands and orchestra."
Kenny then applied for the prestigious Aspen Music Festival, facilitated by the Juilliard School of Music. It was a long-shot, Kenny thought, but nonetheless he decided to drive back to campus after semester ended to check his mail one last time. His golden ticket awaited and without hesitation Kenny told his parents he was driving to Colorado, with only a few shekels in his pocket to support his grand aspirations. Providence ensued, and Kenny was introduced to Indiana University Professor George Gaber. "I realized quickly his genius," Kenny said. "In two weeks I knew I was going to study with this guy at Indiana University." And he did, performing timpani, marimba concertos, orchestra solos, working with great conductors, and honing in on his reading and writing chops as part of his formal training.
After graduating from Indiana University in 1976, Kenny said he was offered jobs as a timpanist for prestigious orchestras. But passion trumped security, and Kenny returned to his first love, the drums, and the prospects of $75 nightly gigs.
Hard work, fueled by passion, now formally educated, and bestowed with an undeniable spirit, Kenny returned to Indiana and auditioned for John Cougar Mellencamp.
Since then, he has been cruising with the top down, his radio hits blaring, R.O.C.K. in The USA and everywhere else the road takes him.