The voice behind 'The Voice'
by Stephen Stern, Executive Editor
Kara Britz has been turning heads for years, but given the opportunity, she could as easily turn the judges chairs. But as a voice behind "The Voice," Britz's vocals can only be used to bring stardom to others on NBC's smash- hit reality show.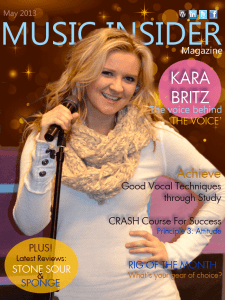 Such irony, however, gives way to the ecstasy this 27-year-old vocal bombshell feels when she gets to add color, depth, and breadth to another vocalist's performance, whether it's for Joe Blow or Joe Cocker.
"I am so happy backing up singers," Britz explains. "They stand on stage, so vulnerable in the public eye. They know I have their back. I love it more than I thought I ever would."
That's despite the grueling 12- to 18-hour days learning hundreds of songs in various keys and parts, technical rehearsals, dress rehearsals, video shoots and the live performances.
"Everything is live; nothing is fabricated or lip-synched on "'The Voice,'" Britz adds. "We do tracks on iTunes and for the live shows, and it's all true to what you hear."
Britz said she shares the stage with some of the world's best background vocalists, including Stevie Mackey, Denise Janae and Denosh Bennett.  "Background vocalists are a tight community, and the people you sing with are like family  — we take care of one another," she said. "That means filling the sound when the other's voice may be tired or raw."
They, in turn, are backed up by one of the best bands ever assembled for a TV show, led by the highly-acclaimed and sought- after musical director, Paul Mirkovich (P!NK, Cher, Janet Jackson) and the rock- solid rhythm section of Sasha Kristov (bass) and Nate Morton (drums); guitarists David Barry, and Rafael Moreira who replaced Justin Derrico who returned to P!NK, and Eric Daniels shares keyboard duties with Mirkovich.
"Kara is a really cool singer," says Mirkovich. "She has a soulful rock sound and is gritty when she wants to be. But she is also able to dial it back and sound sweet and airy when she needs to. She is very versatile, has great pitch and can be loud as hell."
Mirkovich adds, "Kara is great to work with; always positive — even in long hours. She's quick to pick up parts, which is mandatory on a gig like 'The Voice,' where we learn hundreds of songs a season. She is fun to have around, and I consider her a permanent part of my team on 'The Voice' or whatever I do."
During the past four seasons, Britz has literally sung thousands of songs for hundreds of up-and-comers and stars including Michael Bublé, Smokey Robinson, and Peter Frampton.
One of her most memorable experiences on "The Voice" is when Kelly Clarkson walked onto stage during rehearsal — no make-up, hair undone, and warmly and genuinely greets everyone, and then sings her face off. She made sure her background vocalists could hear her because she really cares. She's a true professional, and her voice is so amazing that I started to cry while she was singing. I really identify with Kelly; she is also a cross-over artist, southern rock and country to organic pop and rock."
A midwestern girl with gospel, country and rock roots, Britz says Clarkson sparked her desire to be a lead vocalist. Moving six feet to center was never an aspiration growing up in family of five in which everyone sang and/or played an instrument.
"I just knew I wanted to sing — there was nothing else I wanted to do aside from learning musical therapy to help special needs children." She adds, "Briefly, I thought about becoming a lawyer 'cause I could argue the shit out of anything."
Stoking the flames during her Virginia-based youth were brother Corey Britz, who would become bass player for The Calling and BUSH, and childhood friend, Justin Derrico, who would become guitarist for The Calling, "The Voice" and P!NK and who recently recorded a solo album, "Boldly Going Nowhere," with Corey Britz producing.
"I remember once when she was just 13, her brother and I woke her up at 3 a.m.," says Derrico, "as we had been recording a song in the basement of their house. We hummed her the melody, gave her the words, and she sang the shit out of it in one take." He adds. "She has always been one of the most talented singers I know."
Kara Britz says, "I was surrounded by music. Corey and Justin had a band called Majahkamo recording at our house — actually, it was a big truck my dad brought in with a recording console inside parked in our driveway for a year and a half. Corey was also recording a band called Bummer. I would head to high school, where I knew the only thing I was good at was singing in choirs and jazz band — and playing drums. I also played in high school bands and played in lots of bars when I was underage."
Following college, Corey Britz and Derrico split to Los Angeles to pursue their musical dreams while Kara Britz finished high school. After weighing a four-year college degree in music therapy against finding a place for her voice, parents and daughter decided it was best for her to also head west. Eighteen, energized and filled with hope and ambition, Britz moved into a house rented by her older sister and fitness model, Kelley Britz Hanold.
Shortly thereafter, several studio doors opened for lead or background vocal tracks. "We use her every opportunity we can," says Mark Schulman, part-owner of West-Triad Studios and beatman for P!NK. "She has amazing versatility and a powerful voice — she can sing anything!"
By age 19, Britz had spent six months at Musician's Institute and had an audition that landed her a position in Lindsay Lohan's band. However, Lohan's band performed infrequently, and she began working as an assistant to Kara DioGuardi, an accomplished songwriter (P!NK, Christina Aguilera, Kelly Clarkson, Carrie Underwood, Rascal Flatts, Gwen Stefani, Celine Dion, The Band Perry and Cobra Starship), producer, and TV personality.
Through DioGuardi, Britz sang on albums for Hillary Duff and Selena Gomez. She also was the lead singer for 6 Figures, an original rock band featuring Corey and Derrico — "the two people who always have my back," says Britz. "We always look out for each other, introduce each other to other people in the industry — simply help each other with our musical goals and more."
Most notably, however, it was Mirkovich, and his widespread musical tentacles, that helped elevate Britz to the next stage of her career as a background vocalist for Cher. She sang with Lisa Fischer, who Britz says was "her mentor and a legendary, Grammy Award winning singer."
Next came legendary Joe Cocker and his 2010 "Hard Knocks" tour. The English rocker and blues singer paired harmoniously with Britz's ability to get down and gritty, and visually, as eye candy with a commanding stage presence. Interestingly, it wasn't touring with Cocker that made this one of the greatest moments in her career.
Britz humbly explains, "Here I am, a white, blonde soulful singer, which makes it hard (for me) to accept that it's not just my voice, but maybe a look thing. So, when I got the call from Joe to sing a duet part on "You Love Me Back" on his new album ("Fire It Up"), it was very, very special."
Britz continues to tour with Cocker around her schedule with "The Voice," now in her fourth season. She is also lead singer for Rockers Collective, a celebrity rock band.
Most recently, Britz was a background vocalist for an intensive production of a new singing game show set to air on NBC in June. As with "The Voice," the best contestant for "The Winner Is …" will be in the shadows while her voice fills center stage.