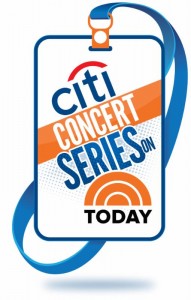 WHO: Justin Bieber
WHAT: A live performance by Justin Bieber onthe Citi Concert Series on TODAY, featuring songs from his new album Purpose.
WHEN: Wednesday, November 18th @ 7:00AM (check local listings)
WHERE: Rockefeller Plaza in New York City / NBC
WHY: Through the newly launched Citi Concert Series on TODAY, Citi and NBC News are creating new ways for fans and Citi customers to experience live music, as well as custom created-content via digital and social platforms and on-site activations.  Citi customers also have opportunities for exclusive access and VIP experiences at Citibank's Rockefeller Plaza branch, adjacent to the TODAY plaza. 
The TODAY Concert Series is the first, and longest-running, on-air concert series on a national morning show. For more than two decades, TODAY's live performances have been a favorite among viewers and have featured hundreds of performances from award-winning artists on the plaza and in the famed Studio
Fans can view a list of upcoming performances on the Citi Concert Series on TODAY by visiting http://www.today.com/. More information about Citi's entertainment access program can be found on
www.citiprivatepass.com.
About Citi
Citi, the leading global bank, has approximately 200 million customer accounts and does business in more than 160 countries and jurisdictions. Citi provides consumers, corporations, governments and institutions with a broad range of financial products and services, including consumer banking and credit, corporate and investment banking, securities brokerage, transaction services, and wealth management. 
Additional information may be found at www.citi.com |Twitter: @Citi | YouTube: www.youtube.com/citi | Blog: http://new.citi.com | Facebook: www.facebook.com/citi LinkedIn www.linkedin.com/company/citi
 
About NBC's TODAY
NBC's TODAY is the news program that informs, entertains, inspires and sets the agenda each morning for Americans. Airing live from 7 am to 11 am ET, TODAY reaches more than 5 million people every day through its broadcast, and millions more through TODAY.com, the TODAY app, and social media platforms. Matt Lauer, Savannah Guthrie, Al Roker, Natalie Morales, Willie Geist, Tamron Hall, Carson Daly, Hoda Kotb, and Kathie Lee Gifford are the anchors and hosts, Noah Oppenheim is the SVP and Executive in Charge, and Don Nash is the executive producer.