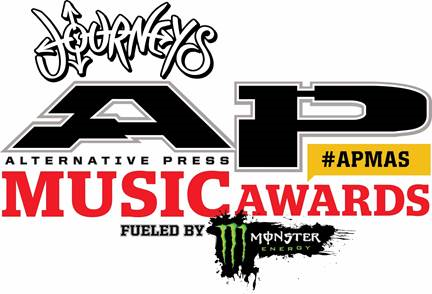 THE SECOND ANNUAL
JOURNEYS ALTERNATIVE PRESS MUSIC AWARDS
FUELED BY MONSTER ENERGY DRINK
ESTEEMED HONOREES:
ROB ZOMBIE (VANGUARD AWARD) & X (ICON AWARD)
LIVE PERFORMANCES:
PIERCE THE VEIL • DMC of RUN DMC
MIKE HERRERA of MxPx
ANNOUNCES RED CARPET CO-HOSTS:
KEITH BUCKLEY (EVERY TIME I DIE) & ASH COSTELLO (NEW YEARS DAY)
PRESENTERS:
NEW POLITICS, WE CAME AS ROMANS, SILVERSTEIN & MORE
PLUS:
WEEZER • PANIC! AT THE DISCO • ALL TIME LOW • SUM 41 • SIMPLE PLAN
NEW FOUND GLORY with HAYLEY WILLIAMS • ROB ZOMBIE • X
TAKING BACK SUNDAY • COREY TAYLOR of SLIPKNOT and STONE SOUR HALESTORM • PVRIS •  TYLER CARTER of ISSUES • BLACK VEIL BRIDES MOTIONLESS IN WHITE and many more to be announced!
JULY 22, 2015 @ QUICKEN LOANS ARENA – CLEVELAND, OH
TICKETS ON SALE NOW VIA ALTPRESS.COM/APMAS
APMAS TO BE BROADCAST LIVE ON AXS TV
The Journeys Alternative Press Music Awards, fueled by Monster Energy Drink, has added even more performers and presenters, in addition to this year's official red carpet hosts and esteemed recipients of the Vanguard and Icon Awards. The APMAs will take place on July 22, 2015 at the Quicken Loans Arena in Cleveland, Ohio.
The APMAs is pleased to present the revered Vanguard Award to hard-rock legend and respected filmmaker Rob Zombie. As a rock icon and filmmaker with a unique vision, Zombie has continuously challenged audiences as he stretches the boundaries of both music and film. He has sold more than 15 million albums worldwide and is the only artist to experience unprecedented success in both music and film as the writer/director of six feature films with a worldwide gross totaling more than $150 million.
This year's Icon Award honorees are none other than American punk-rock mavericks X. X were one of the most influential bands to emerge from the Los Angeles punk scene of the late '70s. The group's first two albums, Los Angeles and Wild Gift appear on Rolling Stone's Top 500 Greatest Albums Of All Time list. Frontwoman Exene Cervenka shares, "Alternative Press came out of the American heartland as a local fanzine, and grew to be an important source for music lovers everywhere. Thank you for bringing X along with so many other artists into people's lives!  We are honored to be recognized and given this award."
The APMAs is very excited to reveal this year's energetic AXS TV Red Carpet hosts: Every Time I Die's wisecracking frontman Keith Buckley and New Years Day's striking frontwoman Ash Costello. The pair will interview many of this year's stars as they make their way down the red carpet and into the main event.
Gibson Brands is also returning as one of the main sponsors of the APMAs and will be hosting the official Gibson Backstage Artist Lounge. All performers, presenters, honorees and award winners will gather at the Lounge for their post-stage victory interviews.
Additionally, the APMAs is pleased to announce Tumblr as an official partner. Tumblr is a media network powered by an army of independent creators and home to an audience of more than 460 million unique visitors. This year, the APMAs launched the first-ever "Tumblr Fandom Of The Year" award. Every day, thousands of fandoms post artwork, GIFs, funny memes and so much more on their Tumblr pages, and these nominees were among the most posted about last year. The nominees were chosen via Tumblr's Fandometrics, and AP staff choices. You can vote for your favorite/the most creative fandom at altpress.tumblr.com through July 6.
NOMINEES AND VOTING HERE:
In addition, to the "Tumblr Fandom Of The Year" award there will be a GIF booth backstage capturing all the exclusive behind the scenes moments from award winners, performers and talent associated with the show. Follow the night's mayhem on AP's Tumblr blog.
"So many of the biggest fandoms on Tumblr pay their homage to alternative bands through art, GIFs, fan fiction and any sort of craziness that you or I could never imagine," says Nate Auerbach, Tumblr's Head of Music Strategy and Outreach. "There couldn't be a better partner than Alternative Press to reward these creative, passionate users and show them how much they are appreciated."
AP cover stars Pierce The Veil are the latest performer addition to this year's APMAs! PTV have become one of the fastest-rising and most compelling forces on the music scene today, manifested by the rocket-ride success of the band's 2012 release, Collide With The Sky.  The album has sold nearly 300,000 copies in the U.S. alone, and features the single "King For A Day" which has been certified Gold and has racked up an astounding 50 million YouTube views. At last year's APMAs, the band won three awards, including Best Live Band.
Additional live performances include Weezer, Panic! At The Disco, All Time Low, Sum 41, a special performance from New Found Glory featuring Hayley Williams, Rob Zombie, X,  DMC of Run DMC, Mike Herrera of MxPx, Taking Back Sunday, Corey Taylor of Slipknot and Stone Sour, Halestorm, a special performance featuring four-time nominees PVRIS and Issues frontman Tyler Carter, Black Veil Brides, Simple Plan and Motionless In White. The world-renowned Contemporary Youth Orchestra will also return to the APMAs to accompany many of the evening's performances.
New presenters this year include members of the Amity Affliction, Asking Alexandria, Beartooth, Crossfaith, Drama Club, Every Time I Die, Man Overboard, Major League, Memphis May Fire, Metro Station, Miss May I, Neck Deep, Never Shout Never, New Politics, New Years Day, Silverstein, State Champs and We Came As Romans. Additional appearances will be made by members of '68, As It Is, August Burns Red, Bullet For My Valentine, Mayday Parade, Motion City Soundtrack, Parkway Drive, Real Friends, Senses Fail, Set It Off, This Wild Life and While She Sleeps with more to be announced soon.
Voting on all awards is open now via www.altpress.com/apmas, in addition to the Best Music Video award, which can be voted upon exclusively at any Journeys retail location via voter mobile device and store-provided QR codes or via journeys.com/bestmusicvideo. Voting ends on July 6, 2015.
View this year's CATEGORIES and NOMINEES here!
APMAs Early Bird discount tickets and Ultimate Monster Travel Packages are already sold out, but you can still purchase several other ticketing options now. Available options include reserved seats at $59.99, premium seats at $79.99, Vans Warped Tour bundles for $89.99, general admission pit passes for $199.99 (which now include early entry) and special VIP packages are $249.99. Head to www.altpress.com/apmas for all ticket offerings and details on each option listed above.
The APMAs is very pleased to team with 2015 title sponsor and official retail partner Journeys, in addition to lead presenting sponsor Monster Energy Drink. The APMAs is once again proud to team with official broadcast partner AXS TV. Last year's award show marked the highest social engagement in the channel's history. The APMAs is made possible by many other great sponsors and partnerships including Affliction Clothing, AKT, Another Century Records, Artery Recordings, CreativeLive, Disc Makers, DW Drums, Eagle Rock Entertainment, EarthQuaker Devices, Epitaph Records, Equal Vision Records, Fueled By Ramen, Full Sail University, Fearless Records, Hopeless Records, idobi radio, Lace Pickups, Macbeth, MerchNow, Razor & Tie Records, Rise Records, Roadrunner Records, Splat! Hair Care, Sumerian Records, Tumblr, Victory Records and the Rock And Roll Hall Of Fame And Museum.
As previously announced, Alternative Press Magazine will be honored by the Rock And Roll Hall Of Fame And Museum with the unveiling of a special new exhibit, Never Give Up: Alternative Press Magazine At 30, presented by Roadrunner Records, Fueled By Ramen and Jakprints. The exhibit opening will kick-off with a special Sonic Session featuring Danish alt-rock group New Politics and one of AP's "100 Bands You Need to Know In 2015," Vinyl Theatre.
EXHIBIT OPENING TIMELINE:
7:00pm – Doors open to the public
8:00pm – OUTDOOR CONCERT begins, featuring New Politics & Vinyl Theatre
11:00pm – Museum closes
The exhibit opens on the eve of the APMAs, July 21st. For more information and in-depth details about the exhibit, visit www.rockhall.com.
The 2015 AP Music Awards is just around the corner! Check back to www.altpress.com/apmas over the coming weeks for more announcements and information.
The APMAs is produced by Josh Bernstein, Mike Shea, Kevin Lyman, Dawn Marshman, Joe Scarpelli and Marc Grant.
About Alternative Press:
Now in its 30th year, Alternative Press continues to be on the forefront of discovering new artists, breaking news and reporting on the latest trends in music and youth culture. Since its early days as a pasted-up fanzine in the mid-'80s, Alternative Press is one of the largest music magazines in the world. AP provides in-depth interviews and exclusive photos, making it an essential collectors piece for a passionate fan base, as well as digitally through various mobile and tablet formats. AP has expanded its digital reach via an enhanced mobile app and Altpress.com, one of the world's fastest-growing websites. The site has become a necessary destination for up-to-the-minute breaking news, coverage from our national APtv correspondents, exclusive multimedia premieres and much more. Additionally, the brand has been successfully extended through live events, beginning with the launch of the AP Tour and the company's inaugural AP Music Award Show, which trended No. 1 worldwide on Twitter and Facebook. Independently owned and operated, AP continues to reach millions of fans, offering them insight to the hottest artists and cultural trends first.
About Journeys:
Journeys is a leader in the teen specialty retail scene, with more than 850 stores in all 50 states, Puerto Rico and Canada. Journeys uses fashion savvy and merchandising science to keep in step with the fast-paced footwear and accessories market for 13- to 22-year-old guys and girls. Journeys offers a wide variety of trendy, relevant brands that cater to teens who seek the hottest, new styles. The Journeys store is more than a retail environment; it's an extension of the teen lifestyle. From the plasma TVs playing exclusive content and the latest music videos, to the visual merchandising strategy and promotions, to the employees whose image and style reflect the customers' lifestyle and attitude. In addition, Journeys reaches its customers through www.journeys.com,a mobile website, catalog, national advertising, strategic cross-promotions, social media and grass-roots events like The Journeys Noise Tour. Journeys is, in every way, an attitude you can wear!
About Monster Energy Drink:
Most companies spend their money on ad agencies, TV commercials, radio spots and billboards to tell you how good their products are. At Monster Energy, we chose none of the above. Instead we support the scene, our bands, our athletes and our fans. We back athletes so they can make a career out of their passion. We promote concert tours, so our favorite bands can visit your hometown. We celebrate with our fans and riders by throwing parties and making the coolest events we can think of a reality. www.monsterenergy.com | www.facebook.com/monsterenergy
About the Rock and Roll Hall of Fame and Museum:
The Rock And Roll Hall Of Fame And Museum's mission is to engage, teach and inspire through the power of rock and roll. The institution carries out its mission by giving voice to the stories of the people, artifacts and events that shaped rock and roll — through Museum exhibits, materials in the Museum's Library and Archives, traveling exhibitions, and a wide array of innovative educational programs and activities. The 150,000 square-foot Rock and Roll Hall of Fame and Museum, located in Cleveland's rapidly developing North Coast Harbor, is home to major artifact collections, four state-of-the-art theaters, and year-round educational and concert programming.
The Museum is open seven days a week from 10 a.m. to 5:30 p.m. On Wednesdays (and Saturdays from Memorial Day through Labor Day), the Museum is open until 9 p.m. Museum admission is $22 for adults, $18 for adult residents of Greater Cleveland, $17 for seniors (65+), $13 for youth (9-12), children under 8 are free. A 6% Admission Tax that goes to support Cleveland Metropolitan Schools is added to each ticket at purchase. Museum Members are always admitted free, for information or to join the membership program call 216.515.8425. For general inquiries, please call 216.781.ROCK (7625) or visit http://www.rockhall.com.  The Ohio Arts Council supports the Rock and Roll Hall of Fame with state tax dollars to encourage economic growth, educational excellence and cultural enrichment for all Ohioans. The Museum is also generously funded by Cuyahoga County residents through Cuyahoga Arts and Culture.
About Gibson Brands:
Gibson Brands, the fastest-growing company in the music and sound industries, was founded in 1894 and is headquartered in Nashville, Tennessee. Gibson Brands is a global leader in musical instruments, consumer electronics, and professional audio, and is dedicated to bringing the finest experiences to consumers by offering exceptional products with world-recognized brands.
Gibson Brands has a portfolio of over 100 well-recognized brand names starting with the #1 guitar brand, Gibson. Other instrument brands include Epiphone, Dobro, Valley Arts, Kramer, Steinberger, Tobias, Slingerland, Maestro, Baldwin, Hamilton, Chickering and Wurlitzer. In professional audio, KRK Systems, TASCAM, Cerwin-Vega, Stanton, and Cakewalk also continue Gibson's tradition of quality in their respective markets. Consumer electronics brands include Onkyo, Integra, TEAC, and Esoteric.
Gibson Brands recently expanded its reach into consumer markets with the acquisition of Philips' Home Entertainment based in Hong Kong—a company that invented the cassette tape, the CD format, the DVD format and the MP3 format. Under the Philips and Fidelio brand names, Gibson Brands continue to represent the ideal combination of innovation, tradition and a dedication to improving design while maintaining the highest level o craftsmanship. A global company, Gibson Brands has manufacturing, marketing and research and development centers throughout the world.
All Gibson Brands are dedicated to innovation, prestige and improving the quality of life and music for its customers. Its goal is to provide the most exceptional customer audio products and experiences in the world.