Devour the Day
by Brian McKinny, senior editor
Devour the Day was created from former band Egypt Central, a Memphis-based alternative metal group, founded in October 2002. After playing only eight local gigs, Egypt Central managed to gain the interest of former Lava Records CEO Jason Flom — who saw the band play live and offered them their first recording deal. Following several delays, in January 2008, they released their debut album on Fat Lady Music to lukewarm reviews.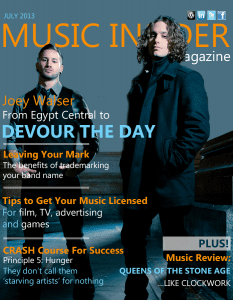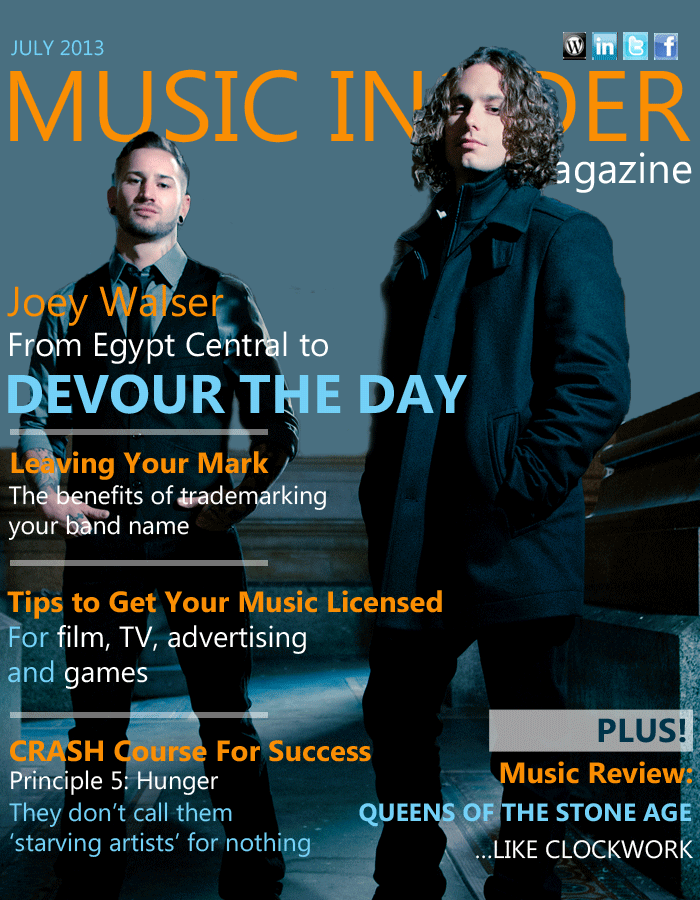 In May 2011, Egypt Central released its second album, "White Rabbit", produced by Nashville's Skidd Mills to mostly positive reviews. The band toured extensively for the rest of 2011, playing shows and festivals with bands including Hinder, Red Jumpsuit Apparatus, Cold, Pop Evil, and Saving Abel. They joined Puddle of Mudd and Pop Evil in December 2011 for the Nutcracker Eleven show at the Expo Gardens in Peoria, Ill —the last show Egypt Central would ever play live.
After being in limbo for about a year, in December 2012, bassist Joey Walser announced on the band's Facebook page that vocalist John Falls and guitarist Jeff James would not continue with Egypt Central. Simultaneously, bassist Joey Walser and drummer Blake Allison formed a new band called Devour the Day.
In 2012, Walser and Allison began working on Devour the Day's debut album for a spring 2013 scheduled release date, again with Nashville producer, Skidd Mills. Walser and Allison announced the band's touring line up would consist of former Egypt Central guitarist Jeff James and drummer Dustin Schoenhofer, previously of the bands Walls of Jericho and Bury Your Dead.
Devour the Day released for airplay the first single, "Good Man" of the debut album, "Time & Pressure", in March 2013. The band toured with Hinder in June 2013 and joins Sevendust and Otherwise on the road in July 2013.
Music Insider Magazine recently caught up with bassist Joey Walser while he and the band were rehearsing for the new tour in their Memphis rehearsal studios and talked with Walser about how he got his start in music, how he met Blake Allison and how he and Allison approach their songwriting. Walser also talked about where the band is going, the gear choices that have helped him discover his own unique sound and music style, as well as what makes this new band unique.
MIM: You're from Little Rock, Ark., but you grew up in Chicago. How is it that the band is based in Memphis?
Joey Walser: Our band's roots are here in Memphis — it's where Blake and I met, so we're kind of from Memphis, Little Rock, and Chicago, but we claim Memphis as our own. Memphis is a great city with a lot of music culture, and I cut my teeth there in music, so I have a lot of love for Memphis, especially the local music scene. The local musicians have always been very supportive of the things that Blake and I have done. Also, Memphis is kind of a central meeting ground for us. Our drummer for this tour is from Toledo; Blake lives in Nashville; our guitar player is from Memphis, and I'm from Little Rock. Memphis is kind of in the middle.
MIM: How did you and Allison first meet?
Walser: I met Blake when I was 18 through a mutual friend. I came home one day to find Blake doing my dishes. From that point, I knew we would be friends forever, especially if he was popping in and picking up after me. I'm kidding, of course, but it's a true story. We've known each other since we were goofy, nerdy kids playing jam-band music and smoking weed all day. I'm actually wearing a Grateful Dead shirt now, but the sleeves are cut off because I'm a bit more metal now.
MIM: How was the transition from Egypt Central to Devour the Day?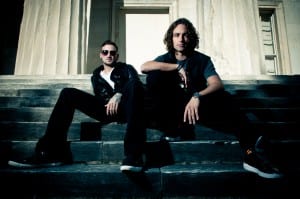 Walser: I think that Blake and I grew up in the midst of playing improvisational stuff, and in some sense, we grew weary of a jam-music scene that was supposed to be open-minded but in actuality was extremely judgmental. At that point (of starting Devour the Day), we both felt the more traditional rock radio stuff was more open-minded to new things.
It was a smart move for us, and it was time for Blake and me to try different things than what we had been playing. We both grew up on the music of bands like The Red Hot Chili Peppers, 311, Rage Against the Machine, and Pink Floyd — there was such a large spectrum of music, even beyond that which we grew up listening to and being influenced by, from all over.
MIM: What made you and Allison decide to form Devour the Day?
Walser: At the beginning of 2012, Blake and I were in the middle of an album cycle for Egypt Central, and we had this short hiatus through the Christmas season. Our singer was having some personal issues at the time that put into question his ability to keep working. Then around March, we got the call that John would no longer continue in the band, and we had no clear timeframe for his return.
It was frustrating and made us feel insecure about what we would do, so Blake and I just started writing songs. That's what we do when we have to cope with these life situations — we write. Eventually, we came up with a style and sound that became Devour the Day. From the very beginning, I think it was just us trying to be honest and authentic. That's part of what we were going through, and somewhere in the middle, we ended up with another record deal and started to put the band together. That's when we realized that we had something special in Devour the Day.
MIM: What is your approach to songwriting? Do you and Allison write the music together?
Walser: A lot of it starts with a collection of lyrics that I wrote, or a collection of riffs that Blake has, and I think that somewhere in the middle is the balance, which is part of why Blake and I work so well together, because he's such a genius when it comes to the production side. Blake plays multiple instruments; obviously, he sings and plays drums and has such a traditional, schooled musical background. Fuse that with our passion for lyrics and song melodies … Every single song we've written has come about in a strangely different way, and I think we enjoy that. The randomness of it makes it exciting to us each time we write a new song.
MIM: What's your own background in music? Do you come from a musical family? Do you have any formal musical education or training, or did you pick an instrument and start learning on your own?
Walser: When I was very young, around the third grade, I started playing the clarinet. Then I went on to play alto sax, and I had some piano lessons as well. Somewhere around age 13 or 14, I figured I needed to get into a band if girls were ever going to pay any attention to me. I was a fat little kid, I needed something to make me cool, and I thought that being in a rock band would do that for me. So I started playing bass and, really even beyond just enjoying the girls, I found a real love for the instrument. I just always thought it was sort of an "underdog" instrument. Then I fell in love with it, and the rest is history.
MIM: On this debut album, you and Allison play all the instruments, except the guitar work producer Skidd Mills contributed on the recordings. How did that arrangement work out for you in the studio, and who will play guitar when you're on tour?
Walser: We went into the studio with Skidd with about 85 percent of the record already done. We had recorded most of the record at my house in Little Rock, so it was a very comfortable work environment — it was just Blake and me. It was a great way for us to work. We'd write some stuff together, and then we'd separate and do our thing, and come back together to record tracks.
We knew that we needed Skidd, we wanted him to mix the record, we'd worked with him a while back, and we knew how he worked. We knew he has the ability to add "candy", especially in the role of guitars, so we had him add mainly second and third guitar parts and do programming, things like that to kind of round out the sound and fullness of the record, which he is great at doing. It was a good experience, and he really did help us get to the final thought of what we wanted this thing to sound like, tonally.
MIM: Will Mills join you on tour to play guitar, or have you hired another guitarist for those shows?
Walser: Actually, Jeff James, our guitar player from Egypt Central will play with us on the road, so Devour the Day will consist of three of the four members of Egypt Central. We brought in Dustin Schoenhofer of Walls of Jericho to play drums with us. He's an incredible metal drummer, just a real strong presence and a great player, so we'll actually have two really good drummers in the band. Musically, the room is just full of experienced, veteran players, which makes it a treat to jam together.
With Blake, I'm constantly amazed at his musical abilities to switch instruments from drums to guitar; he really has a wonderfully musical mind. It really is a blessing to work with the man and be such good friends, and to have the ability to have a 10-year career with one group then start something on our own together. It really has been a dream come to life. It's to a point where Blake knows what I'm going to do on stage before I do it and vice versa.
MIM: What make and model of bass amps and cabinets are you currently using, and what made you decide on that equipment?
Walser: I use Dean Edge Pro bass guitars, and their Hillsboro series basses. I used Dean Guitars because I just love the company. I love the way it treats artists, and its products really are just so incredibly durable. The basses I have, I've had for years already, and they just continue to perform on such a perfect level for me. The company — the way it's run — Josh over there just takes care of the artists. The company also invests in the artists from a very young age and has been so supportive of me over the years. It's as if I've found a home with Dean Guitars.
With my bass cabinets, I'm a Peavey guy. I used the Peavey 810 Tour Series, and I have a Tour 700 power amp on a rack mount. It is the first amp that I've ever had that doesn't blow out on me. It doesn't fuzz out or mute out. It's just a durable "Viking" of an amp head, and I just love it because it's always there; it's like my best friend, it has my back. So I just really believe in the durability and ruthlessness of products that I use. I will say Peavey has taken its product value to a new level, especially with the bass amplification, in the last few years. I encourage anybody to check out the tonal qualities of Peavey these days. It really is great equipment!
MIM: As a bass player, what is most important to you when it comes to you tone? What do you look for in your tone, and how you go about achieving that sound?
Walser: What matters to me are the balance and the versatility of the bass tone. To be able to be sharp enough and still have a good bit of "kick" to it that it will cut through without being overbearing on the high end. But I also need to have flexibility when I'm using my fingers or when I'm slapping to have that warmness. Most of it is about having that balance, because I do slap, I play with my fingers, I play with the pick, and that's even within a single song. I do all three a lot, so I have to be able to make it all work tonally, so no one portion of the mix — from lows, to mids, to highs — can be overdone. I look for a nice balance of a scooped midrange, lows, and highs, nothing too aggressively done with the tone so I can keep my decibels down and push it through the SansAmp.
MIM: Do you use any volume pedals or do you use an equalizer to keep your volume and tone in check while playing live?
Walser: Only the SansAmp, really, because once I get a good tone, most of what I do to change the sound is through a particular way that I play rather than using a bunch of pedals. In the future, I'd like to work some things into the mix — I love delays, choruses … I'm constantly messing with the sound on my own, and when an appropriate riff shows itself to me, I'll put that in there. On this album, I wanted to play bass with a driving "play the bass and go" kind of feel to it. Sometimes, I'll throw in some delay during some of the jam sections while we're playing live, just to have a little fun and fill up the sound a bit. But when we were writing this record, there was a lot of focus on my bass playing as being the foundation of the songs, along with the drums, to make a very strong rhythmic record before we ventured into any of the experimentation phases of recording.
MIM: How has your playing style and sound as a bassist changed since you began playing as a serious musician? What is it about your playing that makes you unique?
Walser: I think the fact that I come from such a diverse background, and I come from a songwriting background. The song is most important. My need to push my ego through the bass is not there, regardless of some of the solo-type stuff that I do. I never want it to be "about the bass", because it's about the band and the song. I know that. On another note, I think I take an approach to the heavier music that other bass players might not, because a lot of the hard rock and metal bass players take a pick-only approach to their playing, and there are things that I do while I slap, or the runs that I do that have helped me to separate myself as unique, and I think that's been what has made me something of an original player.
There's always somebody faster or technically better. For me, it's about constantly wanting to become a better bass player; although, I do take a lot of pride in the fact that I do things differently than other bass players might with the same kind of riff or part. Knowing when and where to shine is just as important as being able to do it. Sometimes the most powerful part of playing the bass is knowing when to drop out and when to pop in. Guys like Flea from the Red Hot Chili Peppers and Tim Commerford from Rage Against the Machine have been big influences on me in that way.
MIM: How is Devour the Day different from other bands in your musical genre?
Walser: Devour the Day is trying to be in the forefront of what can be a new side of an existing genre — maybe even a melting of the world of alternative and active rock. I think that right now there's a clear separation between the chain-wallet wearing, bandana-looking, stripper-song active rock, and your artistic-value, almost neo-indie/alternative stuff. With Blake and I loving both genres, we're bringing that together somewhere in the middle. Being able to do both the hard rock and even digital music, leaning towards reggae to whatever — begins to give us the ability to open up. I think also having some of our influences, the end of the 80s and early 90s rock and roll that was such a huge part of my life definitely finds its way into our music. That bit of nostalgia, I think, really starts to separate us; that maybe a new kind of rock and roll is happening. It's a new, untouched world, a new kind of rock, and as the radio formats change and evolve, I think we'll find ourselves right in the middle of it all as a fresh new kind of rock and roll emerges. We're carving out our own niche.
MIM: You've been playing as a signed, professional musician for 12 years. Looking back on your earlier work, how do you feel about your musical past, and how have you grown as a bass player and songwriter since you began?
Walser: As I've gotten older, having children of my own and realizing that you get to a point in your life when you start to think about your legacy, I think the seriousness of those questions and the weight they put on me have pushed me to be that much more honest and authentic in my songwriting. With Blake being very near the same age as me and going through some very similar things simultaneously — with both of us coming to the end of both our bands and our personal relationships — there was so much that we were sharing as far as the turmoil we were both experiencing … After all that, we felt there was no reason to try to write anything for anybody. We just wanted to write the most honest music we could, and I think that translates and becomes much more relatable to the listener. These things come with maturity and life experience, and come through in our music.
MIM: What is coming up for you and the band for the rest of the year?
Walser: Tour, tour, tour! We are ready to go out and play a ton of shows. We've got some shows coming up with Buckcherry, Pop Evil, a month-long tour with Hinder, a bunch of stuff with Sevendust and some other really great bands after that, so our plans are to be in a city near you for the rest of the year! And being from Little Rock, I'm sure we'll be playing there soon because it will always be important to me to play for my hometown fans.