Thriving in a lifestyle and career track full of change and adversity
Joey Vera has been around the block once or twice. He's proven he's a survivor in how he has dealt with the ebb and flow of the music business, weathering several band and personnel changes — always managing to stay not just afloat in a sea of musicians but musically relevant and sought after as a player's player, as well as a producer and engineer.
Armored Saint rode into the Los Angeles metal scene on a big black horse right around the time that the LA metal scene was exploding with the fresh new faces of Metallica, Motley Crüe, RATT, Poison, and later, Guns N' Roses. Armored Saint was formed by Joey Vera and the brothers Sandoval, Phil (on guitar) and Gonzo (on drums), with their guitarist friend David Prichard at South Pasadena High School. Singer John Bush would join the group shortly afterward, and they gained the attention of Medal Blade Records with their five-song demo which landed their song "Lesson Well Learned" on the compilation album, "Metal Massacre II" (a compilation cassette that I still own), and three of the five songs from their demo were good enough to land on the band's first, eponymous EP with Metal Blade Records.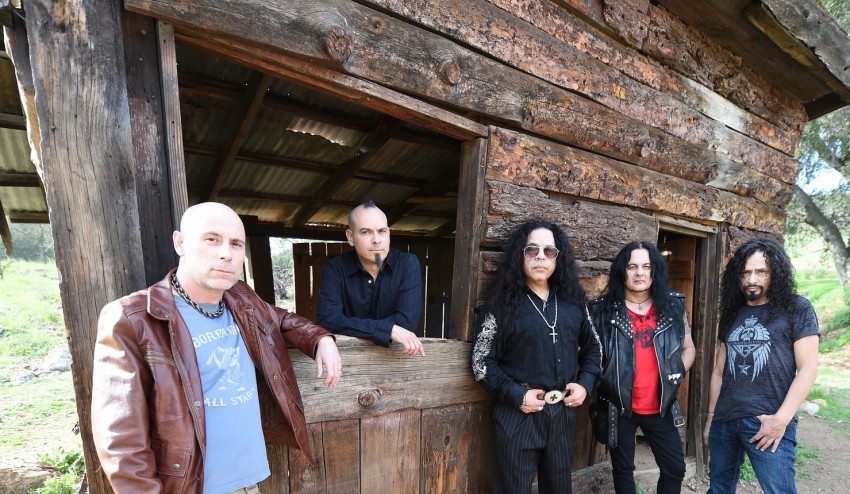 After the release of their EP, the band signed with Chrysalis Records in 1984 and released their first album, "March of the Saint." That album was quickly followed the next year with "Delirious Nomad," which garnered for the band a minor MTV hit with the song, "Can U Deliver." After the release of "Delirious Nomad," guitarist Phil Sandoval left the group.
Armored Saint's third album, "Raising Fear" was recorded by the remaining four members, Bush, Vera, Gonzo Sandoval and Prichard. Finding themselves unhappy at their lack of success and support while signed to Chrysalis Records, Armored Saint returned to Metal Blade in 1989. Soon after the release of their first live album, "Saints Will Conquer," the band added Jeff Duncan, formerly of the LA club band, Odin, as second guitarist.
While writing and recording rough demo tracks for their next album, guitarist Prichard was diagnosed with leukemia. He succumbed to the disease before recording sessions for the album "Symbol of Salvation" could begin. After a brief hiatus, Phil Sandoval returned to the band to replace Prichard. The next year, their new album, "Symbol of Salvation" was released to widespread critical acclaim. The band dedicated the album to the spirit and memory of Prichard, whose solo on the demo recording of the song "Tainted Past" was used on the album.
Following the successful Symbol of Salvation tour, the band recorded and had hits with "Reign of Fire" and "Last Train Home" in 1991. The following year, the band contributed the song "Hanging Judge" to the movie "Hellraiser III: Hell on Earth" soundtrack, as well as made a brief appearance in the film. Later that year, Bush was offered the position of lead vocalist in the East Coast thrash band, Anthrax. Being unsure of what the future held for Armored Saint, Bush accepted the vocalist job with Anthrax. The remaining Armored Saint members decided not to continue on without Bush and disbanded.

After Armored Saint ended, Vera kept busy playing with bands such as Fates Warning, Lizzy Borden and Chroma Key. He released a solo album in 1994, and he embarked on a successful second career as a producer and engineer.
But now, Armored Saint is back, and it seems they're back with not just a vengeance, but with a mission. It's a mission they've undertaken to bring their style of music back to the forefront of the metal scene — one new fan at a time. Recently, I sat down to talk with Vera.
Brian McKinny: I think everyone would be interested to learn when and why you started playing the bass. What made you choose it over other instruments?
Joey Vera: I actually started learning to play the guitar, which I did for about a year, maybe two years. When we all started getting into playing bands in middle school, I was still playing guitar. John Bush was the singer in the first band I ever played in back in high school — I've known John and Gonzo since the third grade. But as we got into high school, around my sophomore or junior year, we formed another group, and there were lots of guitar players and drummers, but we had nobody to play bass. So John originally thought he wanted to be a singer who played bass, like Geddy Lee or John Waite of the Babys. So when he first started learning how to sing, his mom bought him a Fender P-bass. That lasted about two months before he decided that he didn't want to play bass — he just wanted to sing. So we were left without anyone to play bass when we were forming this band.
So John had his bass sitting under his bed all this time, when someone suggested, "Why don't you play bass, Joey? You already know how to play guitar, and you can just use John's bass." So I agreed, and it seemed to come really naturally to me, playing bass, and I just fell in love with it after that. Incidentally, I bought that bass from John about a year or so later, and that's the same '72 Fender P-bass that I've had since day one. I wouldn't have had it if not for John.
McKinny: What was the name of the first band you played in?
Vera: The very first band in middle school was called Rhapsody — yes, we were very into Queen. And later we formed another group called Royal Decree which, again, was another band heavily influenced by Queen. That group eventually morphed into having Gonzo, Phil, John Bush and I in it, and that was the first group that I played bass in.
McKinny: In Armored Saint, you guys had a great run from the early 80s through the mid 90s, and then disbanded. You went your way with other bands and got into engineering and producing, while the other members did their own things in the hiatus years. What was it that drove the band's decision to reform after you disbanded for the second time?
Vera: I think it was just the desire to make music together again. There really wasn't any other reason – problems with record labels or internal problems between members, or money issues didn't keep us from playing, and they aren't what motivated us to get back together to record and support this album. We don't treat this group as a "regular working music group" as is the norm with most bands. We won't write and record an album, then tour, and repeat the cycle just because that is what is expected of us.
I guess we actually do that, but we do it at our own pace, and because we love to write and play music together, and as long as there's an audience for our kind of music, we'll keep on playing it together. It's not like we come home from ending a tour, and then a couple weeks later we'll say, "Okay, it's time to start writing and rehearsing for the next record."
We tend to let things work out more naturally, and for us, it's what has worked best. It's really nice when we don't feel like we have a gun to our head with someone telling us we have to do it right now. It's a lot of freedom that we're very fortunate to have.
We went through the whole "cycle" thing back in the 80s and the early part of the 90s, and it's difficult and very stressful to make it happen under those circumstances, especially when it's your only gig – your "bread and butter" so to speak. So when we got back together in 2000, one of the things that we agreed on from the outset is that we weren't going to stress ourselves out trying to "rebuild and regain a career" and that number one, we were going to have fun and enjoy doing this, and number two, we were going to make great music to please ourselves without trying to "keep up with the Joneses," as far as what other bands are doing — we can't concern ourselves with that stuff, because it really doesn't matter anymore, and if we can bring the fans along with us for the ride, so much the better. And so far, it's been working out pretty well for us on the whole.
We're lucky that we have a label that lets us work in that capacity, because most labels would be like, "Nah, it's time for you guys to get back to work now!" Brian Slagel and everyone at Metal Blade have supported us from day one, and we're lucky and very grateful to them for their confidence and their support. It's a label that fans started, and everyone who works there is a fan of metal, and music in general, so it's been the label's credo from the beginning, and that makes a huge difference with all the bands on its roster.
McKinny: Who are the major contributors to the writing process in Armored Saint? Is it a collective effort, or does one or two of you do the majority of the writing?
Vera: Over the years it's changed a bit, the dichotomy has changed in the group. When we were much younger, it was one way, and now that we're older and changed the way that we work through the years, it's different, and it's become pretty much John and I. The other guys have a voice to contribute stuff, obviously, and they do. But in the end, it's really John and I who act as the directors of the music — who make the decisions on how we're feeling, what we're doing and the general direction in which we wish to take the music we write.
Everyone contributes, to be sure. But someone has to take the reins and filter the suggestions and ideas down into things that eventually get used in our material. We've just found it is more efficient that way, and we've realized that over the last couple of records. This has happened really organically, that John and I have just churned out a lot of music together, and sometimes it's hard to contribute when you're outside that creative bubble, to make contributions that adhere, that fit into the music, so it may seem to outsiders that the others aren't contributing, but they are — just in other, more focused ways and not necessarily the entirety of a song.
McKinny: It sounds like you have a good handle on the writing process with a system that works for you. It's different for every band I've spoken with, but it always seems to boil down to one or two core members in the band who do most of the writing, while everyone contributes to their parts in their own way, whether it be lead parts, vocal lines and melodies, bass lines or whatever. It seems to me that the bands that work that way are the most productive in their writing processes.
Vera: It's been my experience that in every group of people there are one or two leaders who end up being in charge of making the decisions, and it's the same for bands. If you have a room full of people, and no one's in charge, it just devolves into chaos, and nothing gets done or agreed upon. Too much democracy can be a bad thing — sometimes you try to go the route of "majority rules" but that brings on a whole other set of problems. In the end, someone has to lead the group.
McKinny: Were there any standout moments while writing and recording your new album, "Win Hands Down?"
Vera: Well, there's a moment when you go from the demo stage into the recording stage, and sometimes, that's emotionally taxing. We write for about a year and a half. We record demos, John and I, mostly. I play all the instruments and record drum tracks, and you get used to doing the demos. You get used to hearing how they sound and how all the parts are performed — all the intricacies and the subtleties of it. And once you go in (to the studio) to recreate that, it's sort of like going back and repainting a painting that you finished a year ago.
It's hard to say, "Okay, we have to outdo this." You just have to come to terms with the fact that it will be different. And in the end, it is better, but getting there is sometimes scary. Yet we have a good time doing the record when we go into the studio. We try to keep things super light, fun, nothing very heavy as far as the atmosphere is concerned. We always try to allow enough time, so that nobody is feeling like he's stressed, so we have a good time making our records — there's a lot of just fooling around, drinking beer and having fun, making it just like a "hang." There are a lot of hours and a lot of hard work, but that doesn't mean we can't enjoy it.
McKinny: The album came out on June 2nd. What has the critical reaction been, and how have the fans embraced the album so far?
Vera: It's been pretty phenomenal. Surprisingly good, actually, especially with the amount of reaction that it's been getting, and mostly positive from the critics as well as our fans. Judging from what I've seen, somehow we did something right with this record with how it's connecting with people in general. They're feeling very satisfied with the record, and I think that on a lot of different levels it's a record that they've been waiting for from us, for maybe a long time.
I don't know, I can't really explain how that happened, but it's been very positive, and it has gotten a lot of great reviews — I haven't really seen any negative reviews so far. There have been a few comments from fans that "they'll never outdo 'Symbol of Salvation,'" and that's fine. But most people have been very satisfied and happy with it, so I think that somehow we were able to strike a chord on this one, and it's been really cool.
McKinny: Tell me about touring with Saxon. How did the tour come about, and have you toured or played shows with Saxon in the past? I seem to recall some shows in the San Francisco Bay Area where you played with Metallica and Saxon at the Keystone club in Palo Alto.
Vera: Yeah, we did a bunch of dates with them in the late 80s, and we've done a festival or two with them over in Europe, and I remember those shows at the Keystone that you mentioned as well. We've known those guys since then, and we have the same booking agent as they do, so when they came over to do shows in the U.S., the idea was that we had the record coming out, and the booking agent asked them, "Would you like to have Armored Saint support you on your tour?" and their response was "Yeah, we'd love to have them along!"
So we had a really good time, doing two shows on the East Coast, two in Texas and another two shows in California, and all the shows sold out and were amazing. We had a great time with the boys in Saxon; they're super nice guys, very kind and classy. For the fans, it's great to have two old-school bands playing stuff they love and putting on a great show. It's a good lineup, and we're very happy to be touring with them throughout the summer.
McKinny: Touring Europe is quite a bit different from touring in the states, isn't it? How are the fans of Europe and the fans of the U.S. different?
Vera: It's easier to tour the U.S. It's harder to get there (Europe) — especially, because it costs so much money to fly from California to Europe, but once you get there, you have a better chance of playing a lot of dates close to each other. Even though Europe's a pretty big place, everything is closer together and accessible by train or whatever. But European fans have always supported metal, even through the dark years. The U.S. has had a resurgence of metal in the last five years or so, even for the old-school metal bands like us. It's a cool time for metal in the U.S., because the fans are craving and starving for metal here in the states, so it's been a good time for us.
McKinny: You spent some time playing in the band, Anthrax. What was that like, and was the experience very different from playing in Armored Saint?
Vera: Well sure, I mean the attention level was higher and in a different way. When I did the thing with Anthrax, Frankie is such a big part of the show on stage, there was a big hole when he wasn't there. So, at first, it was tough for me to come right in and learn how to fill it. I had to learn how to do both, trying not to be him, but just trying to help the crowd get wild like he did, and at the same time playing the parts. Their music has a lot more notes than Armored Saint's bass lines do. It's "thrashier," and it was a workout, for sure! Armored Saint's rhythm section, between me and Gonzo is a little more R&B, funky, in-the-pocket kind of thing, as compared to the thrash metal riffs of Anthrax.
It's just a different animal, but I had a great time playing with Anthrax. It was a lot of fun. I was with the band for a year, and I got to tour the world. We did nine shows in Japan, which is pretty unheard of. Most bands will play two cities in Japan – Tokyo and Osaka. We played nine! So that was pretty amazing, I'd never been there to play before. And then we went from there straight to Australia and did six or seven shows, which was another crazy feat. I had a great time in Australia. After that, we went to Europe and played a bunch of places that I had never been before, including this huge festival in Budapest, Hungary in front of 50,000 people that was just crazy! It was a good time, and there were a lot of great shows.
McKinny: Do you have any hobbies or outside interests? What are some of the things you do in your time away from the band, when you're not playing or recording?
Vera: Not particularly. I mean, I'm somehow engaged in music all year round. I work on other people's music, being an engineer and producer, when I'm not doing my own. I play with other bands, Fate's Warning, and I play in another group called Motor Sister (including guitarist and vocalist Jim Wilson (Mother Superior, ex-Henry Rollins) guitarist Scott Ian (Anthrax), Ian's wife and vocalist Pearl Aday (daughter of Meat Loaf), drummer John Tempesta (The Cult, ex-White Zombie, etc.), also on Metal Blade Records that you'll hear a lot more from in the coming months. I play with Pearl Aday; she's got a sort of California-country rock band that I play on her new record with. It's just all-encompassing with the music. Other than that, we kind of spend lots of time fixing things around the house, doing normal stuff everyone else does. I've been married 22 years, and I'm the father of a 9-year-old, so my family occupies a lot of my time as well, which is great, and it keeps me grounded.
You can find Armored Saint at the following sites:
Website: http://www.armoredsaint.com/
Facebook: https://www.facebook.com/thearmoredsaint
Twitter: https://twitter.com/thearmoredsaint
Metal Blade Records: http://www.metalblade.com/us/artists/armored-saint/