For 150 years, Epiphone has been a leading innovator in instrument design. By leveraging its iconic past and leaning into the future, Epiphone has set the stage for the next era of sound for present and future generations. Epiphone is proud to expand its partnership with world-famous blues guitarist Joe Bonamassa with the launch of the Joe Bonamassa 1963 SG Custom. The Epiphone Joe Bonamassa 1963 SG Custom is now available worldwide in limited quantities at authorized Epiphone dealers, and on https://www.epiphone.com.
Below: Joe Bonamassa with his Epiphone Joe Bonamassa 1963 SG Custom. Photo credit: Epiphone.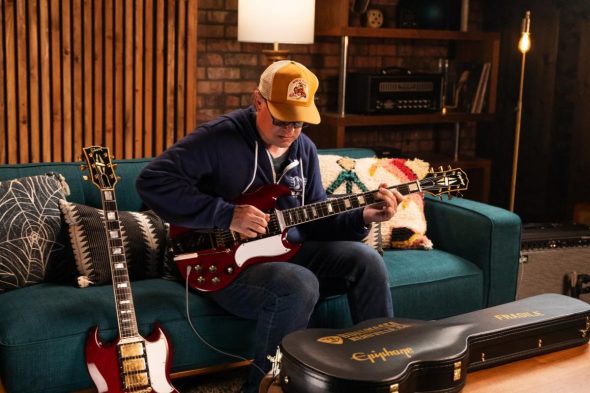 Watch/share Joe Bonamassa's interview re the Epiphone 1963 SG Custom HEREHeralded by Guitar World as "arguably the world's biggest blues guitarist," Joe Bonamassa is also a world-class guitar collector. One of his prized acquisitions is a 1963 Gibson SG Custom with some unusual features, including a unique smoothly contoured neck heel joint and a Dark Wine Red finish to honor the original guitar's Dark Cherry Red color, which was a rarity for that model and year. It features the same smooth neck joint contour, a Maestro Vibrola, classic SG Custom cosmetics, gold-plated hardware, and three powerful Epiphone ProBucker pickups. As a result, the new Epiphone Joe Bonamassa 1963 SG Custom faithfully recreates the magic of this unique guitar. The Epiphone Joe Bonamassa 1963 SG Custom arrives with a Custom Hardshell case with a goldenrod plush interior and Epiphone and Joe Bonamassa exterior graphics, and a certificate of authenticity. This Epiphone 1963 SG Custom is a passionate testament to Bonamassa's unwavering commitment to the blues and its profound influence on his music.
Explore the new Epiphone Joe Bonamassa 1963 Gibson SG Custom, HERE.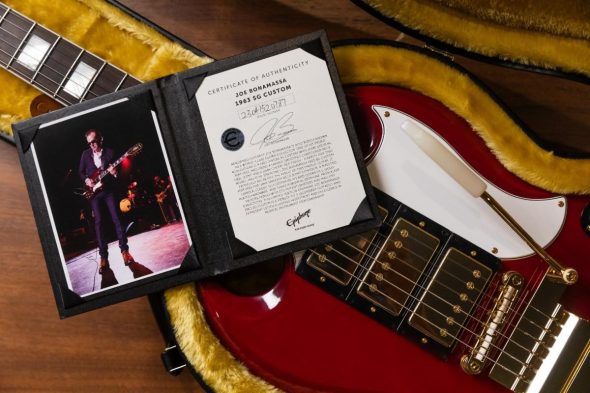 Above: the Epiphone Joe Bonamassa 1963 SG Custom comes with a certificate of authenticity and a plush Custom hard shell case.
This partnership with Epiphone celebrates the timeless synergy between the brand and Joe's musical trajectory. In honor of the 20-year anniversary of the release of his best-selling album 'Blues Deluxe', Bonamassa will release 'Blues Deluxe Vol. 2' on October 6th via J&R Adventures pre-order HERE. The album breathes fresh life into the classics that defined his blues journey – from Bobby "Blue" Bland and Fleetwood Mac's Peter Green to Albert King — while also introducing two new originals, including the latest hit single "Hope You Realize It (Goodbye Again)", an upbeat song with a Tower of Power treatment that Joe co-wrote with Tom Hambridge.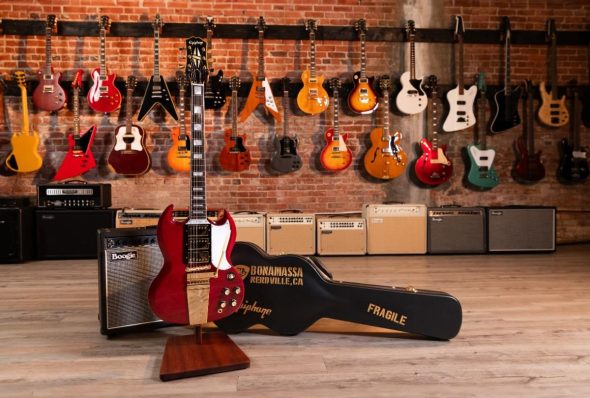 Bonamassa has continuously pushed the boundaries of the blues genre, recently culminating in a one-night-only performance at the Hollywood Bowl on August 9th, recorded for his next live concert film. After finishing up the summer with two special performances featuring Styx and Don Felder, the hardest working bluesman in show business will begin his U.S. Fall Tour on October 23rd at The Cannon Center in Memphis, TN, before crisscrossing the country and capping the year at the guitar-shaped Hard Rock Live in Hollywood, FL on December 2nd. As we look further ahead, Bonamassa's 2024 spring tour boasts performances at historic venues, culminating with 'Keeping the Blues Alive at Sea IX'. For more information and to purchase tickets, click HERE.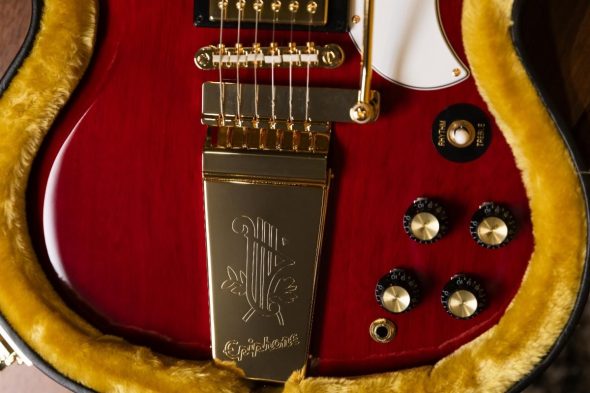 Above: the stunning gold-plated Maestro Vibrola on the Epiphone Joe Bonamassa 1963 SG Custom.
Bonamassa is one of the most celebrated performing musicians today. A three-time GRAMMY-nominee, Bonamassa earned his 26th #1 on the Billboard Blues Album Chart, with his most recent live concert film and album, the sprawling and extensive Tales Of Time.
 Following is the track listing for Blues Deluxe Vol. 2 by Joe Bonamassa:
 1) Twenty-Four Hour Blues (originally performed by Bobby "Blue" Bland)
2) It's Hard But It's Fair (originally performed by Bobby Parker)
3) Well, I Done Got Over It (originally performed by Guitar Slim)
4) I Want to Shout About It (originally performed by Ronnie Earle & The Broadcasters)
5) Win-O (originally performed by Pee Wee Crayton) 
6) Hope You Realize It (Goodbye Again) *written by Joe Bonamassa & Tom Hambridge
7) Lazy Poker Blues (originally performed by Fleetwood Mac)
8) You Sure Drive a Hard Bargain (originally performed by Albert King)
9) The Truth Hurts Feat Kirk Fletcher and Josh Smith (originally performed by Kenny Neal)
10) Is It Safe To Go Home *written by Josh Smith
 Catch Joe Bonamassa on his fall and winter U.S. tours:
 Fall 2023 U.S. Tour Dates
October 23 – Memphis, TN – The Cannon Center                                
October 25 – Shreveport, LA – Shreveport Municipal Auditorium
October 27 – San Antonio, TX – Majestic Theatre                                          
October 28 – Sugar Land, TX – Smart Financial Centre At Sugar Land
October 29 – Austin, TX – ACL Live
November 1 – Fayetteville, AR – Walton Art Center                                  
November 3 – Little Rock, AR – Robinson Performance Hall                               
November 4 – Grand Prairie, TX – Texas Trust CU Theatre
November 5 – Oklahoma City, OK – Civic Center Music Hall
November 8 – Tulsa, OK – Tulsa Theater
November 10 – Kansas City, MO – The Midland Theatre
November 11 – St. Louis, MO – The Fabulous Fox
November 12 – Cedar Rapids, IA – Paramount Theatre
November 14 – Rochester, MN – Mayo Civic Center     
November 15 – Rockford, IL – Coronado Performing Arts Center
November 17 – Fort Wayne, IN – Embassy Theatre
November 18 – Detroit, MI – Fox Theatre
November 19 – Columbus, OH – Palace Theatre
November 21 – Reading, PA – The Santander Performing Arts Center
November 22 – Providence, RI – Providence Performance Arts Center
November 24 – Springfield, MA – Symphony Hall
November 25 – Baltimore, MD – The Lyric
November 28 – Savannah, GA – Johnny Mercer Theatre
November 30 – Sarasota, FL – Van Wezel Performing Arts Hall
December 1 – Estero, FL – Hertz Arena
December 2 – Hollywood, FL – Hard Rock Live
Spring 2024 U.S. Tour Dates
February 19 – Louisville, KY – The Louisville Palace
February 21 – Youngstown, OH – Covelli Centre
February 23 – Red Bank, NJ – Count Basie Center For The Arts
February 24 – Oxon Hill, MD – The Theater at MGM National Harbor
February 25 – Durham, NC – DPAC
February 27 – Columbia, SC – Township Auditorium
February 29 – Virginia Beach, VA – The Sandler Center
March 1 – Roanoke, VA – Berglund Center
March 2 – Cincinnati, OH – Taft Theatre
March 4 – Richmond, VA – Altria Theater
March 5 – Knoxville, TN – Knoxville Civic Auditorium
March 7 – Pensacola, FL – Saenger Theatre
March 8 – Biloxi, MS – Beau Rivage
March 9 – Biloxi, MS – Beau Rivage
March 11 – Huntsville, AL – VBC Mark C. Smith Concert Hall
March 12 – Greenville, SC – Peace Center
March 14 – Macon, GA – Macon City Auditorium
March 15 – Orlando, FL – Dr. Phillips Center
March 16 – Clearwater, FL – The Sound
March 18-24 – Keeping the Blues Alive at Sea IX – Miami, FL to Cozumel, Mexico
Joe Bonamassa: 
JOE BONAMASSA.COM | X | INSTAGRAM | FACEBOOK | YOUTUBE 
Epiphone: 
EPIPHONE.COM  | X | INSTAGRAM | FACEBOOK | YOUTUBE
Gibson:
GIBSON.COM | X | IG | FB | GIBSON APP | GIBSON GARAGE | GIBSON TV
Kramer:
KRAMERGUITARS.COM | X | INSTAGRAM | FACEBOOK | YOUTUBE
MESA/Boogie:
MESABOOGIE.COM | X | INSTAGRAM | FACEBOOK 
KRK:
KRKMUSIC.COM | X | INSTAGRAM | FACEBOOK | YOUTUBE
Maestro:
MAESTROELECTRONICS.COM | @MAESTROELECTRONICS | GIBSON TV
 About Joe Bonamassa:
Blues-rock superstar Joe Bonamassa is one of the most celebrated performing musicians of today. As a three-time GRAMMY-nominated artist and 13x Blues Music Award Nominee (4 wins), he achieved his 26th No. 1 album on the Billboard Blues Chart with Tales Of Time, a sprawling and expansive live concert film and album, shot at the breathtaking Red Rocks Amphitheatre in Colorado in August 2022. Only in his mid-40s, Bonamassa has become a living legend with an astounding multi-genre catalog. He has released more than 40 albums, including studio and live recordings, as well as collaborative albums with his adventurous side projects: Black Country Communion and Rock Candy Funk Party. 
 A prolific writer who is always on the hunt to expand his eclectic musical horizons, Bonamassa has a limitless work ethic whether it's in a studio, on the road, or working with other artists to spur new music. In recent years, he has produced an immense number of albums including Joanne Shaw Taylor, Marc Broussard, Larry McCray, Jimmy Hall and others for his independent label KTBA Records, and has also recently launched Journeyman LLC, a full-service artist management, record label, concert promotion, and marketing company that builds awareness for independent artists worldwide. Recent producing highlights include 'Crown' by the blues legend Eric Gales, which was nominated for "Best Contemporary Blues Album" at the 2023 GRAMMY Awards. 
 Bonamassa has been featured in several publications from Esquire, WSJ and Parade to Rolling Stone and American Songwriter, as well as on the covers of Guitar World, Guitar Player, Vintage Guitar, Guitarist, and Classic Rock magazine. His non-profit Keeping The Blues Alive provides funds and resources to schools and artists in need and has positively impacted more than 91k students to date while raising over 2 million in donations.
 About Epiphone:
For 150 years, Epiphone has been a leading innovator in instrument design with models like the Casino, the Texan, and Masterbilt Century Archtop Collection. Epiphone began as the "House of Stathopoulo" family business in Sparta in the 1870s and rose to fame during the jazz age in Manhattan before joining Gibson brands in 1957. Today, Epiphone continues to make history from its headquarters in Nashville, TN. Epiphones have powered classic recordings by Les Paul, The Beatles, and The Rolling Stones along with today's top artists like Peter Frampton, Gary Clark Jr., Tommy Thayer of KISS, and Lzzy Hale. Epiphone offers innovation, history, and a lifetime guarantee. Whether you are learning your first song in your bedroom, or rocking an arena, Epiphone has always been there, for everyone, for every generation, for every stage. For more information, visit: Epiphone.com and follow us on X, Facebook, YouTube, and Instagram.