"Sydney's Jefferson deal in upbeat commercial pop/rock which, if they were American, would probably have seen them playing stadiums by now." – Heather Fuhrer, DRUM Media Magazine. Jefferson are a four piece melodic rock-pop anthem band based in Sydney, Australia. They are often compared to bands who exhibit huge stadium-filling sounds such as U2, Snow Patrol and Kings of Leon.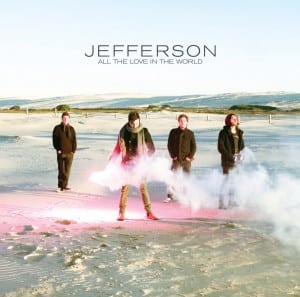 In 2006 Geoff Rana left Australia and headed to Europe, instigating a writing spree of material that would later become Jefferson's first batch of recordings. Upon returning to Australia in 2007 Geoff met Jared King (bass guitar), Andy Horvath (drums) and Jake Tuffin (guitar) whilst studying Contemporary Music Performance at The Australian Institute of Music (AIM). He recognized each of their talents and quickly recruited them into the band. With a sonically big sound in mind, they began to make music together.
In 2010 Jefferson (although then known as 'The Jefferson') recorded their debut album, "Safe Return To Earth", with award-winning producer Craig Porteils; "a collection of pleasing mid tempo songs carried by the impressive calibre of Geoff Rana's vocals. Many up and comers do the local live rounds but it is a rarity to get picked up by a successful producer who helps them on their way like Sydney 4 piece Jefferson have." – Tara Clifford, DRUM Media Magazine.
That same year, after being described as "slicker than the average local outfit", – Scott Fitzsimons, DRUM Media Magazine – Jefferson took their rock-solid live show to the other side of the world, playing a 5-week tour of the U.S.A which included performances at The Next Big Nashville Festival and The Key Club in L.A. The band compiled all their tour footage into a short but insightful movie which they later released on their YouTube channel:
www.youtube.com/thejeffersonmusic
Jefferson were back in the U.S.A during March 2011 after having been invited to showcase at the 2011 South By Southwest festival in Austin, Texas. During this time they shared the stage with many of Australia's most popular acts including Hungry Kids of Hungary, Dash & Will, Drawn From Bees, Wagons, Matt Corby and Andy Clockwise. Jefferson were the only band out of 70 to receive an International Pathways grant from the Australian Government and were also one of only three bands featured on Austin's NBC TV affiliate morning show during SXSW.


Jefferson have been quick to garner recognition from the Australian music community, with "Days Are Falling", reaching the Top 10 in the category of Pop for the Music Oz Awards 2010, Australia's premier music awards for independent artists. Furthermore, Geoff was a 2011 shortlisted finalist for the APRA Professional Development Award in the genre of "Popular Contemporary" and "Running" was selected as a Semi-Finalist in the "Pop/Top 40" category of the 2010 International Songwriting Competition (ISC).
In addition there have been several television song placements for Jefferson, with "Mayday" appearing on "The Young And The Restless" and MTV's "The Real World" and "Running" featuring in the season final of "Degrassi: The Next Generation". YouTube views for the video of "Running" have increased by 6,000 since airing on April 22, 2011.

Jefferson continue to work hard as an independent band, touring both locally and internationally as well as writing and recording new material which is revealing an even bigger and more powerful anthemic sound that they hope will lead them to the theatres and stadiums that songs like theirs crave.
iTunes: http://itunes.apple.com/au/artist/the-jefferson/id348405729
Website: www.thejeffersonband.com
Connect with Jefferson:
Facebook: www.facebook.com/thejeffersonband
Youtube: www.youtube.com/thejeffersonmusic
Twitter: www.twitter.com/jeffersonaus
Myspace: www.myspace.com/thejeffersonband
Bandcamp: www.thejefferson.bandcamp.com
Lastfm: www.lastfm.com/music/the+jefferson
Soundcloud: www.soundcloud.com/thejeffersonband
Vibedeck: www.vibedeck.com/thejefferson
Reverbnation: www.reverbnation.com/thejeffersonband
Sonicbids: www.sonicbids.com/thejefferson
Ourstage: www.ourstage.com/profile/thejefferson
Contact:
U.S.A (Management)
Paul Zamek
4508 Wayland Drive
Nashville, TN 37215 USA
Paul Zamek Management
paul@paulzamek.com
Office: 615-665-1930
Cell: 615-260-6900
Australia (Band)
Jared King
info@thejeffersonband.com
Mobile: +61423-166-122
Label: Spectra Records