Conquering Dystopia
by Brian McKinny
Guitarist Jeff Loomis has an all-encompassing passion for sonic vibrations of all sorts and styles. At one moment, his playing style is as savage and brutally aggressive as an MG-42 machine gun. The next moment his style is melodic and soars with the ecstasy of a Germanic Valkyrie screeching out a high C in a Wagnerian opera.
Loomis achieves this range of styles and emotions on records, as well as in his stellar live performances — with his previous prolific and groundbreaking band, Nevermore — and in his new project called Conquering Dystopia with friend and fellow guitarist, Keith Merrow.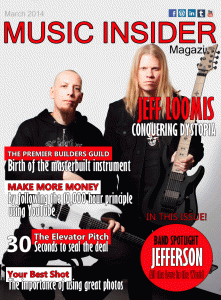 With a catalog of work with Nevermore now set firmly in his past, Loomis is charting new sound territories in the company of some fine musicians from some very different musical places, Alex Rudinger of the band The Faceless on drums, Alex Webster of Cannibal Corpse on bass and studio musician Merrow on guitar. With the talent assembled for this ensemble having different styles and backgrounds in metal music, this new instrumental project is on a fast track, and surely, the sky is the limit.
Music Insider Magazine: Tell me about the new band you've created, Conquering Dystopia. How did it come into being?
Loomis: Long story short, I started this new project with my friend, Keith Merrow. Keith is an awesome guitar player from the Portland (Oregon) area, and he came up to my house in Seattle — it's about a 3.5-hour drive from Portland — and we started making these little demo videos together. We would demo products — musical instruments, amps and apps for the iPad — and we would compose these little pieces of music to accompany the demos we filmed, and then we'd post those to YouTube.
MIM: Were the video demos a type of marketing venture that you two created?
Loomis: Well, yeah, we were demonstrating new products for companies, and that turned into a whole other ballgame. We would spend two or three hours composing a song just to make the video, and people started freaking out, in a good way, over the songs we created for the videos. People were constantly suggesting that Keith and I should do a music project together, judging from what we had put together just for these product demo videos. That's how it all started with Keith and me.
MIM: I remember hearing about you doing a guest spot on one of Keith's songs a few years ago. Is that when you guys first hooked up with your music?
Loomis: Yes, Keith asked me to do a solo on one of the songs for an album he was recording, and I was more than happy to do so, because I'm a big fan of his guitar playing, and that helped to spark a lot of interest. People even then were saying, "You two ought to get together and do something." So we finally started talking about doing a full-length album together. I'm already a signed artist with Century Media Records, so we wanted to go in a different direction, and try to do an indiegogo campaign to raise the funds to do the record entirely on our own.
The idea was to get some help from the fans who were supportive of us doing the project, and we went with indiegogo to run the online funding campaign. We initially asked for a startup cost of $15,000 for the project. It takes a lot of money to make a record — there's money involved that just seems to fly all over the place. You have to pay for a producer, studio time and tons of incidental costs that go along with recording a new album. You don't just get money from this type of campaign — it all goes directly into the project.
We actually made our goal in the first day! We were blown away, because there were so many fans out there who wanted to hear us do a whole project together, and at the end of the whole campaign, which lasted around 40-45 days, we ended up with a total of $35,320 dollars from 792 "funders" who helped us out. It was amazing to us that there was so much fan support and interest out there. Because of that incredible support, we immediately started writing music for the album.
MIM: How did you guys manage the writing portion of the project?
Loomis: I'd take an Amtrak train from Seattle down to Portland every weekend, and I did that for about four months straight, going to Keith's studio to compose music together. It was an incredible experience, because we weren't rushed by any means. Normally, what happens when you're recording an album is you have some kind of schedule you have to keep, so you feel rushed to deliver the product within a certain timeframe. This project was a completely different story. We had so much time on our hands, so we took our time with it and really put 110 percent into this project.
We wrote around 10 songs, and they're being mixed right now, and they'll be available to our fans soon in March, so it's getting right down to the point that it's coming together and we're seeing the light at the end of the tunnel. All that work is finally paying off, and people will be able to hear our music. We're very excited about it all.
We had our first complete performance as a band at this year's NAMM show in LA, and it was great. It was for the Schecter party — Schecter Guitars are the guitars that Keith and I use, and they have a party at NAMM every year that somewhere between 2,500 and 3000 people attend. This year, we did a show with Black Label Society and Kill Devil Hill at The Grove in Anaheim, and it was awesome!
MIM: It's cool to see bands like yours — unrelated and complementary musicians — coming together and forming these sorts of ad hoc indie projects.
Loomis: It really is. You're able to do your own thing, and you can manage the whole project yourself, if you are good at it, and with the help from each band member, you can make it happen. You're exactly right — the whole band is scattered all across the country. Keith is from Portland, and I'm from Seattle. Our bass player, Alex Webster, who played with Cannibal Corpse, is from Florida; and our drummer, Alex Rudinger, who plays in a band called The Faceless, is from Maryland. You can say that we're from all four corners of the United States, and we've still managed to do this together, so god bless the Internet and sending ideas back and forth — that's how it all came into being.
MIM: The Internet has been a mixed blessing for the industry. Before the advent of the Internet and the digital downloading of music, people mainly bought whole CDs, whereas in today's market, people are more prone to purchasing only the digital singles they want from individual artists or bands from online media outlets like iTunes or Rhapsody among others, instead of the entire CD. The drop in whole record sales across the industry has put an emphasis on frequent touring and heavy tour merchandising as a money-making proposition for bands these days. What kind of an impact, if any, has the digital revolution had on you and your band?
Loomis: Well, the music industry has changed quite a bit in the last several years, as far as people going out and actually going to record stores and buying hard copies of a disc. It's changing, and I have noticed that with my previous band, Nevermore, album sales are diminishing because of that. But I think that if you look at the whole picture, one thing is clear: people still love music, and people are willing to buy the whole record or CD if they're interested in the band. You have to have some spark of interest that people are really fired up about, and I think that there's been so much hype over this project that we have a lot of fans who are backing it enthusiastically and are really excited to hear it, so I think it's a good timing thing, too.
It all came together at the perfect time, and we've been timing things, so everything will drop at the right time. If people have an interest in certain bands or guitar players, or whatever, I think sales will follow. For me, it's all about focusing energies, you know.
MIM: You had done a monthly video column posting on YouTube for Guitar World magazine for a while. What was the genesis for those articles, which became quite popular online? Are you still doing the video instructional articles?
Loomis: My column with Guitar World actually ran at two different times. I don't do it anymore, because the magazine will go from guitar player to guitar player, to give other players a chance to display their work, and I had my run with it for a while. I was very happy with the way it turned out, and hopefully it helped to shed some light on different techniques for up-and-coming guitarists and helped some people out. It was a great opportunity to show some of my skills and have people check out the lessons on my column. It was called "The Merchant of Menace," and it ran for about a year, and it was very cool to be able to do.
MIM: When you went about putting Conquering Dystopia together, how did you go about choosing the players you wanted to be part of it? What was your process?
Loomis: Well, it's funny — when you're in a band and you're touring all around the world, you start to meet a lot of other musicians, and that whole world actually becomes a much smaller world. You start knowing everybody. When Keith and I were putting this thing together, two of the people we both agreed on quickly were Alex Rudinger and Alex Webster — they're both amazing musicians. This is some very high-energy music, and it's demanding. So both their names immediately popped up in our minds during the initial startup process of this record, because they're just some of the most proficient players out there. It was kind of a no-brainer; it was a good bet that they would be a perfect match for what we were trying to do, just knowing that those two guys are the best at what they do.
)
MIM: Had you met either of the Alexes before you decided to approach them to work on the project?
Loomis: I met Rudinger because he's best friends with my drummer who plays in my solo band, Anup Sastry. They're both from the Maryland area, and I happened to be introduced to Rudinger by Anut when we all went out one night to shoot some pool.… I started watching a lot of Rudinger's videos on YouTube, because he does a lot of videos as well. I was like, "This kid is absolutely nuts!" He's even in the new Modern Drummer magazine as a new featured artist, and he's only 22 years old. Musicians nowadays are just getting better and better at a much earlier age — I don't know the reason for it, but I would imagine it's because there's just so much media available out there like YouTube, where you can learn so quickly. You don't have to go out and take lessons anymore, because you can just sit at home with your instrument and your Internet connection, type in what you want to learn, watch the instructions and learn to play it right there. It's incredible. Anyway, that's how I met Alex Rudinger.
Alex Webster plays in a band called Cannibal Corpse. Their guitar player is Pat O'Brien, and Pat used to play in my old band, Nevermore. So I was introduced to Alex Webster through Pat O'Brien. Like I said before, it's a small world, and in the metal community, everyone knows everyone else.
MIM: Listening to your body of work to date, it's obvious that your musical influences are as varied as the styles you incorporate into your music. What were your influences when you started learning guitar?
Loomis: I'm glad you asked that, because when I was growing up, my dad had a huge record collection, and it had so many different styles of music represented in it — classical music, 70s progressive, like Yes and Genesis; bands like E.L.O. and stuff like that, and one of my favorite bands, Queen. When I was growing up, I always loved Queen and Brian May's guitar playing. So, here you have this kid — me — starting off playing drums to all this music my father had in his basement, being introduced to all these different styles of music, and I loved them all. I never limited myself to what I listened to as a musician. I always listened to classical, jazz, rock and heavy metal …
And of course, when Van Halen came out with their first album in 1978, I was 8 years old, and I was completely blown away. That set me off on a course toward other heavier bands like Iron Maiden, before I started getting into more of the 80s progressive shred guys from Shrapnel Records like Tony MacAlpine, Jason Becker and Marty Friedman. That's when I gave up drums, because I knew that I just wasn't very good at them, but playing them did instill in me a good sense of rhythm.
My dad had a classical guitar lying around the house that I picked up, and I've never put it down since. That's when I knew where my life was headed, that guitar was the thing for me. I literally would sit in my room for hours on end, perfecting my technique. Nevermore was the perfect scenario, because it was all my influences growing up — I would listen and play so many different styles of music, and I think that rubbed off on the way I wrote music with Nevermore. Nevermore was a big part of my life. I was in that band for almost 19 years — I formed the band in 1991, when I first moved up to Seattle, and we had a great run, it was nothing short of amazing. We made a lot of good albums, and we worked with a lot of great producers, but sadly, the band ended in 2010, and I decided to move on musically, along with the drummer, Van Williams. Everybody in the band is still doing something musically. Every story has its ending — good times and good memories — and I wouldn't change a thing about it. It definitely helped me to grow as a musician, and to be able to move on and do other things. Everything is a to what's next in life for us.
MIM: Being that the music you write is extremely complicated and intricate, when someone makes a mistake in a live performance — whether it's you or someone else — how do you deal with it?
Loomis: You know that Right Guard deodorant commercial where they say, "Never let 'em see you sweat?" I'll tell you what, if you're making faces when you screw up, making it obvious, sometimes people will go, "Oh look! He just messed it up!"
I make mistakes all the time when I play, and that's a cool part about seeing the band play live. There's no way around it unless you're some kind of god. But usually, the mistakes are pretty minimal, whereas it doesn't seem like anyone really notices — except for us. Usually, it's just a glitch on a note, or something like that. But that's all part of the fun of seeing a band play live, in that you hear little nuances that make it real, and that's killer. But most of the time, I have my shit down and have rehearsed the set for hours on end, and it comes off pretty good.
MIM: You play Schecter guitars. Tell me why you chose Schecter.
Loomis: Yes, I've been with Schecter for about 7 years now, and there's a great story behind that. I actually purchased my first Schecter guitar online from a music store, because I was looking for a new seven-string guitar. I had started using seven-string guitars while I was in Nevermore. The vice-president of Schecter saw me using Schecter guitars, and he approached me to say, "Hey Jeff, that's killer that you're using Schecter guitars. Could we send you a couple more guitars to check out, and would you be interested in possibly endorsing them?" I said, "That would be phenomenal!"
So I started endorsing the company, and about a year and a half later, I was sitting on my tour bus and the vice-president called me up and asked, "Hey, how would you like to do a Jeff Loomis Signature guitar?" I almost dropped my phone, man! I was in disbelief, because nobody was ever really interested in endorsing me — I've actually had to work really hard for that, sending out mass emails to gear companies that I really liked, and I had to make it happen myself. So we started designing these guitars together, and it's turned out to be the second-best selling signature artist model with their company.
I'm very proud of the guitars, and we just introduced a brand new line of Jeff Loomis Signature guitars, called the JL-7 model, which is being released this year, shortly after NAMM. There have been some cool changes made on the new JL-7 model that I'm proud of, and I'm very happy to be a part of the Schecter family. They're a great bunch of guys and gals that work there, and they definitely support me 110 percent with everything I do.
)
MIM: Tell me about the rest of your rig. What are you using for cabinets, amps and effects/pedal boards?
Loomis: Well, I've been with Engl Amps for a very long time, but right now, I'm experimenting and playing with the new Kemper Profiling Rack — it's a very cool piece of gear. It's pretty much the main thing in my arsenal now, as far as my sound. Cabs — I'm still using my Engl cabs, Dunlop guitar picks, Ernie Ball strings (nine through 46-gauge string set, and on the bottom, I'm using a 62-gauge for the seventh string). What else do I use? Tons of stuff, but those are the basics — the nuts and bolts of what I use for my live performances.
For my home recording setup, I use ProTools 10. I also use the Event Opal monitors, and I use all Apple/Mac stuff for my home recording, when I do writing and demos and such. Also, I use an Apogee Quartet interface — it's pretty killer. It has great mike preamps in it, it sounds super clean, and it's very easy to use. It's very mobile as well, if you want to unplug the thing and put it in your suitcase, bring it on the road with you and record in your hotel room, it's awesome. It gets great reviews anywhere you look online, it's getting five-star reviews. Apogee has several different models — the Quartet model I have has four inputs in the back, and the Duet model has two inputs, but you can get so much done with four mikes/inputs on something like a small drum set.
MIM: When do you expect your new self-titled album, 'Conquering Dystopia' to be released?
Loomis: Our producer, Mark Lewis, works out of a studio in Sanford, Florida called Audio Hammer Studios, and he is in the process of mixing and mastering the record now, so if this article is published in mid-March, it will have just been released. These are exciting times; things are happening so fast!
(Author's note: It was released on March 10, 2014 and is available on the Conquering Dystopia website.)
MIM: Are you planning to tour this year with the new material?
Loomis: Initially, it was supposed to be just a self-published project that we did on our own, and then all of a sudden, it's blossomed into this completely cool new thing. There is a chance we might tour on it, and if that turns out to be the case, it will probably happen in the spring or early summer. We have nothing set in stone with yet, but you never know. Fans should keep an eye out on my webpage. Keith and I are playing an Italian & U.K. Clinic Tour that kicks off in Tortona, Italy on March 16, 2014.
MIM: If you had the opportunity to jam with anyone — dead or alive — who would it be?
Loomis: I'd have to say Randy Rhoads, because he was so influential growing up as a guitar player to me. He used a lot of classical guitar rhythms in his music, and it was so dark, so minor and so heavy — very orchestral. I was always a fan of the way he layered tracks, turning his guitar into almost an orchestra of sounds, so yeah, I'd have loved to have had the opportunity to sit down and play some guitar and jam with Randy Rhoades. I absolutely love his playing.
If I could add one more, I'd pick Jason Becker. I'd love to sit down and talk about music with him. He's one of my favorite guitar players, and I'm an absolute huge fan of his playing. I'm very fortunate to know him, too. He's a friend of mine. He's an amazingly talented individual. I just love Jason Becker.
MIM: If you had only one album that you could listen to, which would you choose, and why?
Loomis: Growing up, I would have to say that it was always Yngwie Malmsteen's first – the self-titled instrumental record, Yngwie Malmsteen's "Rising Force," yeah. When I first heard that record, a friend of mine who lived down the street from me in Wisconsin had it. I remember he played it for me, and I was so blown away that I ended up stealing the record and running down the street back to my house with it! I must've played that album more than a hundred times, back and forth, just freaked out about the way it sounded, and I think I wore that thing out.
It's funny, because my friend wasn't mad at me for taking it, because he knew what it had done to me. He was like, "Go ahead, man. Just take it!" I actually still have that record. If you look at it, it's just trashed from being played to death. That's definitely one of my all-time favorite records. It's such a progressive record, but at the same time, it's so mellow and beautiful from a guitar perspective.
MIM: Tell us something about yourself that people might not already know, or might surprise us.
Loomis: I'm extremely shy. I'm not very good in situations where there are a lot of people in the room who I don't know. But then, after saying that, the inevitable question is, "How do you find the nerve to play in front of such large crowds of people?"
Well, I feel comfortable doing that because being on stage is in my comfort zone. I always have a hard time talking to a crowd of 10 people, because I always thought I was kind of boring as a person, but when I get on stage and play in front of thousands of people, that's where I can really express myself as a human being. It just comes out of my music, you know. Otherwise, I'm a pretty shy dude, kind of laid-back, but there's nothing wrong with that, I guess … It's just who I am. It's just something I've always been happy doing, playing music for people, and being able to make people happy with some of the musical ideas that I come up with. For me, it's the best thing in life, the best way to express myself.
Author's Note:
You can find out more about Loomis's new "Conquering Dystopia" album by going to the band's website: www.conqueringdystopia.com, or by going to his website: www.jeffloomis.com