New single from the late guitarist Jeff Golub debuts in the Billboard Top 20 ahead of Tuesday's album release with sales benefiting The Golub family.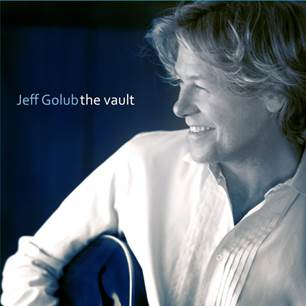 New York City (31 March 2015): A few days prior to New Year's Day, the day guitarist Jeff Golub passed away at age 59, his frequent collaborators Steven Miller, Rick Braun and Bud Harner put the finishing touches on Golub's 13th solo album, "The Vault," a collection of previously unreleased songs and reimagined early career gems that were redecorated with the assistance of some of the artist's high-profile musician friends. Everyone involved with creating the album that was released today by eOne Music – musicians, producers, songwriters, engineers, mixers, mastering, graphic artists, etc. – donated their time to the project so that all of the money generated by record sales can go to Golub's family.
One of the new cuts, "Open Up," featuring the soulful Golub boisterously shredding over a trademark jazzy blues-rock groove produced by Jeff Lorber, debuted last week in the Top 20 of Billboard's smooth jazz singles chart boding to become the next addition to the artist's catalogue of No. 1 singles.
"The Vault" is just the latest rallying of the music community to aid Golub, who succumbed to complications from Progressive Supranuclear Palsy (PSP), a rare, incurable and aggressive brain disease. Although he wasn't officially diagnosed until last November, PSP stole his vision in the spring and summer of 2011. An all-star contingent played a sold-out benefit concert that autumn in Southern California to raise money to cover medical expenses. Golub's motor skills rapidly began to deteriorate while touring in 2013 in support of his final set of all new material, "Train Keeps A Rolling," and eventually left him unable to play his beloved instrument. After his passing, nearly two dozen prominent recording artists gathered January 21 near the guitarist's New York City home to play a sold-out tribute benefit concert at B.B. King Blues Club & Grill. Many of the musicians who appeared on that high-wattage bill perform on "The Vault," including Dave Koz, Kirk Whalum, Mindi Abair, Richard Elliot, Bill Evans, Philippe Saisse, Steve Ferrone and Braun. Additional album contributors were hitmen Gerald Albright, Brian Culbertson, Euge Groove, Boney James and Peter White.
The ten-track "The Vault" consists of vastly different versions of seven Golub songs harvested from seminal album releases that were given a fresh twist by the guest artists personally selected by Golub; a soul-stirring live version of the Golub classic "Naked City"; and two previously unreleased selections, "Open Up" and the Saisse-produced "Swagster," a sweltering swing sparked by Golub's scalding guitar and Whalum's impassioned sax wails.
To help set the stage for "The Vault," SmoothJazz.com hosted the world premiere of the record on March 28 along with interviews with the guest artists and producers. Last Sunday's (March 29) episode of Koz's radio show that airs nationally on SiriusXM's Watercolors was devoted to the album spotlighted by interview segments with Abair and Braun, and played multiple tunes from the disc. On April 15, SiriusXM's Watercolors will broadcast the entire Golub all-star tribute concert.
Golub began his career as an ace guitar slinger alongside superstars Rod Stewart, Billy Squier, Peter Wolf and Tina Turner before launching his own chart-topping band, Avenue Blue, leading to his star-making solo career. The Akron, Ohio native is survived by his wife Audrey Stafford Golub, and sons Matthew (14) and Chris (12).
"The Vault" contains the following songs:
"Funky Is As Funky Does"
"One More Excuse To Play The Blues"
"Open Up"
"Gimmie Some"
"Swagster"
"Keep The Ball Rolling"
"Jeff's Blues (Mama Didn't)"
"Groanin"
"Atlanta Nights"
"Naked City" (Live)
For additional information about Golub, go to http://jeffgolub.com.