SATURDAY, OCTOBER 3 IN VILLA PARK, IL

Another night of music has been announced for Rob Zombie's Great American Nightmare–the ultimate Halloween horror event–at Odeum Expo Center in Villa Park, IL. Detroit-based horrorcore/hip hop band Insane Clown Posse, rock band P.O.D., along with artists Stitches, Young Wicked, and Dope D.O.D., will perform at Rob Zombie's Great American Nightmare on Saturday, October 3.
When Insane Clown Posse (ICP) emerged from the darkness surrounding Detroit's underground music scene in the early '90s, the world had yet to imagine the impact that the hardcore hip-hop style spawned by these two artists–Violent J and Shaggy 2 Dope–would bring to bear on mainstream music. Shunned by mainstream music players like MTV and castigated in the media, banned from radio airwaves and yanked from the shelves of "conventional" retail outlets, ICP was dealt a hand that seemed destined for swift and certain failure. Instead, the duo amassed a following of millions of fans endearingly called "Juggalos" and smashed through the ceiling of music industry expectation.
Tickets for the October 3 show at Rob Zombie's Great American Nightmare go on sale Friday, August 28 at 10:00 AM CT and start at only $35. Tickets include the concert and haunted attractions. Tickets purchased at the door (if available) will start at $45. On October 3, doors open at 5:00 PM and the concert starts at 7:00 PM.
A limited number of VIP packages will also be available for purchase at www.GreatAmericanNightmare.com. All VIP packages include a commemorative t-shirt and quicker access to the haunted attractions than general admission.
As previously announced, October 2 & 4 at Great American Nightmare will also feature two special concerts with groundbreaking musician and filmmaker Rob Zombie.
Rob Zombie's Great American Nightmare 2015 will feature three attractions based on Zombie's own horror films: Captain Spaulding's Clown School In 3D, The Devil's Rejects, and 31. Captain Spaulding's Clown School In 3D and The Devil's Rejects debuted at Great American Nightmare in Scottsdale, Arizona last year. 31 is a brand new, never-before-seen haunt based on Rob's forthcoming film of the same name.
The fully immersive haunted house experience at Rob Zombie's Great American Nightmare will include the ALL NEW Bloody Boulevard with major carnival rides, freak shows, musical entertainment, roaming characters, themed food and beverages, games and vendors each night. Note: Carnival rides will not be open on concert nights.
Rob Zombie's Great American Nightmare will celebrate the Halloween season on the following dates between September 25 and November 1:
September: 25, 26
October: 2, 3, 4, 9, 10, 11, 15, 16, 17, 18, 22, 23, 24, 25, 29, 30, 31
November: 1
Hours for Rob Zombie's Great American Nightmare will be 7:00 PM until midnight (Fridays and Saturdays) and 7:00 PM until 10:00 PM (Thursdays and Sundays). On concert nights, Great American Nightmare will be open until midnight.
Rob Zombie's Great American Nightmare is a creative collaboration between master of the macabre Rob Zombie and preeminent haunted house producer Steve Kopelman. The event is produced by Rob Zombie, Steve Kopelman and Andy Gould.
Odeum Expo Center is located at 1033 North Villa Avenue in Villa Park, IL, just outside Chicago. It's easily accessible from downtown Chicago by major highways, and from the Tri-State area by tollways.
Website: www.GreatAmericanNightmare.com
Facebook: www.facebook.com/RobZombiesGreatAmericanNightmare
Instagram: http://instagram.com/rzgreatamericannightmare
Twitter: https://twitter.com/RobZombiesGAN
YouTube: http://www.youtube.com/user/RobZombiesGAN
"Great American Nightmare may be the best example yet of the upsizing of haunted houses over the last decade…"
–Steven Kurutz, The New York Times, October 24, 2013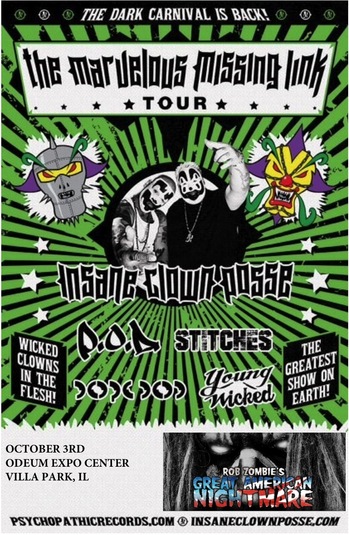 About Rob Zombie
As a rock icon and filmmaker with a unique vision, Zombie has continuously challenged audiences as he stretches the boundaries of both music and film. Zombie has sold more than fifteen million albums worldwide, and is the only artist to experience unprecedented success in both music and film as the writer/director of seven feature films with a worldwide gross totaling more than $150 million. Most recently in 2015, Rob released Spookshow International Live, showcasing his notorious and uniquely raucous live show. He recently finished production on an excitingly brutal new film called 31 as well as a new studio album, both of which will be released in 2016.
www.robzombie.com
About Steve Kopelman (Great American Nightmare Producer)
Kopelman is the preeminent haunted house producer in the United States and one of the most creative forces in the haunted house industry. Over the past 30 years, he has produced more attractions in more cities than anyone else in the field, including "The Mind Of Madness" and "Killers: A Nightmare Haunted House" in New York City, as well as "The Nest" in Phoenix. Kopelman's state of the art, award winning, bone-chilling events have attracted millions. His attractions have been featured in the Wall Street Journal, New York Times and on ABC News, Good Morning America, The Travel Channel, The Food Network, AOL and MSN.
About Andy Gould/Spectacle Entertainment Group
Manager/film producer Andy Gould has been a behind the scenes icon of the music industry over the last 4 decades. His management expertise and marketing genius have impacted the careers of acts like White Zombie, Pantera, Linkin Park, Guns N' Roses, and many others. His partnership with Rob Zombie over the last 20 years has yielded several multi-platinum albums, as well as 6 feature films including The Devil's Rejects (Lionsgate) and the record breaking remake of Halloween (Weinstein, 2007), all of which Gould produced. He is also the president of T-Boy Records, a joint venture label with Universal Music Enterprises.
Rob Zombie's Great American Nightmare Publicity Contacts:
Kristine Ashton-Magnuson/Ashton-Magnuson Media
kristine@am-media.net; (818) 996-2496
Selena Fragrassi
selena@fr-pr.net; (847) 942-3093