What do you do when you get a bad review of your CD? A really bad review. It is something every artist will encounter at some point in their career. How you handle it and what you get out of the review can say a lot about how professional you are.
Back in the dark ages before the Internet, around 1989, I was just out of college living in Chicago and working with a band called Defcon. The band had recorded some three song demo tapes with producers like Frankie Sullivan of Survivor, Freddie Salem of The Outlaws and Rudy Sarzo, who at the time was in Whitesnake. I was Director of Marketing at their management company so I was always hustling to get press and reviews, as well as building their mailing list and fan relationships. I had sent a tape to the local magazine/paper Illinois Entertainer for review. Well they reviewed it, but really slaughtered it. Defcon was getting glowing reviews nearly everywhere, including major international metal magazines. So I was a bit shocked that the hometown paper would write something so bad. The line that really hurt was, "these guys can't cut the mustard." Ouch! Rather than get down and depressed that someone didn't like us, I saw it as a opportunity. I had built a mailing list (not email, remember pre internet) of fans literally around the world. So I quickly laid out and printed a newsletter to mail out that only talked about this review. I printed the review and listed the paper and their mailing address. I then asked fans to go to their local McDonald's and take as many mustard packets as they can and mail them to the paper with a note letting them know that you think Defcon can cut the mustard. Wow, the response was amazing! Let the fans do the talking, let them use their combined voice to make a point. The Illinois Entertainer literally got 1000′s of mustard packets sent to them. Some fans sent one packet, some fans sent in a box with dozens of packets. The Illinois Entertainer didn't retract or revise the review, I wasn't expecting that. But they did print a little comment in a future issue talking about how surprised they were with the fan support and how they were impressed and laughing at the response.
Mission accomplished!
No war of words was started. Nobody was blacklisted. The fans felt proud that they could support their favorite band. And we created something that was talked about for some time.
Remember this was all done pre internet. So it took work and time to plan, create and execute. Today you can accomplish the same thing with very little effort… IF you have a relationship with your fans, and IF you have means to communicate and rally their support, such as a email list.
Brian Thomposn, my Music Biz Weekly and Rock Star Branding podcast host, shared this story about a Tweet gone very bad. This is a great example of how not to lose control and not to get sucked into a war of words. Don't let your emotions push you to post, take a moment to stop and think.
I recently watched a friend's band go down in flames on Twitter. It was painful to watch. What started out as a quick "chirp" from one of the band members to a player on an opposing city's hockey team quickly erupted into an all-out war. And it wasn't just between the the band and the player. No no, the NHL player brought his fans with him… and in droves. What may have seemed as a funny, harmless and goofy thing to do quickly turned upside down and resulted in the band being lambasted for hours and hours by dozens and dozens of people. The tweets streaming in were mocking their music, their name, their haircuts, their success… everything. But the terrible thing was, the band didn't stop. They met each tweet head on with the fury of a playground bully.
After the storm had settled, what was left? Nothing but a Twitter feed filled with childish words. Their music was no long centerpiece. Their art was no longer what mattered. But what was plain to see for anyone who cared… was how petulant this band was.
Hmm… now, what if I happened to be a potential manager or agent who was considering working with them? Opportunity lost.
Watch your words online people, each and every tweet you make is a representation of your brand.
Don't let a bad review get you down, don't let it get you pissed. By all means don't let it put you on the attack to start a war of words. Look at what was written and see if you can spin it into something positive. But most importantly, if possible get your fans involved. Ask them to go to the review and leave their comments in support. Ask them tag the reviewer on Facebook or mention the reviewer on Twitter a message of support. If you take the review on alone you have one voice, pull together your fans and you could have the voice of 1000s.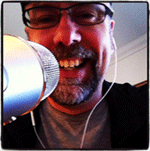 Michael Brandvold
Founder/CEO, Michael Brandvold Marketing
Founder/Co-host, The Music Biz Weekly Podcast, Rock Star Branding Podcast & Dropping The Needle Podcast
Download a copy of KISS School of Marketing: 11 Lessons I Learned While Working WIth KISS.
Selected by….
Hypebot.com – The Best And Brightest Music Industry Minds On Twitter
CD Baby – 10 Top Music Marketing & Promotion Resources On Twitter
CD Baby – 11 Must-Follow People on Twitter.
Speaking Engagements: