by Brian McKinny
Fight or Flight is the fifth release from Hoobastank, and it is their first album since leaving Universal Records to take the independent label route, hiring Gavin Brown to produce their new album and take them into a new direction. This newest effort by the band shows that they've grown musically in the interim since their last album, Fornever, was released in January of 2009.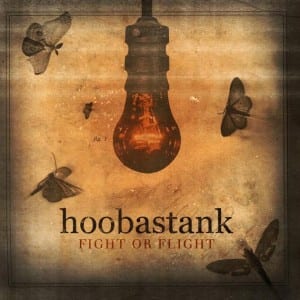 Their latest album is a big step up, as well as forward for the band in every way. Immediately I am impressed that they have managed to show real musical growth and maturity with Fight or Flight, particularly in the writing of the songs. Hoobastank has always been a musically talented band from a performance standpoint. I've always believed that they were actually better in their live performances than they were on CD.  With this release, I find things in these songs that I wasn't sure I'd hear this time out.  Gavin Brown has done them proud with his production on Fight or Flight. I hear things like a crisper, tighter performance that perhaps is even a bit stronger than on their previous releases. They're still the same band at the core, but there is a bigger backbeat and the overall mix has a raw intensity that cuts through with big, fat kick drums, and the bass lines are infectious if you're a groove connoisseur. Doug Robb's vocals are still as sweet as they have always been, but there's a fuller, more forceful personality behind the voice now. It's a maturity that shows through in not just the vocals, but also the lyrics.
The opening track, This Is Gonna Hurt You proves my point from the first note. The intro is sharp and intense, and the guitar tone sounds like what you'd hear when receiving a heavy blow to the head. Stunning. The song is a dynamic rollercoaster of a ride, and the lyrics relay a story of regretful inevitability, an end to a means. It speaks to where the band was, and where they are now – a break from the past. This song really has a very tight groove that makes you want to move your body.
You Before Me has a beautifully dark tone to it. It's a dark, yet warm quality that slowly builds to a melodic crescendo at the bridge, with a strong chorus that falls off into the abyss as the song ends. This album is different from all the others before it because of the sophistication of the song writing – the lyrics, the arrangement, the groove are all much stronger on this album, and more refined as well. The Fallen is another example of the overall darker tonal qualities that the band has brought to several songs on this album, and each song has a very well defined message and purpose.
Not every song on Fight or Flight is as tonally dark as the previous tracks. Can You Save Me? is an optimistic and bright example of how this newfound maturity can take on a bright and hopeful meaning, which segues beautifully into the next track, No Destination (Fight or Flight), which I believe will be the first of many hits off this CD. I really enjoy the orchestrations in the background, the driving bass line, and the subtle influence of Euro-pop tonal qualities in the guitars and keyboards. It's really very interesting to listen to this and be able to hear just how much this band has grown musically since their last album. Slow Down is another example of their ability to write beautiful power ballads without stepping over the 'sappy' line. It is vocally smooth and melodic, with an almost lullaby quality to it, and the acoustic guitar parts are very tastefully inserted, and still this song manages to drive you throughout the choruses, and the lyrics are very catchy. You'll find yourself singing this in your head. This is another hit, a cross-over into the pop ballad charts.
No Win Situation is another hit, guaranteed. It comes out of the starting gate like a thoroughbred rearing to go, and just like that, we're off to the races! This song is high-energy to the max, with frantic drums and bass pounding out the beat, and the guitars pushing the edge with a really catchy hook. It's short, sweet, and kicks you in the teeth!
As soon as you jump off that rollercoaster ride, the band takes you down a few notches and straight into another hit pop-rock ballad, Sing What You Can't Say. It's a really sweet love song, of the kind that these guys do so well. Even their ballads/love songs really groove, and that's saying a lot. It's another short, sweet song that says what it means to say, and leaves it at that. Sweet and simple. Magnolia manages to do the same thing as Sing does, but with a more up-tempo beat. It's just as beautifully sung and played, and I really enjoy the acoustic guitar parts they've put in there as well.
Incomplete is a very danceable song (yes, I said danceable!) that has a sort of 80's pop beat to it, but with a much more modern sound to it. The guitar hook is really interesting and very catchy, and the bass line is really smooth, driving the song along and providing a foundation for the guitars to bring the hook.
A Thousand Words starts off with a really beautiful classical guitar riff that just melts away in your mind, along with the supple voice and lyrics. It is sparsely instrumented, but the sound is big and full. It caresses your ears with its beautiful simplicity, showing a diversity of styles that few bands can hope to achieve.
No Destination is really a statement from the band, letting everyone know that they are happy with the road they're on and that they really don't care where it takes them, as long as it is always moving forward. It's another hit, and it is confident, energetic, and musically powerful. Hoobastank has really impressed me with Fight or Flight, and as long as they keep this newfound maturity and confidence going, I'll keep happily listening, and I hope that you will, too…