DEBUTS AT #4 ON THE iTUNES ROCK CHART!
OUT TODAY VIA THE END RECORDS/ADA
NEW SINGLE 'INTOXICATED'
GAINS 6 NEW ADDS AT ACTIVE ROCK RADIO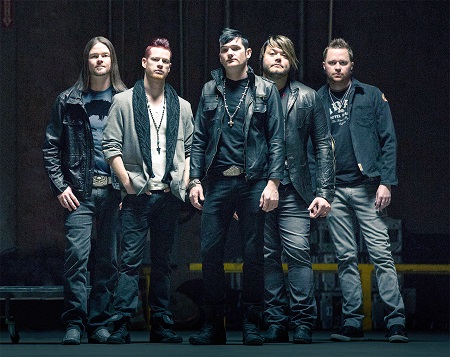 "Hinder is back" – Billboard
"Welcome to the new era of Hinder!" – Loudwire
"Hinder is stronger than ever" – Blabbermouth
"Hinder hits the booster rockets with new singer on board" – The Daily Times
NEW YORK, NY (May 12, 2015) – Anthemic, multi-platinum rockers Hinder have just released their fifth studio album, When The Smoke Clears, via The End Records/ADA.  When The Smoke Clears is available on digital, CD and LP formats, and in multiple album bundle configurations.With over a decade-long career under their belts, and having honed their chops touring with the likes of Mötley Crüe, Nickelback, Aerosmith and Papa Roach, When The Smoke Clears, the debut release with Hinder's new lead vocalist Marshal Dutton, has breathed new sound, and new air, into the ever-evolving band. The songs on When the Smoke Clears run the gamut from rowdy rock to subtle country influence, to memorable pop hooks, all of which retain the DNA-distinct spirit of Hinder. That ability to walk the tightrope between genres, without a net, is something the band has had fun with in creating the new album.
AVAILABLE NOW ON iTUNES & AMAZON!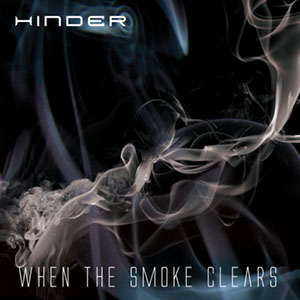 CLICK HERE to listen to the full album stream on our YouTube Channel!
Following its radio premiere on Sixx Sense With Nikki Sense, the latest single 'Intoxicated' has been in rotation on Active Rock Radio, with adds from WHXR (Portland, ME), WIIL (Chicago, IL), KOZE (Lewiston, ID), KWHL (Anchorage, AK), KTED (Casper, WY), KEYJ (Abilene, TX)
… and counting!
The official lyric video for 'Intoxicated' just premiered on Loudwire!

FEATURED PREMIERES:
Full album stream via Pandora
'Intoxicated' Official Lyric Video via Loudwire
'Intoxicated' Official Audio via Sixx Sense With Nikki Sixx
'Hit The Ground' Official Music Video via Yahoo! Music
'Hit The Ground' Official Audio via Billboard
The band will perform select tracks from When the Smoke Clears at their upcoming shows. Please see below for a list of current tour dates, which includes stops at Loudwire Music Festival in Grand Junction, CO on June 28 and Rock Fest in Cadott, WI on July 18.
Also Available:
Multiple CD & LP album bundle configurations via The Omega Order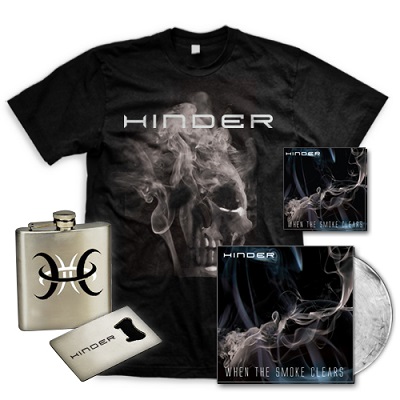 About Hinder:
Multi-platinum rockers Hinder, whom have sold over 3.8 million albums and more than 7.5 million singles, garnered north of 130 million video views, and racked in 40 million spins on Spotify, and counting, are back with their fifth full-length album When The Smoke Clears. As one of the few bands to have massive cross-over success in recent years, Hinder's debut album Extreme Behavior climbed to #1 on Billboard's Top Heatseekers chart and made its way to #6 on The Billboard 200 chart. The album featured one of the biggest songs of the year, 'Lips of an Angel' – a Top 5 hit across EIGHT Billboard singles charts (including #1 on Top 40). Their sophomore effort, Take It To The Limit surpassed their debut, peaking at #4 on The Billboard 200, solidifying Hinder as the biggest new breakout rock act and catapulting them into packed arenas worldwide with their explosive live show. Proving they consistently make hit records, the band followed the first two albums up with a #1 Top Modern Rock/Alternative Album (All American Nightmare), and a #3 Top Hard Rock Album (Welcome To The Freakshow). With increasing social media stats (1.6 million Facebook followers), it's clear that Hinder fans are along for the ride and as hungry as ever for more.Hinder 2015 Tour Dates:
May 23 – New York State Fair, WKRL's Dysfunctional Family BBQ; Syrcause, NY
Jun 6 – Inn of the Mountain Gods Resort and Casino; Mescalero, NM
Jun 7 – Jake's Backroom; Lubbock, TX
Jun 9 – Scout Bar; Houston, TX
Jun 10 – The Varsity Theatre; Baton Rouge, LA
Jun 12 – KC Live!  Power & Light District Outdoor Stage; Kansas City, MO
Jun 13 – Pops Nightclub; Sauget, IL
Jun 14 – St. Joseph Country 4H Fairgrounds; South Bend, IN
Jun 16 – St. Andrew's Hall; Detroit, MI
Jun 17 – Newport Music Hall; Columbus, OH
Jun 19 – Bogart's; Cincinnati, OH
Jun 20 – The Adelphia Music Hall; Marietta, OH
Jun 21 – The Vogue; Indianoplis, IN
Jun 23 – Exit / In; Nashville, TN
Jun 24 – The Outskirts; Macomb, IL
Jun 26 – Midnight Rodeo; Amarillo, TX
Jun 27 – Ogden Theatre; Denver, CO
Jun 28 – Loudwire Music Festival; Grand Junction, CO
Jul 7 – Music Farm; Columbia, SC
Jul 9 – Chameleon Club; Lancaster, PA
Jul 10 – The Emporium; Patchogue, NY
Jul 11 – Altar Bar; Pittsburgh, PA
Jul 13 – Agora Ballroom; Cleveland, OH
Jul 14 – The Music Factory; Battle Creek, MI
Jul 16 – District; Rockford, IL
Jul 17 – Concord Music Hall; Chicago, IL
Jul 18 – Rock Fest; Cadott, WI
Jul 24 – Halfway Jam Festival Grounds; Royalton, MN
Jul 25 – Werner Park; Papillion, NE
Jul 26 – The District; Sioux Falls, SD
Aug 2 – Easyriders Saloon; Sturgis, SD
Aug 14 – Umatilla County Fair; Hermiston, OR
For More Information On HINDER:
Official Site
Facebook
Twitter
Instagram