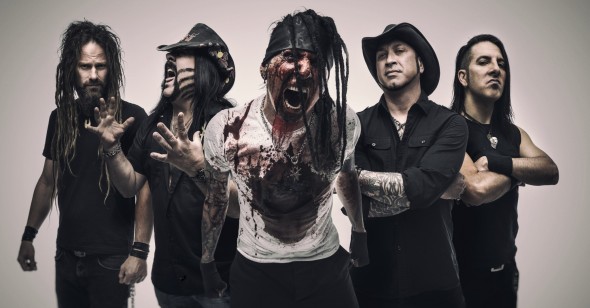 High-octane, heavy metal purveyors, HELLYEAH, will unleash their much-anticipated 5th studio album, UNDEN!ABLE, tomorrow, June 3rd, across all physical/digital retail and streaming platforms via Eleven Seven Music. After giving their fans a taste of the single, "Human", which peaked at #4 on the Rock Charts, the metal community has been buzzing, glued to their revamped sound. As applauded by Rolling Stone for expanding their "blackened vibe, with a few musical liberties."
One week ago, the band revealed that a cover of "I Don't Care Anymore," (originally performed by Phil Collins) will be featured on the album from previous backyard recordings between brothers Dimebag Darrell and HELLYEAH drummer Vinnie Paul. The track is being exclusively premiered via Rolling Stone today. Paul reflects, "We felt like his energy and his spirit was always with us." He continued, "And for people to be able to hear him again in 2016 puts a big smile on my face." Featuring some of his last recordings before his untimely death, UNDEN!ABLE's track "I Don't Care Anymore" highlights what the late, great Dimebag did best – provide heavy metal guitar riffs and solos that are unrivaled to this day. Metal fans will be able to catch the band live with plenty of opportunities in 2016, as HELLYEAH plans to perform all year long – tour dates can be found below.
In an exclusive behind-the-scenes video and interview released earlier this week via Billboard, vocalist Chad Gray further described what has inspired one of their heaviest albums to date. An intimate capture of what emotional tolls the band has persevered through, reasons for their immense focus, and more is discussed here. As summarized by Gray, "'UNDEN!ABLE' is just that. We went into this with the mindset that this was the time for us to make something that is undeniable."
Never before has HELLYEAH's music been so raw and the band so hungry for the road. The members have come together and personified heavy metal in 13 meticulously structured tracks that take shape as UNDEN!ABLE. Currently rounding out the "We're All In This Together" Tour alongside Escape The Fate, New Years Day, and From Ashes To New, HELLYEAH will then begin their "Hell Pop US" Tour with female-led powerhouse outfit, In This Moment, beginning June 18th in Clive, IA. With stops at some of the most frequented metal and rock festivals in the world, HELLYEAH will be impossible to miss this year, and with a record like UNDEN!ABLE, it will become very clear that HELLYEAH is one of most talented metal groups of our time.
HELLYEAH's UNDEN!ABLE will be available everywhere tomorrow, June 3rd. Pre-order your copy today! The special formats that will be available for the fans:
* Digital 13-track digitally available to pre-order now here (available June 3)
* Standard 13-track jewel case CD – June 3
* Deluxe CD 13-tracks plus 4 bonus tracks – June 3
* Deluxe 180 gram Vinyl with 2 discs featuring 13 tracks plus bonus tracks and includes a collectible embroidered patch and a free digital download of the album – June 3
'UNDEN!ABLE' Track Listing:
1) !
2) X
3) Scratch A Lie
4) Be Unden!able
5) Human
6) Leap of Faith
7) Blood Plague
8) I Don't Care Anymore (feat. Dimebag Darrell)
9) Live Or Die
10) Love Falls
11) 10-34
12) STARTARIOT
13) Grave
Upcoming Tour Dates:
Jun 3 – San Diego, CA @ House of Blues
Jun 4 – Riverside, CA @ Riverside Municipal Auditorium
Jun 5 – Las Vegas, NV @ The Foundry
Jun 18 – Clive, IA @ 7 Flags Event Center
Jun 19 – Wichita, KS @ The Cotillion
Jun 21 – Lubbock, TX @ Lonestar Amphitheatre
Jun 22 – Midland, TX @ La Hacienda Event Center
Jun 24 – Abilene, TX @ Abilene Civic Center
June 25 – El Paso, TX @ Speaking Rock Entertainment Center
Jun 27 – Corpus Christi, TX @ Concrete Street Amphitheater
Jun 29 – Birmingham, AL @ Iron City
Jun 30 – Orlando, FL @ Hard Rock Live
Jul 2 – Saint Petersburg, FL @ Jannus Live
Jul 3 – North Myrtle Beach, SC @ House of Blues Myrtle Beach
Jul 5 – Atlanta, GA @ The Masquerade
Jul 6 – Raleigh, NC @ The Ritz
Jul 8 – Norfolk, VA @ The NorVa
Jul 9 – Inwood, WV @ Shiley Acres
Jul 10 – Asheville, NC @ The Orange Peel
Jul 12 – Peoria, IL @ Limelight Eventplex
Sept 7 – Sao Paulo, BR @ Maximus Festival
Sept 10 – Buenos Aires, AR @ Maximus Festival
Sept 17 – Chester, PA @ Rock Allegiance Festival
Sept 25 – Houston, TX @ Rock Allegiance Festival
More to be announced…