HEADRUSH CORE
Headrush Core Pedalboard Delivers Acclaimed Amp Cloning and Vocal Effects In a Compact New Form Factor
HeadRush, the leading maker of touchscreen-based solutions for guitar-based performers, is today announcing the release of it's latest multi-FX pedalboard: the HeadRush Core. Offering the exact same processing power and advanced software features as the flagship, best-selling HeadRush Prime, HeadRush Core is optimized for portability with a smaller footprint while incorporating five foot switches.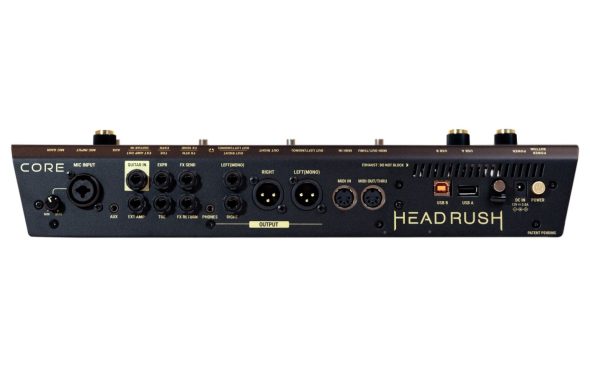 The HeadRush Core contains a huge library of realistic and responsive guitar FX, amp, cab, and microphone emulations; virtually unlimited impulse response loading; and the ability to accurately simulate analog gear with 'smart cloning' technology. It also features a full suite of vocal FX (including the industry-standard Antares AutoTune®), Wi-Fi and Bluetooth connectivity, and a best-in-class looper. This is all powered by an advanced multi-core processor which delivers an incredibly powerful floorboard, with gapless switching between presets and an incredibly easy-to-use 7″ touch interface. All of this is packed into a rugged-yet-compact steel chassis that's loaded with I/O.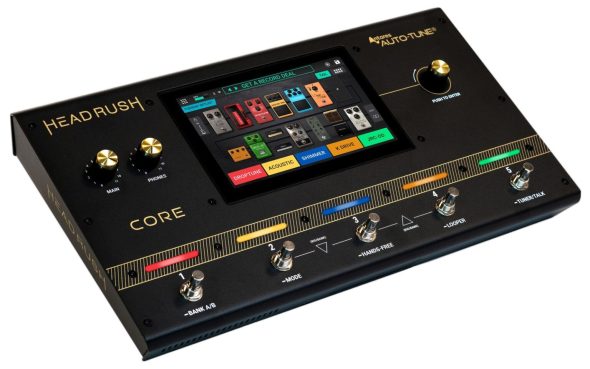 HeadRush Core takes amp cloning to a whole new level by leveraging its 7" touch screen to deliver an incredibly simple and intuitive cloning process. Plug in your target device, follow the on-screen instructions, and capture the magic of your favorite amp or distortion, overdrive, or fuzz pedal in minutes. Once a clone is created it can be easily added to any rig and then tweaked. For example, you can replace just the speaker sound of an amp clone with a different onboard cabinet model or impulse response.
Saved clones and rigs can be shared directly from Core, using the built-in Wi-Fi connection and the HeadRush Cloud. The HeadRush Cloud is a free online community directly users to search, audition, and download rigs and clones uploaded by the HeadRush community, as well as from featured artists and content partners. Best of all, clones and rigs are cross compatible between HeadRush Core and HeadRush Prime, so new HeadRush Core users will have immediate access to over 1000 clones when connecting to the Cloud for the first time.
HeadRush Core Key Features:
• 7-inch high-resolution touchscreen with intuitive interface
• Realistic and responsive amp, cabinet, and microphone modeling including all new models by amp modelling innovators; Revalver
• Expansive library of guitar and vocal FX, including Antares Auto-Tune
• Amp Cloner captures the sound of your favorite amp, preamp, distortion pedal, overdrive pedal, or fuzz pedal
• Direct Wi-Fi connection to the HeadRush Cloud for sharing clones, presets and updating firmware
• Wi-Fi streaming music practice tool makes learning songs easier than ever before
• Bluetooth audio connectivity for playing along with mobile devices
• Powerful custom-designed multicore DSP system with gapless preset switching
• 5 footswitches with customizable color LEDs
• Import virtually unlimited guitar and bass cabinet IR files
• Stereo FX loop for integrating external FX pedals and 4 cable method connectivity
• Best-in-class looper with save/load functionality and MIDI Sync
• Record and re-amp via the built-in USB Audio interface (up to 24-bit/96KHz)
Launch Info
HeadRush Core will be available worldwide on Tuesday September 19th 2023 for $999. Click here to see HeadRush Core in action!
Visit https://www.headrushfx.com/products/core/index.html to learn more about HeadRush Core and find a dealer near you.
###
About HeadRush FX
Delivering distinctive, cutting-edge equipment for top-level performing and recording
guitarists, HeadRush is dedicated to raising the guitarists' creative efforts to the next
level. HeadRush gear offers effects and sounds that simply can't be found anywhere
else. Visit headrushfx.com to learn more