Turn it up to 11 with 11 all-new Amps and FX, available as a free update to Pedalboard and Gigboard Users!
HeadRush, the recognized innovator of next-generation guitar products, announced the immediate availability of Feature Update 2.3 for its class-leading Pedalboard and Gigboard quad-core guitar processors. Inspired by feature requests and extensive feedback from their users and beta testing community, HeadRush is kicking off 2021 by releasing
a free update including 2 new amp models, 9 new effects, improvements to their on-board looper, alongside other performance enhancements.
New Amps and FX
The HeadRush Pedalboard and Gigboard deliver the most versatile, realistic-sounding and responsive amplifier, cabinet, microphoneand FX models ever found in a floorboard guitar FX processor. Feature Update 2.3 expands on their extensive library by adding 2 new amp models ('05 TANGERINE 30 CH1 & CH2) that were inspired by the thick and creamy tone of an Orange AD30HTC. The feature update also adds highly requested effects, including an ultra-realistic sounding acoustic simulator based on the Boss Acoustic Simulator (ACOUSTIC SIM), a fast-tracking HeadRush Original octave generator designed for lead sounds (OCTAVES UP),and an exclusive hauntingly lush ambient reverb (AMBI VERB). HeadRush additionally added another exclusive nostalgia-inducing stereo detuner (DETUNE), which further bolsters their library of onboard high-performance polyphonic pitch effects.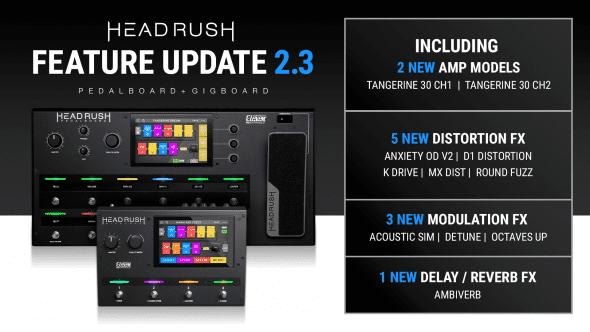 New Dirt
Directly responding to one of the most popular requests from their users, HeadRush further expanded their effects library by adding 5 new dirt pedals in Feature Update v2.3. This versatile selection includes 2 new distortions (MX DIST, D1 DIST), 2 new overdrives (K DRIVE, ANXIETY OD V2) and a new fuzz effect (ROUND FUZZ), all inspired from the Fulltone OCD, Boss DS-1, Klon Centaur and MXR Distortion. These new additions provide guitarists with even more tools for shaping and enhancing their tone, enabling them to add tasteful breakup and crunch to the onboard amp models, searing heavy psychedelic riffs & leads, and so much more.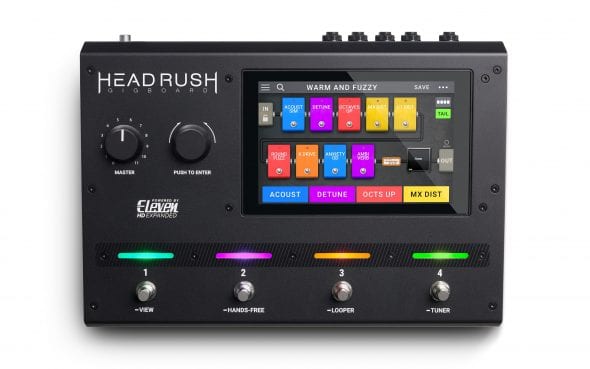 Looper and Performance Updates
In Feature Update v2.3, HeadRush also enhanced their onboard Looper's Feedback control to allow for advanced Frippertronics-style looping, where new layers gradually replace old layers while recording or overdubbing the loop. Additionally, HeadRush has also improved the built-in USB audio interface performance with Windows computers.
What's New in 2.3?
• Added 2 new amp models to the AMP category:
• '05 TANGERINE 30 CH1
• '05 TANGERINE 30 CH2
• Added 5 new FX to the DISTORTION category:
• MX DIST
• D1 DIST
• K DRIVE
• ROUND FUZZ
• ANXIETY OD V2
• Added 3 new FX to the MODULATION category:
• ACOUST SIM
• DETUNE
• OCTAVES UP
• Added AMBI VERB to the Delay/Reverb FX category
• Revised the Looper's FEEDBACK control to better support Frippertronics-style looping.
• Multiple DSP optimization and UI improvements.
About Pedalboard and Gigboard
Guitar FX and Amp Modeling Processors Powered by the Exclusive Eleven® HD ExpandedTM DSP Software.
Featuring a finely-tuned quad-core processor and powered by exclusive Eleven HD Expanded DSP software, the HeadRush Pedalboard and Gigboard deliver the most versatile, realistic sounding and responsive amplifier, cabinet, microphone and FX models ever found in a road ready floorboard guitar FX processor. The 7-inch touch display enables you to touch, swipe and drag-and-dropto instantly create and edit your rigs in an unprecedentedly realistic and intuitive way.
Whether you're looking to dip your toes into the world of digital guitar modeling or a seasoned veteran looking to sculpt your signature tone, Pedalboard and Gigboard's expansive tone sculpting capability, smart guitar-centric user interface, and rock-solid build guarantees to deliver the goods – your perfect tone is just a touch away!
# # #
About Headrush
Delivering premier solutions for active performing and recording guitarists, HeadRush specializes in electronic gear that leaves 'conventional' behind, providing new ways to enhance the creative musical process. For more information, contact pressrelations@headrushfx.com. Pro Tools® and Eleven® are registered trademarks of Avid Technology, Inc. HeadRush® is a registered trademark of inMusic Brands, Inc.
All other product or company names are trademarks or registered trademarks of their respective owners.
All other product or company names are trademarks or registered trademarks of their respective owners. These trademarks are property of their respective owners and are used for reference purposes only, and reflect no affiliation from the owners with or to inMusic Brands