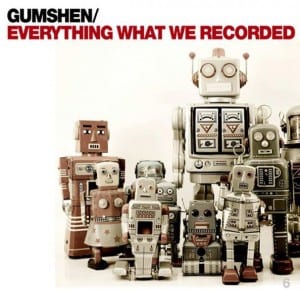 Production: DIY – Recorded under the supervision of Rich Hinklin, who was part of the "Seattle Sound", working under Jack Endino (helped w/ Nirvana, Soundgarden, Gits recordings) and now has been teaching audio engineering at Seattle Arts Institute for many years.
Bio: Gumshen draws upon an eclectic palate of musical styles dishing out a healthy dose of rock, pop and funk/rap. Gumshen sounds like King Crimson and Weezer adopting Elton John, renaming him Prince, and celebrating with a sunbeam of absinthe.
Gumshen began as Menthol James, a hard-rocking Seattle quartet who played several successful shows at the historic Rainbow club, and a well-received live performance on KBTC 91.3 FM. One year and a few demos later, the band became a trio and recorded the Menthol James EP, mixed by Glenn Lorbecki and mastered at Glenn Sound. This mid-2007 release was followed by positive reviews.
Early in 2007, the band enlisted the help of veteran Seattle music producer/engineer Rich Hinklin (faculty member at The Art Institute of Seattle, Word of Mouth Productions, Reciprocal Recording – helped w/ Nirvana, Soundgarden, Gits recordings), changed their name to Gumshen, and returned to the studio to record their next EP. The result was the diversely entertaining Stew, which was released in January 2008, and also received glowing, positive acclaim "?the latest group to catch our ears and make us take notice."
Gumshen's latest and most ambitious release is entitled "Everything What We Recorded".
Release date: February 2012
Music videos: NEW "Hammer & Nails" video: http://youtu.be/n5R4jDFpeQc "Not Every One Of Us" http://www.youtube.com/watch?v=uNYhtnbSoZQ
Streaming link: www.reverbnation.com/gumshen
Members/Instruments: Ron Hippe:  Vox, Keys, Gtrs, Dennis McCoy:  Vox, Drums, Jan Ciganik:  Gtrs, Rich Hinklin:  Bass
Websites: www.gumshen.com, www.facebook.com/Gumshen, twitter.com/gumshen Artist contact: Gumshen@hotmail.com