Knowing the basics
by Hank Stroll, Music Insider Magazine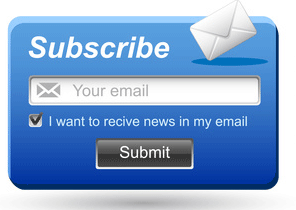 Subscription box on website – Placing a subscription box on your website enables all visitors to sign up for your events and news.  This will allow you to pick up on all people who find your music appealing.  Put a link to samples of your music and your privacy statement on this page as well.
Signature files – A company standard could be set that would call for a 'signature file' attached at the bottom of all outgoing email messages.  In addition to putting your email address, phone number, and website URL, be sure to include a message asking people to sign up to receive notifications.  If you can put in some type of value proposition it will help.
Privacy Policy – Make your privacy policy clear.  You want to protect their privacy while making every effort to get them to sign up for your newsletter.  State what you will and will not do with the information you collect.