FIRST SWEDISH BAND TO HAVE A NO. 1 SONG ON BILLBOARD'S MAINSTREAM ROCK SONGS CHART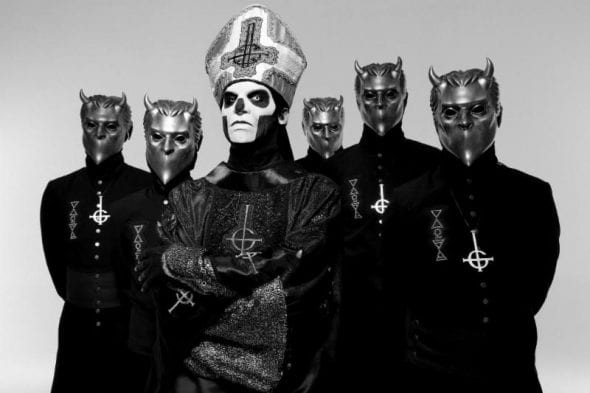 LINKÖPING, SWEDEN- JANUARY 18, 2017 – Grammy® Award-winning band Ghost have topped the Active Rock chart with current single "Square Hammer" and are the first Swedish band to have a No. 1 song on Billboard's Mainstream Rock Songs chart. "Square Hammer" is featured on the band's most recent EP release, Popestar, which debuted at the No. 1 position on Billboard's Top Rock Albums and Hard Rock Albums charts and has sold 75,000 units in its first four months of release.
Metal Injection called "Square Hammer" "one of the shining gems in the band's catalog", adding, "It's a relentless confection of earworm hooks, carnival organ, and a harmony chorus that just won't quit."
Popestar was surprise released on September 16th by Loma Vista Recordings and is available online and in record stores on CD, vinyl, and digital. The EP has been streamed over 18 million times globally. In addition to "Square Hammer", the five-track offering features covers of selections by Echo and the Bunnymen, Simian Mobile Disco, Eurythmics, and Imperiet. Popestar was recorded by Papa Emeritus III and his nameless ghouls in Linköping, Sweden and produced by Tom Dalgety (Pixies, Royal Blood, Opeth). To purchase Popestar now, click HERE.
Additionally, Ghost have released a Deluxe Version of Meliora, their acclaimed 2015 Grammy® Award-winning album. Meliora Deluxe contains the Popestar EP as a bonus disc (CD or LP or digital). To purchase Meliora Deluxe, click HERE.
Ghost were awarded a Grammy® last year for 'Best Metal Performance'. Their most recent album Meliora was released on August 21, 2015 and debuted at No. 1 at Independent Retail, No. 2 at Rock, and in the Top 10 (#8) on Billboard's Top 200 Album Chart. The album has sold over a quarter million copies globally and has been streamed over 120 million times. The band capped off a landmark 2015 with their late night television debut on the Late Show with Stephen Colbert's Halloween show on CBS with a rousing performance of their offering "Cirice", which reached No. 3 at radio at Active Rock and Mainstream Rock.
Ghost is currently preparing to embark on a European tour. For a list of upcoming dates, click HERE.