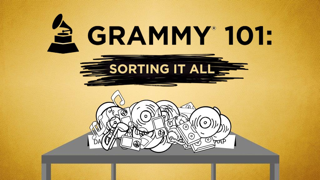 First-Round Ballots To Decide 58th Annual GRAMMY Awards® Nominations Mailed To Recording Academy® Members; Nominations To Be Announced Dec. 7, 2015
SANTA MONICA, Calif. (Oct. 15, 2015) — Upon the close of The Recording Academy®'s annual screening committee meetings, where more than 200 experts from various musical backgrounds and disciplines listen to and categorize all entries across 83 categories and 30 fields, the 58th Annual GRAMMY Awards® are underway. First-round ballots have been mailed to voting members, who will vote to decide this year's GRAMMY nominations, which will be announced Monday, Dec. 7, 2015.
"With such a high volume of entries, the awards process requires a lot of energy," said Bill Freimuth, Senior Vice President of Awards for The Recording Academy. "But music makers put their hearts and souls into these recordings, so it's important to respect that work by giving each entry the time and consideration it deserves to make sure it's presented to voters in the right context on the first ballot."
Watch this video to learn about the Academy's genre screening committees and awards process: GRAMMY 101: Sorting It All
The eligibility period for the 58th Annual GRAMMY Awards is Oct. 1, 2014 through Sept. 30, 2015. Nominations will be announced Dec. 7, 2015 with additional details forthcoming. The music industry's premier event will take place live on Monday, Feb. 15, 2016, at STAPLES Center in Los Angeles and will be broadcast in HDTV and 5.1 surround sound on the CBS Television Network from 8:00–11:30 p.m. (ET/PT).
Below are key dates for the 58th Annual GRAMMY Awards:
Nov. 04, 2015:    First-round ballots due
Nov. 15, 2015:    Deadline to become an Academy voting member to vote on the final ballot
Dec. 07, 2015:     Nominations announced
Jan. 15, 2016:     Final-round ballots due
Feb. 15, 2016:     58th Annual GRAMMY Awards telecast
Awards FAQs: grammy101.com
Established in 1957, The Recording Academy is an organization of musicians, songwriters, producers, engineers and recording professionals dedicated to improving the cultural condition and quality of life for music and its makers. Internationally known for the GRAMMY Awards — the preeminent peer-recognized award for musical excellence and the most credible brand in music — The Recording Academy is responsible for groundbreaking professional development, cultural enrichment, advocacy, education and human services programs. The Academy continues to focus on its mission of recognizing musical excellence, advocating for the well-being of music makers and ensuring music remains an indelible part of our culture. For more information about The Academy, please visit www.grammy.com. For breaking news and exclusive content, follow @TheGRAMMYs on Twitter, "like" The GRAMMYs on Facebook, and join The GRAMMYs' social communities on Google+, Instagram, Tumblr and YouTube.