Fusing music and the freedom of the road
by Brian McKinny, editor, Music Insider Magazine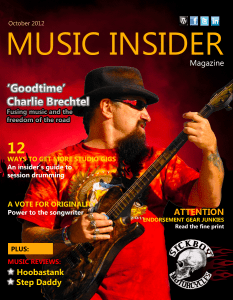 Charlie Brechtel is an icon in the realm of Biker Music. In fact, you might call him the 'Godfather' of Biker Music, and you wouldn't be exaggerating. Charlie has played with numerous blues, rock, country, and soul artists along the way to get where he is now. Biker Music is a genre that he helped to pioneer, as he writes music that is about his biggest passion in life; a religion of sorts that he has come to call 'Motorcyclism'. His original music celebrates the lifestyle that he has chosen to lead – a combination of music and motorcycles that fuses the freedom of the road.
It is music that speaks to the soul of bikers in America and around the world.
Charlie was born in New Orleans and was raised by his Aunt Mamie, who owned a whore house on Decatur Street that catered to a clientele where the likes of Dr. John, The Neville Brothers, and other New Orleans music staples would come after shows for drinks, to tell stories, and unwind. Charlie, just a kid, would run around serving drinks to 'guests' of his Aunt Mamie's, all the while listening to the stories and the music that was being bantered about in that storied establishment. Charlie also earned money as a kid cleaning up after the previous night's festivities at jazz greats, Al Hirt and Pete Fountain's bar on Bourbon Street. So Charlie's education in blues and jazz came early on in life.
Charlie didn't start off playing guitar. He started out playing the drums, but when he realized that, "It was the guys in the front, singing and playing guitar that were getting all the girls, and they didn't have to work that hard", he decided it was going to be the guitar for him. "So then I said, 'Damn, I'm gonna learn how to do that', so I just started plucking … And I wasn't really good at picking up songs on albums, you know… I was just really good at writing my own shit. It kind of made it a problem though, 'cuz when I first started going to jam sessions, I wouldn't know any of the songs they were playing.  Everybody'd be like, 'Let's play this', and I'd go, "Well, I don't know that, but I got my own songs." The other guys would be all, "Yeah, well, sit down." "So later on, those guys were the ones either sittin' down, or playing in my band, playing my music.  So I guess I did the right thing, playing my own music, which helped me to come up with my own style. Later on, I came out to California and started playing and that's where I met you."
New Orleans is that kind of place. It influences the mind, brings out the imagination and creativity in people who are open to receiving what it has to offer. Charlie grew up listening to the likes of the Neville Brothers, Dr. John, and Professor Long Hair, just to mention a few. Charlie took those influences and added them to his own unique vision for his musical style and from the genres that were surrounding him in his native New Orleans – Cajun Zydeco, Swamp Boogie, Delta Blues, Southern Rock, Country music, and rock and roll.
"And then I met a guy named Deacon Jones, who had played with people like Curtis Mayfield, and Freddie King, and then of course with John Lee Hooker. I was one of the 'Bucket of Blues' guys, remember?" "Oh yeah, I remember", I replied. "And so, Deacon took me out on the road with him and I was the only white boy in the band. And then I got to play with Hook and all that cool shit. I met Gregg Allman around that time, too."
"I always make my drummers leave that little space for the bass player to pop in there and do their thing, and always with a good, bottom beat. You know, John Lee Hooker influenced me, big time. Here's a man, I went to his house, and got to hang out with him when I first met him.  Deacon (Jones) brought me there to Hook's house on Easter Sunday, and I brought the 'Hooker Girls' (lady fans of Hook, not 'hookers'!) over there, and Hook was chasing them all around the house, and he came and sat down next to me on the couch and said, "What's your name again, boy?" "I said, 'Charlie', and he said, "From now on, it's 'Goodtime Charlie' and you're welcome at my house 24/7!", and the name stuck. And it also was the start of what became a really good friendship. I started hanging out at his house, frying chicken and making red beans and rice – he loved New Orleans food – and he'd tell me all these cool stories about the old days. I mean, here's a guy who could hardly even write his own name, he had no formal education. Sound familiar? I mean, I can write my name, but hey… But he got ripped off by a lot of people who stole his songs. He never made a cent off his most famous song, 'Boogie Chillen', because the record people ripped him off. He'd do a whole album and they would give him a pack of smokes and a couple of bottles of whiskey… ZZ Top jacked him over on 'La Grange', that's 'The Boogie' ('Boogie Chillen', first recorded by John Lee Hooker in 1948). It's what he was famous for – Hook invented the boogie. They even did his trademark 'Haw, haw, haw, haw' (from 'Boom, Boom', recorded in 1962) on it… So Hook took them to court and sued them for copyright infringement and won $8 million dollars in a settlement. Anyway, a couple years ago I was supposed to open up for ZZ Top at the Buffalo Chip in Sturgis, and when they saw my resume and was friends with John Lee Hooker, I got bumped off of that show. So fuck ZZ Top, those long-bearded, long haired motherfuckers! Fuck them, and fuck that hot rod car! Get a motorcycle!" (Laughing very jokingly, of course.)
Charlie really doesn't hold any grudges over it, but his feelings were definitely hurt when he got bumped from the show by a band he had looked up to, and was obviously looking forward to sharing the stage at the Buffalo Chip with.  "The only one who ever really treated Hook right in the music business was George Thorogood. George went to Hook's house himself and paid him his royalty money for all the songs ('One bourbon, One Scotch, One Beer', and all the others) of Hook's that he had played or recorded.
"You know, I wrote some good songs back in the day, but I really didn't know how to do the hooks, and how to put a good bridge in there until I met Gregg Allman. When I met Gregg, he kind of made me his little brother, you know? I was living at his house, and of course, we were fucking up. I was definitely getting fucking strung out to the bone … But that was part of being a rock star, I guess. And through all the bullshit I went through, even the high-speed car chase with the cops, getting thrown in jail, and all that other bullshit, I still managed to learn what Gregg was trying to teach me; how to write a hit song. Still to this day, Dennis (San Fillippo, Charlie's best friend) and other people will say, 'Man, Gregg taught you right, because your music's jumping now. Your songs… You've got the whole package'. I've got to say, I've been in a lot of shit with Gregg over the years… I mean a lot of shit. The most of any trouble I've ever been in was while I was hanging with Gregg Allman. But, I gotta say that if I hadn't met him, I wouldn't have ever learned how to really write good songs."
There is a formula to good writing, "and if you hook up with the right people… Look … say I was hooked up with an English guy like Phil Collins, or whatever, it probably wouldn't have worked because I'm a Southern boy. God put me with the Blues, and then put me with Gregg Allman, who is … Who is Gregg? He's the granddaddy of Southern Rock. Who else would it be? The Allman Brothers started playing Southern Rock when they were calling it 'Progressive Rock'. They didn't even have a name for it because they didn't know what else to call it, or where it fit into the Rock and Roll genre. The first time anyone called it Southern Rock was when they described The Allman Brothers." Marshall Tucker's big hit, 'Can't you see?', was written by Gregg Allman, and if you listen to it, you can tell he had his hand in it. It's the same thing with songs like 'Midnight Rider'. It's just a real, simple song in D, but it's a hit. All my songs are simple. I don't write no complicated shit, but I put words in there that mean something, and I put the little hook in there, where you listen to it and go, 'Wow, that's cool', and it's got a meaning to it. It's usually just a couple of chords, a good hook, and I think that is the best formula for writing a good song."
Charlie says that his songs are simple, but his songs always tell a story. They paint a picture for your mind, and that makes a big difference to the listener. Charlie creates imagery, where you can see a story unfold in your head as you listen to his music. "I don't know how to explain it, but I seen this thing about Buddy Holly, and I guess it would be the same kind of deal. I write about what I know, or who I know, and I usually know their story well. Because, when I pick up my guitar, and I start strumming it and coming up with a song, about five minutes into it, I can hear all the other instruments in my head. I can hear the bass, I can hear the drums … I can hear what instruments I want in that song. And there are some songs I have that have horn sections, and it's a biker album. And I got, you know, Tom Poole, and all those guys who used to play with Lydia Pense (of Cold Blood fame), they all came in and looked at the horn lines for the song, and they'd tell me, 'this is stuff that we would write!' So it's something of a 'feel thing' when writing songs. You have to know what you want, and how to get it."
Motorcycles and Music
"I always was into motorcycles, and my grandfather rode with the 'Galloping Goose' Motorcycle Club in New Orleans. He also served under General Patton during World War II, so he was a feisty mother. His name was Eric, so my middle name is Eric, so all my kids are named Eric, even my daughter's name is Erica." Erica is Charlie's daughter from his first marriage, and she used to get up and sing on stage with her daddy at outdoor festivals, and she was just adorable up there. Then she'd start singing "Rock Me Baby" in her little 6-year old voice, and she charmed the pants off the crowd. She's all grown up now and is a nurse, but no longer has any interest in singing, according to her dad.
Shortly after coming to California and working his way into the realm of musicians the likes of Deacon Jones, Gregg Allman, and John Lee Hooker, he started getting gigs playing biker events – rallies, parties, and was being introduced to members of the San Jose Hell's Angels Motorcycle Club, including Sonny Barger, the founding member of the Oakland Chapter of the Hells Angels. Charlie has numerous friends in many different outlaw biker clubs, but he has always been able to maintain his neutrality, largely in part because of his music is so universally loved in the biker culture, and he is able to stay above the intra-club politics and occasional squabbles. Still, those associations have also afforded Charlie opportunities to play his original music in some unique venues, from outlaw biker parties to the highly successful Love Ride for charity in Los Angeles, opening up for Lynyrd Skynyrd and ZZ Top (finally, he didn't get bumped from the bill this time!), music festivals in England, Europe, Russia, and the infamous Buffalo Chip shows in Sturgis, South Dakota.
"Woody, of the Buffalo Chip, is like the Bill Graham of the motorcycle world. He's got the biggest outdoor concert venue around, and he's been doing it for the longest time. We sent him a CD years ago, my first one, the one with 'Milwaukee Steel' and all that on it. The whole album is bike music. That's the one that Shogun produced, with Ainsley Dunbar on drums, Dale Ockerman from the Doobie Brothers was on the keyboards, "Daddy" Ray Arvisu from Elvin Bishop is on it … I had all the top guys on it. When Woody heard the album, he just said, 'Hey man, what a concept. Here's a guy that plays all motorcycle music, and I've got the biggest motorcycle venue', so that's how we did it. He really went all out, so it's pretty damn cool that it all worked out so well." "Now, I've got my own stage there at the Chip. I'm a dignitary there man, I ride in all the Legends Rides with all the famous people, and I've even got me my own Victory bike to ride there. I've done it for years now, and it's pretty damn cool. I'm very thankful for it all, I can tell you that."
Over the years, the Buffalo Chip has invited various artists to come play at their venue. Recently, they've started inviting more different types of bands and styles of music to play at Sturgis. "The first show Woody did at the Buffalo Chip in Sturgis was Johnny Paycheck, with only about 250 people there and most of the audience was Hells Angels. And now he has 50 – 60 thousand people there, with bands like Kid Rock and Bob Dylan. He'll have on the same night, Stevie Nicks with Bob Dylan. All the other places in town are in trouble. They'll have KISS playing at another place in town, and their parking lot will be empty because they're all at the Chip. And the Chip is a big campground, so you have all these people camping out, listening to music and having a good time. You don't have to worry about police, or whatever. People just have a lot of fun, because it's like a biker's Woodstock."
Charlie has been very successful utilizing technology to advance the biker music genre. He is into every aspect of the Internet, from hosting his own production company website at BICProductions.com, where he posts everything from his band updates, to his sponsor affiliations, and he has his own Internet radio station, playing biker music and interviews, old time radio shows, and a host of other things that his fans want to hear. "What blows my mind too, is that I'd look up 'biker bands', or 'motorcycle music' in there, and nothing would come up, except for some crappy cover bands. I wouldn't even be on the list. None of us, not even the Fry Brothers. But now, you look on Google, and you type in 'biker bands', I'm the top one on the list! They finally got it right! Thank God for Google." The Internet has played a big part in Charlie's ability to get the word out about his music, and biker music in general. His Facebook page, Biker's Inner Circle website, and BIC Productions are all ways Charlie promotes his band, sponsors, and his production company.
Nowadays, Charlie plays where he wants, and when he wants, and that's a good place to be. He is focused on his music, but in the winter time, he hunkers down and spends time with his family – his wife and kids. But when the good weather returns in the springtime, that's when he and his music come back to life. Life is good. He's heading down to Galveston, Texas in November for a big show there, and then he'll be heading back to Russia early next year for an encore performance at the Total Flame Biker Festival, promoting cultural understanding between musicians and bikers in the US and Russia. For Charlie, it's all about the brotherhood of bikers and the music they love to listen to, and that is what his mission in life has become. In a word, "Motorcyclism".