by Bill Doty
I recently had the opportunity to review an acoustic guitar and a bass guitar from Cort, and as a professional guitarist, I think they are both worthy instruments for several reasons.
Cort Earth300V Acoustic Guitar

The Cort Earth300V has a solid Adirondack spruce top, mahogany back and Adirondack scalloped bracing. When I received this guitar, I immediately noticed the beautiful quality case that it came in — really classy and fits the guitar well without movement — for solid protection. The inside of the case has stylish purple velour lining.
The acoustic guitar has a tobacco burst, which is also classy-looking with dot fret markings and a nice Cort inlay on the headstock. The guitar has a good feel to it and for my taste, did not need any setup straight from the factory.
I played every note on this guitar and found absolutely no fret buzz, not even in the higher-register notes. The guitar has a nice warm tone to it and clarity on bass notes and higher notes. It stays in tune very well and drop-tunes with smoothness, thanks to the Grover tuning keys. Overall, the Cort Earth300V is a well-built, beautiful guitar.
You can pick up the EARTH 300V  for $535.00 USD or the EARTH 300VF for $645.00 USD.
The 20th Anniversary Artisan Bass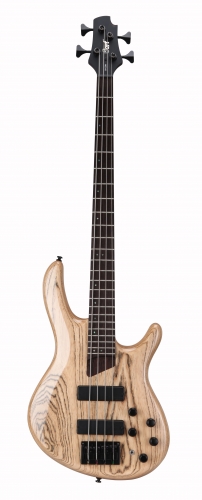 Part of Cort's 20th Anniversary Artisan Bass line, the new Cort 20th Anniversary B4 four-string bass guitar is made from five pieces of African wenge and has a rosewood neck with an African wenge fingerboard. The first thing I noticed, again, was the very attractive case that fits the bass well, which is important when shipping the guitar or traveling with it.
When I pulled out the bass, it reminded me of Darth Vader — sleek and sexy, yet evil looking. With its African wenge and rosewood neck and its high-gloss, swamp ash, black finish, this is a beautiful bass guitar.
It's equipped with an arsenal of Bartolini MK1 active pickups with an easily accessible nine-volt battery pack located on the back of the guitar. The many tone options will keep even the most picky players entertained.
The neck on this guitar has a very sleek feel. It is narrow and makes the bass play like butter. The low notes sound so clear that they resemble the notes on a piano. The bass also has Hipshot tuning keys that have a smooth yet tight feel, and the guitar stays in tune well.
Without being bulky or heavy, the new Cort bass is a solid guitar. For its versatility, I'd recommend this bass to any style of player.
You can pick up the Artisan B4 20th for $799.00 USD or the Artisan B5 20th for $850.00 USD
Don't forget to stop by the Cort booth #4458, Hall C, at NAMM this year.