Attention-deficit-disorder rock in a tragic era
by Teri Doty and Tamara Halbritter, Music Insider Magazine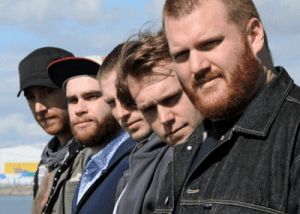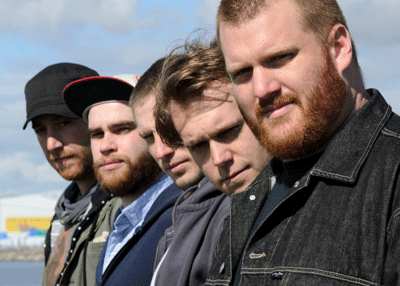 Ever hear of the Boogaloo Cats? That's the name of the band that vocalist Forrest Day, bass player John Sankey and guitarist Terrell Liedstrand — now of Forrest Day — started in high school in Lafayette, California.
Day concedes that the name for a genre of Latin music and dance popular in the U.S. in the 1960s — Boogalo — didn't represent the band. But the concept of a marriage of styles inherent in Boogalo did fit.
Fast forward to today: the band has a new name, has added keyboard player Nick Wyner, drummer Jasper Skydecker and engineer Nathan winter, actively tours in the U.S. and is known for its blend of musical styles.
With elements of hip hop and indie rock, Forrest Day is all things alternative — self-proclaimed attention-deficit-disorder rock with punk energy. As the band's songwriter, Day says, "There's a lot of hip hop and rock with jazz and reggae. It all pokes its head out in different ways at different times."

The leader of this strange brew, Day also plays keyboard and the saxophone, which he started playing in third grade. "At an assembly at school, they showed us all the instruments we could play, and I saw the saxophone and totally fell in love. I went home and said, 'Mom, I really want to play the saxophone, but I'll play the clarinet if you want 'cause it's cheaper.'
"She told me, 'No, you can play the saxophone.' And I was so excited!"
Day has gone from wanting to learn how to play the Simpsons theme song to playing both tenor and soprano saxophones and layering rich-sounding horn sections into the music for Forrest Day. Influenced by Jay-Z, Frank Sinatra and Stan Getz, he says singing and writing music are his new greatest forms of expression. Day's songwriting in tunes such as "Hoarders," "Meds," and "Assholes," dabbles in social commentary about corporate greed and our overmedicated society, among other matters.
And it couldn't be a better time for Forrest Day to put out some new material. According to Day, the music on the radio has lost its soul. "I feel like I'm listening to a bunch of whiney teenagers with no depth. The music industry has lost all responsibility.
"These guys are supposed to be the taste makers and provide good music to the people who don't have time in the day to seek it out. People just want to turn on the radio and hear something decent. I think labels should have the responsibility to put good music on the radio."
Bothered by seeing label company leaders evolve from artists into nerds and businessmen, Day says, "These douchebags gather in a room, and someone plays music for them and has them write down their opinions. They use graphs to decide who everybody will like most, and turn it into a science."
The result? A bunch of watered-down crap. Sure, the music gets stuck in your head after you listen to it 50 times, Day says. "Because it's shoved down our throats in gas stations, malls and on TV — everywhere we go. It's a tragic era for mainstream music."
Forrest Day is combating the tragedy by taking on some responsibility with its own label, Ninth Street Opus. Heard across campuses on college radio stations, Forrest Day has been widely promoted by its members and a public relations firm. Day says the most effective promotion is still "word of mouth and going out and playing and talking to people and passing out free CDs." The band printed out thousands of free demos and so far that's paying off. Forrest Day has started considering endorsements.
"People are always really curious when they see a band full of guys driving down the highway. When we see them at a gas station or rest stop, they know we're up to something, and we get them interested."
As its sixth birthday nears, Forrest Day is preparing to go on an extensive tour this fall with Flobots and is almost done with record number two.
Day says, "I'm inspired about this new material that I'm working through and excited for that to come to fruition. I just want to record a bunch of stuff and release two albums, or an album and a couple of EPs or a bunch of EPs — I don't really know. I just want to record everything in my head."
As long as what's in his head isn't called Boogalo Cats, we're all good.